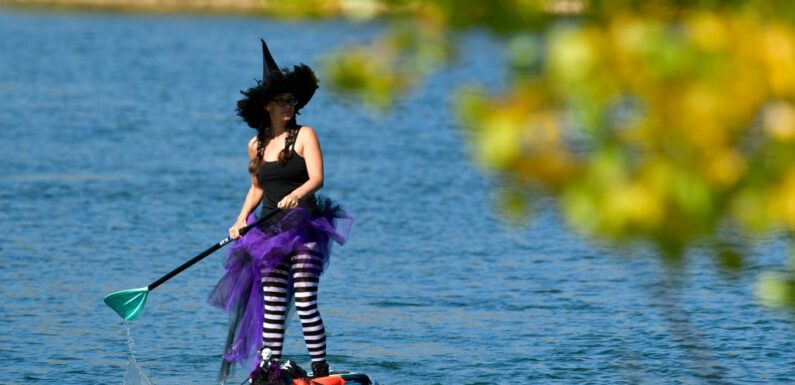 A chill in the Colorado air and the promise of changing leaves means spooky season is officially on its way. That will be evident at lakes and reservoirs in September and October when costumed groups of locals take to the water for their annual witch paddles.
Witch paddles — events in which people dress in costumes to paddleboard, kayak and canoe — have become a hallmark of fall and a fun excuse to enjoy the outdoors before winter sets in.
The concept is simple: Don a Halloween-inspired witch or warlock outfit and launch your boat alongside other bewitching characters for a casual paddle. Some organizers suggest tying your witch hat to your head so it doesn't blow into the water.
Here are three events where you can join the gaggle of witches on the water and have a few cackles along the way.
Lake Dillon – Sept. 16
When: 11 a.m. to 2 p.m.
Where: Giberson Bay, Frisco
Other details: While the event is free to attend, parking at the Giberson Bay day-use area where the paddle takes off costs $8. Several people will head to Breckenridge Oktoberfest afterward. Find more information at facebook.com/events/1694919550965542/.
Chatfield State Park – Oct. 7
When: Launches at 9 a.m.
Where: Chatfield State Park, 11500 Roxborough Park Road, Littleton
Other details: Check-in commences at 7 a.m. near the Chatfield Reservoir Swimbeach, where there are also several parking lots. The price of parking is included in the $40 registration fee. The group will launch from the Swimbeach at 9 a.m. sharp. According to the website, participant registration closed on Sept. 10; however, spectators are welcome. Find more information at witchpaddle.com.
Grand Junction – Oct. 21
When: 10 a.m. to 1:30 p.m.
Where: Grand Junction Adventures, 1695 Las Colonias Landing, Grand Junction
Other details: Paddlers will put in at the Las Colonias boat ramp on the Colorado River and paddle to the Blue Heron boat ramp. This free event is hosted by Grand Junction Adventures, which will have some shuttles running from the Blue Heron boat ramp back to Las Colonias park, but paddlers may also need to coordinate additional shuttle options. The company also rents equipment for $30-$35. Find more information at facebook.com/events/1071962100456861/.
Subscribe to our weekly newsletter, The Adventurist, to get outdoors news sent straight to your inbox.
Source: Read Full Article