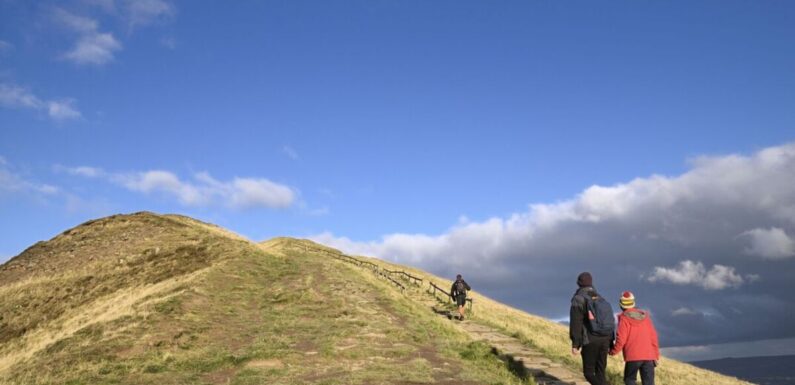 The Mam Tor walk is among the most popular routes in the Peak District National Park and stands at 517km high.
Having been ranked as number 10 out of 100 in the top UK walks, it's no wonder that the route is favoured by avid walkers who flock from across the country to soak up the scenery.
And for those who enjoy a cold pint at the end of a countryside stroll, this route is perfect for ending up at the Rambler Inn in central Edale.
While Kinder Scout is perhaps the most popular destination in the area, the Mam Tor circuit is more accessible thanks to its paved trail.
It means walkers can spend less time focused on their footing and more of it soaking up the sea of panoramic greenery.
READ MORE: Britons face new charge when visiting Venice in latest change to tourism policy
Mam Tor is on the edge of the Dark Peak and the White Peak and is near the famous Winnats Pass near Castleton, in the Peak District National Park. The most popular way to reach the Mam Tor walk is to arrive by car.
Mam Tor Car Park: Mam Nick Car Park
Grid Reference: SK123832
Mam Tor Postcode: S33 8WA
According to Rachel and Nico, avid hikers and founders of the Average Lives blog, it's best to set off early to get the best of the walk, which takes around one hour.
Don't miss…
'Colourful' seaside town is a highlight of one of the UK's best coastal walks[REVEAL]
English town crowned 'most beautiful' hailed as 'magnet' for painters[INSIGHT]
'Postcard-perfect' seaside town is ideal destination for a coastal walk[INSPIRATION]
We use your sign-up to provide content in ways you've consented to and to improve our understanding of you. This may include adverts from us and 3rd parties based on our understanding. You can unsubscribe at any time. More info
The walk is perfect for gazing across valleys scooped from either side of the Great Ridge. Rachel and Nico claimed: "You can expect to see unbelievable views over Hope Valley, Edale and the edge of Kinder Scout.
"Also, you should make time to see the exceptional caverns of Blue John and Treak Cliff after or before your Mam Tor walk. It is one of our favourite Peak District Walks."
While there is the option to descend down to the town at Back Tor, those looking for a longer walk should take the short continuation to panoramic Lose Hill.
Buy a digital Railcard online with Trainline and store it directly in the Trainline app, so you can use it right away to get 1/3 off eligible journeys for a whole year.
After five miles, walkers should find themselves at the Rambler Inn, described on Booking.com as a "charming country inn" nestled in the heart of the district.
Hot and cold food is served daily in all of the four dining areas, with a large variety of meals available.
There is an open bar area and a large beer garden to enjoy on warmed days, where guests can enjoy a wide range of real ales, traditional ciders, whiskeys and spirits at the bar.
Source: Read Full Article