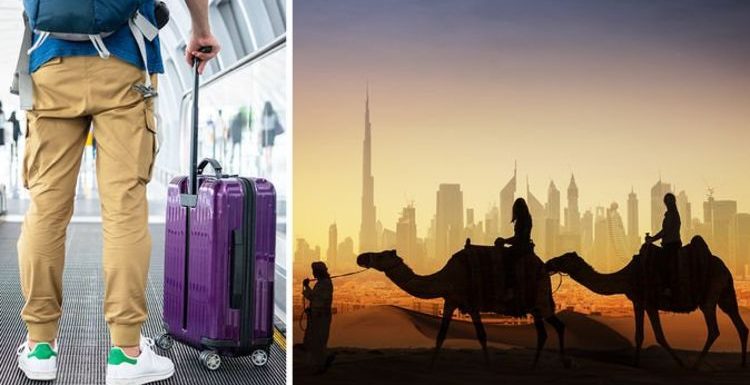 Heathrow boss welcomes plans to test travellers entering UK
Dubai holidays have remained a popular option for those willing to risk jetting off abroad during the covid pandemic. However, the UAE has strict anti-coronavirus measures in place which change regularly. Today the Foreign, Commonwealth and Development Office (FCDO) updated its travel advice for Dubai and the rest of the country.
The latest update concerned the UAE's capital Abu Dhabi.
"Travellers to Abu Dhabi from the UK must have had a negative COVID-19 PCR test within 72 hours of departure. Travellers to Abu Dhabi will also be tested on arrival," said the FCDO.
"Visitors can travel to Abu Dhabi by road but must have had a negative COVID-19 PCR test within 72 hours of travel.
"There is also a requirement for further testing if visitors and residents remain in Abu Dhabi for six days or longer."
We will use your email address only for sending you newsletters. Please see our Privacy Notice for details of your data protection rights.
The FCDO continued: "All arrivals in Abu Dhabi must isolate for 10 days on arrival although arrivals from certain countries as listed on the Visit Abu Dhabi website will not be required to isolate.
It went on: "All arrivals in Abu Dhabi will be required to wear a medically approved wristband for the duration of their quarantine. The wristband will be provided at Abu Dhabi airport after clearing immigration.
"Arrivals under the age of 18, over the age of 60, diplomats or those suffering from a chronic disease will be exempt from having to wear the wristband."
Strict covid rules also apply to Dubai.
"Tourists and visitors travelling from or through the UK and arriving in Dubai after Saturday, January 16 must have a negative COVID-19 PCR test which was taken no more than 96 hours before departure and present the certificate at check-in," detailed the FCDO.
"Dubai Residents travelling from or through the UK to Dubai have the option to either present a negative COVID-19 PCR test on departure which was taken a maximum of 96 hours before departure or to take a COVID-19 PCR test on arrival at Dubai airport.
"Those tested on arrival will be required to quarantine until they have the results of their COVID-19 PCR test. Further details are available on British Airways and Emirates websites.
"Travellers may also be tested on arrival in Dubai even if they have had a COVID-19 PCR test before departure."
The FCDO added: "If you test positive for COVID-19 on arrival in Dubai, depending on your symptoms and your accommodation plans, you may be required to self-isolate in a government facility, a hospital, your hotel or privately arranged accommodation for at least 10 days."
Travellers are warned against turning to the NHS for a pre-travel covid test.
"You should not use the NHS testing service to get a test in order to facilitate your travel to another country. You should arrange to take a private test," stated the Foreign Office.
Currently, with the third national lockdown underway, Britons are currently unable to travel.
"If you are in the UK you should not travel abroad," the Government advised."You can only travel abroad if you have a legally permitted reason to leave home."
Anyone who does travel abroad must test negative for covid in order to enter the UK.
"If you intend to travel to England, Scotland, or Wales from abroad, including UK nationals returning home, you must provide evidence of a negative COVID-19 test result taken up to three days before departure," said the FCDO.
"If you do not comply (and you do not have a valid exemption) your airline or carrier may refuse you boarding and/or you may be fined on arrival."
Source: Read Full Article