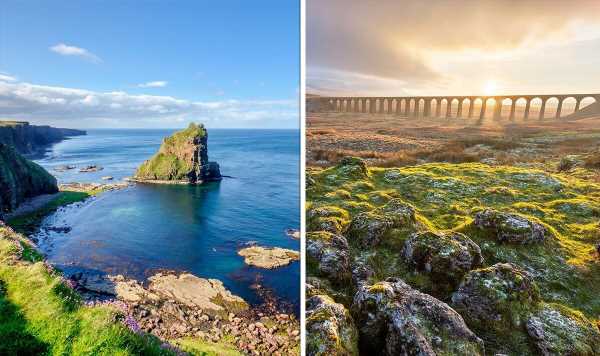 We use your sign-up to provide content in ways you've consented to and to improve our understanding of you. This may include adverts from us and 3rd parties based on our understanding. You can unsubscribe at any time. More info
Outdoor holiday booking company Pitchup analysed the average price of camping holidays and their locations to reveal the most affordable regions for a memorable staycation. According to the study, South Yorkshire is the cheapest region in the UK for a luxury camping stay.
One night of glamping in South Yorkshire costs just £45 a night on average, which is almost half the average price of glamping per night across the UK.
South Yorkshire is a beautiful destination with a lot to offer and perfect for a family trip.
Tripadvisor user Susrim, who recently visited South Yorkshire, recommended Yorkshire Wildlife Park. She said: "A great day out, well worth a visit.
"An absolutely brilliant day… We went whilst the weather was hot and sunny, but I know we would have enjoyed the day even in bad weather.
"The place is very clean, well looked after and some great care and effort have gone into the well-being of the animals."
Another traveller, Yorkshirecat56, recommended visiting RSPB Old Moor nature reserve which he said was "relaxing" and a "delightful day out".
"I spent a magical morning meandering along the various pathways through the wetlands and sitting comfortably in the various hides alternatively spotting and photographing the birds.
"After a great cup of tea and cake in the excellent cafe, I settled into the hide in the bird garden.
"I'm planning a return visit soon.
"I visited on a weekday when it was relatively quiet. Check their website for the various activities run for families," he explained.
The West Midlands ranked second as one-night glamping costs around £54.13, which is almost 40 percent cheaper than the average glamping price.
The West Midlands is followed by the Scottish regions of Caithness and Stirlingshire, coming in third and fourth.
A night of glamping in Caithness costs just £60 on average, and a night camping in Stirlingshire is £60.98.
Caithness offers visitors coastal walks, caves, castles and gardens.
Similarly, Stirlingshire has some of the most beautiful views Scotland has to offer.
County Antrim, in Northern Ireland, follows Scotland with a night camping for just £61.48.
Cheapest camping destinations in the UK based on the average price per night
South Yorkshire £45
West Midlands £54
Caithness £60
Stirlingshire £60
Co. Antrim £61
Lothian £62
Hebrides £63
Berwickshire £65
Buckinghamshire £66
Gwynedd £67
Source: Read Full Article