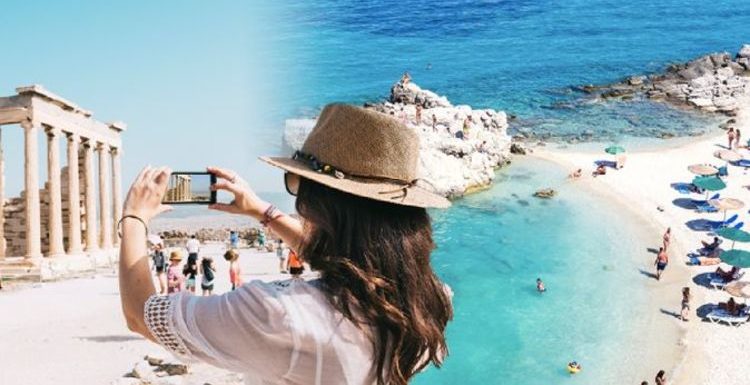 This Morning: Simon Calder discusses summer holidays
When you subscribe we will use the information you provide to send you these newsletters.Sometimes they'll include recommendations for other related newsletters or services we offer.Our Privacy Notice explains more about how we use your data, and your rights.You can unsubscribe at any time.
Many Britons are eagerly awaiting further news from Prime Minister Boris Johnson on when overseas holidays may return. Already travel website Skyscanner has seen an uptick in searches and bookings in line with positive hints from the Government.
However, amid the changing travel restrictions of the last year, it seems holiday choices are beginning to change.
Spain is typically one of the most favoured European destinations among UK tourists, attracting 18.13 million in 2019 before the pandemic hit.
However, the nation was hit with travel bans and axed from the UK's travel corridor list, pushing holidaymakers to flock to other destinations.
According to Skyscanner's data, it's a trend that is set to continue.
"Whilst UK holidaymakers are still waiting for the 'green light' to be able to travel again, we've seen a big reaction to the latest roadmap announcement with a surge in bookings for summer 2021 and beyond," Martin Nolan, our Travel Rules and Consumer Advice Expert told Express.co.uk.
"European short-haul destinations popular for the summer months, with travellers pinning their hopes on mainstay favourites Spain and Portugal, as well as Italy, Turkey and new favourite Greece for a sunny beach break."
According to Skyscanner's data, search volumes rose by over 150 percent.
"Traditional favourite Spain was almost beat out by Greece for the top spot for the summer favourite," said Mr Nolan.
DON'T MISS
Expert predicts countries opening to UK tourists 'before end of May' [INSIGHT]
Holidays: Traffic light system could allow travel to '130 countries' [DATA]
Vaccine passports 'definitely' needed says Boris Johnson [COMMENT]
The Skyscanner expert continued: "Greece is emerging as the new 'place to be' for this year. It has always been popular, but 2020 was absolutely its year.
"It was named in our 2021 Destinations campaign after eclipsing Spain to become Britain's most popular holiday destination in 2020. 
"Greece's popularity is likely to continue into 2021, as people still have images of it from last year held in their mind when going on to search for their next trip.
"We have seen bookings recently focusing on August, and prices are still lower for that month than they were for travel to Greece in August 2019."
In 2020, Greece was put on the travel corridor list in July.
It maintained its position until November, providing ample time for Britons to fly off into the sunshine.
Travel corridors have not yet been confirmed for this summer, but speculations over a traffic light system similar to travel corridors have been suggested.
Yet even as hope for holidays mount, Mr Nolan advises Britons to be cautious and flexible if they are hoping to jet off abroad.
Whether or not travel to Greece will be opened up remains to be seen, however, the nation has said it will welcome holidaymakers back if they have had both of their COVID-19 vaccinations or can provide a negative COVID-19 test result.
"The recent announcements on travel from around the world have given travellers a much-needed injection of hope and positivity," he said.
"We are confident about travel's return in 2021 but, the last year has taught us all that life is unpredictable, and I think it is safe to assume that not everything will go to planned on the way back to 'normal' life.
"There are a few ways travellers can protect their bookings.
"Purchasing a 'flexible' ticket could mean that you're entitled to a free date or destination change if you should need it. "
Source: Read Full Article