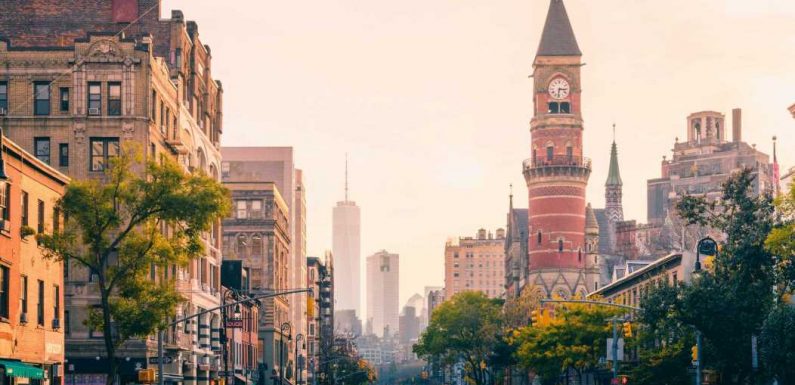 Since the start of the pandemic, hotels have opened up their rooms to healthcare workers, those experiencing homelessness, and more. But too few people are aware that a handful of local governments are offering free room and board to anyone who needs to isolate or quarantine away from housemates—all you have to do is ask.
That's how Mitchell Z., a Queens-based animator, ended up spending 10 days in a New York City hotel free of charge, while isolating from a roommate who tested positive for COVID-19. "I live with a couple, and one tested positive the day after Christmas," says Mitchell. Though he tested negative shortly after, Mitchell was worried about his continued exposure in their shared apartment. A friend mentioned that New York City had a program for people in his situation, called the COVID Hotel Program (it is also promoted as Take Care Hotels, through New York City Health and Hospitals). From there, things moved fast. "It felt pretty quick actually," says Mitchell. "You call the hotline, someone asks questions, and a taxi picked me up that night."
Mitchell was whisked to LaGuardia Plaza Hotel near LaGuardia Airport, where his belongings were searched upon entry. Much like boarding a plane, no alcohol, tobacco, or sharp objects were allowed on the premises. He was then given a private room with a TV where he could safely isolate for up to 14 days. "The typical setup, as far as I'm aware, is that they do three meals a day," says Mitchell of his experience. "Breakfast at 7 [a.m.], lunch at noon, dinner at 6 [p.m.]. In addition to the meals, you get regular checkups from the nurses checking your vitals, at 9 a.m. and 9 p.m. You also have a little oximeter to check blood-oxygen levels."
Sure, the meals might resemble "cafeteria food," as Mitchell puts it (picture boxes of orange juice and single-serve cereal for breakfast, sandwiches or wraps for lunch, and dishes like chicken and rice for dinner) but they're free and included in the stay. Guests are required to stay in their rooms for most of the time, which can last as long as 14 days, save for two 15-minute breaks daily to step outside, as Mitchell witnessed. Of course, the idea really is to isolate in your room. "I did a bit of drawing, some reading, I spent a lot of time with my laptop hooked up to the TV and watched YouTube videos and movies," says Mitchell. "I took long baths, and I guess I did a fair amount of sleeping. I tried to treat it as much as a staycation as I could."
Mitchell is one of two categories of people who qualify for New York City's program—those who, like Mitchell, test negative but live with people who have tested positive, or those who test positive and want to be removed from their living situation to protect roommates or family members. It's worth noting that these groups are sent to different hotels, with stricter protocols in place for those who have tested positive (those individuals cannot leave their rooms at all). 
As of January 21, New York Health and Hospitals reports that "approximately 8,000 New Yorkers chose to separate safely and were able to self-isolate at hotels citywide," according to a city spokesperson. "Allowing New Yorkers to safely and securely separate and protect their loved ones from transmission of the virus, Take Care hotel program is helping [people] self-isolate, should they choose to do so," the spokesperson said in an email. The program anticipates reaching the 10,000 mark by the end of February. 
New York is just one city to offer such a program. Chicago, likewise, has Private General Isolation Rooms, which are designed for those who have confirmed positive results with mild symptoms, and need an isolated space to quarantine. In Baltimore, the Lord Baltimore Hotel has been transformed into the Triage, Respite, and Isolation Center for anyone who has "known or suspected" COVID, does not require hospitalization, and either cannot isolate where they live or is experiencing homelessness. San Francisco, meanwhile, has a comprehensive COVID-19 Alternate Housing Program, which utilizes hotels and tent sites for multiple categories of people, including those who are COVID positive and negative, with various living conditions or lack thereof. There are also designated locations for essential workers who test positive. 
Certain programs, like California's Project Room Key, running in cities including Los Angeles and San Diego, are designed specifically for anyone experiencing homelessness during the pandemic. Most of the program's sites make it clear that they are being operating by a set of workers that are not the hotel's regular staff (Mitchell encountered a mix of healthcare and social workers). Quarantine hotel programs, for various populations and use-cases, can also be found in Miami-Dade County, Dallas County, Seattle's King County, and beyond. 
As word of these programs has spread, in large part via social media, people throughout the country are asking their local governments to set up similar offerings. Though such programs no doubt come at a cost to the cities, with most allowing stays up to 14 days, they offer great potential for reducing household spread in cities where many people live with roommates or family members. "I have personal opinions about what New York City could and should be doing with the pandemic, but this program is a great resource we have," says Mitchell. "I really appreciate all the workers involved in the program, and I was grateful to have it. If I hadn't, there's a good chance I could have gotten sick from my roommate." Here's hoping more cities follow suite, as case numbers continue to rise in much of the country. 
We're reporting on how COVID-19 impacts travel on a daily basis. Find all of our coronavirus coverage and travel resources here.
Source: Read Full Article