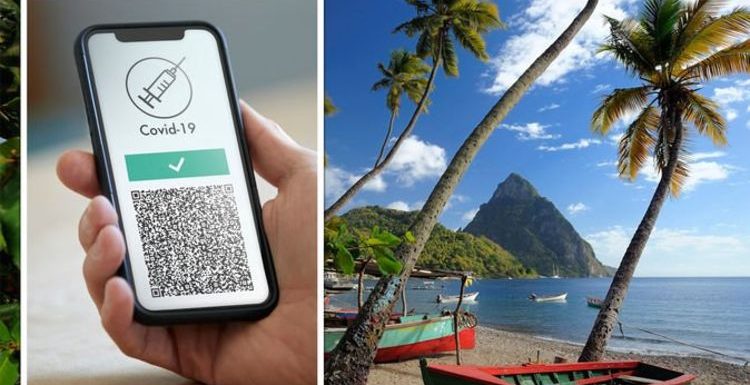 Portugal's easing of travel restrictions discussed by Simon Calder
We use your sign-up to provide content in ways you've consented to and to improve our understanding of you. This may include adverts from us and 3rd parties based on our understanding. You can unsubscribe at any time. More info
Thinking about topping up your tan with some winter sun? But where can you go without having to quarantine? If you're not prepared to say goodbye to summer just yet, here are five destinations that are welcoming British tourists this winter.
Travelling has certainly changed – and at times been challenging – due to coronavirus.
However, the traffic light system for travel lists has allowed Brits to enjoy getting abroad, as long as they follow restrictions.
If you're feeling the drop in temperatures and noticing the sun is setting earlier every day, you might be dreaming of getting away for some winter sun over the coming months.
So, what are the best countries on the green and amber lists for a winter getaway from the UK?
1 – The Canary Islands, Amber
The Canary Islands, including holiday hotspots Tenerife and Lanzarote, are open to British travellers.
If you have been double jabbed you do not need a PCR test for entry, but you will need a negative PCR test if you haven't been vaccinated.
The average temperature in the Canary Islands stays at a balmy 23C in November on average and only drops to 21C for December.
With beautiful scenery and beaches, places to party and serene spots to unwind, the Canary Islands have long been a favourite destination for Brits.
2 – Malta, Green
A green list country, Malta has welcomed British holidaymakers with open arms this summer. Peak season might be coming to an end, but why not choose Malta for an off-season getaway?
Fully-vaccinated Brits can enter Malta without having to quarantine on arrival. Unvaccinated or single-jabbed travellers will still have to quarantine for 14 days after arriving.
Malta records an average temperature of 25C in October, dropping slightly to 20C for November and 17 in December.
DON'T MISS:
Kate's new sister-in-law loves travelling, dogs and works in finance [INSIGHT]
2022 holidays already booking up as tourists swerve price hike [UPDATE]
Britons are back! – Spain sees tourism return to pre-Covid levels [REACTION]
3 – Dubai, Amber
Unbelievable beaches and life in the lap of luxury: Dubai is all about extravagance.
Dubai is welcoming vaccinated and unvaccinated tourists from the UK. If you have not been vaccinated you'll need a negative PCR test, but if you've been double-jabbed your proof of vaccination is all you need.
Dubai is famous for its sweltering weather. The average temperature for October is 35C, dropping to 31C in November and 26C in December – don't worry though, air conditioning is ubiquitous.
4 – Gibraltar, Green
A Mediterranean climate with an unmistakably British culture, Gibraltar is everything you love about home except for the weather.
Impressively, Gibraltar also has a 100 percent vaccination rate. They welcome unvaccinated Brits without any quarantine restrictions, but if you've not been jabbed you will need to quarantine on arrival.
Gibraltar's average temperature for October is 23C, down to 19C in November and 17C in December.
5 – St Lucia, Amber
Why not go for a Caribbean island getaway this winter?
St Lucia stays at a sunny 31C in October and November, only dropping one degree to an average of 30C in December.
Whether you're vaccinated or not, you'll need to take a negative PCR test before entering St Lucia.
If you've been vaccinated you can explore the island at your leisure, but unvaccinated tourists can only go on approved tours arranged by their hotel.
When will the travel lists next be updated?
Before you book anything, make sure you have checked the latest travel restrictions. Keep in mind that the travel lists can change, sometimes without much notice.
The next update on travel lists is expected this week, on 15 or 16 September, from Transport Secretary Grant Shapps.
If you're fully vaccinated then you can travel to green and amber list countries without having to quarantine upon your return.
Make sure you check the full list of entry requirements for the country you would like to visit, and if you're still unsure check with the travel agency or flight provider you book through, who will be able to help you.
For countries on the green and amber lists, you'll need to take a PCR test before returning to the UK.
Source: Read Full Article