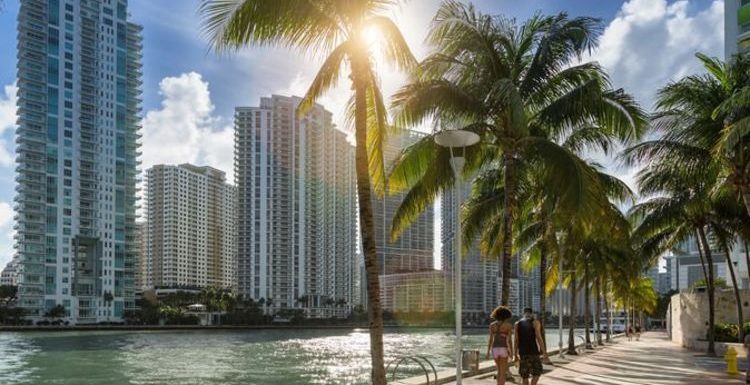 Boris Johnson discusses vaccine passports for overseas travel
We use your sign-up to provide content in ways you've consented to and to improve our understanding of you. This may include adverts from us and 3rd parties based on our understanding. You can unsubscribe at any time. More info
Staycation prices have been a favourite subject of complaints this summer. Britons all over the country have compared how much it cost to stay in the UK to how much they would have paid if they could have gone overseas.
VisitBritain has reported that in 2019, Britons spent nearly three times as many nights holidaying abroad as they did in the UK., or 512 million nights overseas against 198 million nights in the UK.
With the travel restrictions this year, Britons mainly stayed in the UK.
And they were shocked by how much it all cost.
However, it has been revealed an overseas holiday is now also more expensive than ever.
The cost of international holidays increased by 27 percent in the last three years, reports Forbes Advisor.
A long-haul trip for two cost £2,396 this year, but ONS figures show it cost £1,894 three years ago.
READ MORE: Price hike: '£3,457 for seven nights' – UK needs to 'start behaving'
This is a significant increase but did not seem to deter Britons determined to make it abroad next year.
The study surveyed 2,000 Britons on their holiday wishes for 2022, and even asked them how they would pay for their dream holiday.
From "long-term savings or investments" (35 percent) to "emergency/ rainy day savings" (20 percent), Britons seem determined to make the most of their holiday time next year.
After travel was seriously hindered due to Covid, 32 percent of Britons mentioned funding their dream trip by using money "saved by not going on holiday since pre-pandemic".
Focusing on long-haul holidays, the study found 67 percent of Britons were considering a medium to long-haul holiday.
The "once in a lifetime" trips included destinations over three hours of flight time away.
Kevin Pratt, travel and finance expert at Forbes Advisor, said: "There is clearly huge pent-up demand for once-in-a-lifetime overseas dream holidays, with so many Brits not having seen the inside of an airport for two years.
"Once the restrictions are removed, we can expect to see millions of people heading to far-flung destinations for sun, fun, adventure and relaxation."
Apart from more common European getaways, Britons were dreaming of far-flung destinations and the price didn't seem to be much of an issue.
One in 20 Briton even said they were ready to spend over £10,000 per person on a dream getaway in 2022.
The majority, however, said they would spend between "£2,000 and £3,999" per person.
In the number one spot of dream destination was the USA, with almost 20 percent of Britons saying they wanted to go.
The average cost of a trip to the USA was £2,322 for two people for a flight and accommodation holiday package.
Next on the list of dream destination was even more luxurious.
It costs £5,647 for two to jet off to the Caribbean.
Popular destinations in the region include Barbados, the Dominican Republic and the Bahamas.
Rounding-up the top three was Canada, with an average price of £2,088.
Top 10 dream destinations for 2022
1. USA
2. The Caribbean
3. Canada
4. Dubai
5. Maldives
6. Thailand
7. Japan
8. Hong Kong
9. China
10. South America
Forbes Advisor
Source: Read Full Article