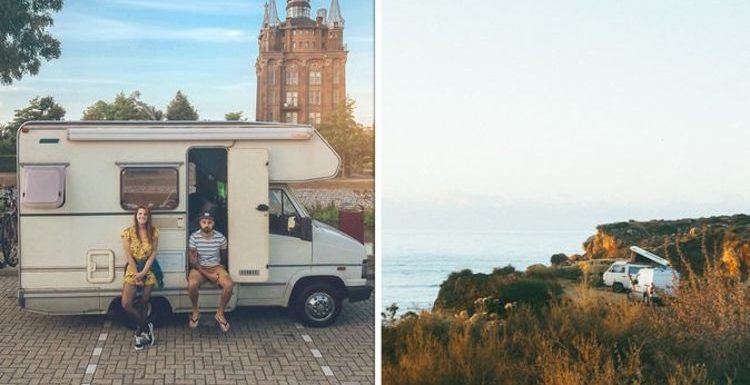 Camper vans: UK's 'Coolest Campers' discuss van conversion
We use your sign-up to provide content in ways you've consented to and to improve our understanding of you. This may include adverts from us and 3rd parties based on our understanding. You can unsubscribe at any time. More info
Camping and caravan trips are on the rise but if not planned carefully, they can turn into a holiday nightmare. A camper explained why her trip was an absolute disaster due to her bad choices and poor camping conditions.
Alba and Adrian left Brighton on a rainy Saturday morning and headed to Gatwick looking forward to their camping trip around the sunny Portuguese coast.
They arrived in Faro a few hours later and were delighted to find clear skies and warm weather.
Alba had booked a £300 van for their 10-days stay in Portugal.
However, when they arrived at the van rental office, the couple were left disappointed with what they found.
Alba explained: "We made the mistake of renting the cheapest van. I thought I found a good deal but when I saw it I was shocked."
According to the couple, the van was in poor condition but as there were no more caravans available for that price, the pair decided to go ahead and kick start their trip.
However, it wasn't as smooth and pleasant as they had anticipated.
"The van wasn't what I expected. I thought it was going to be better equipped. It was my first caravan trip and now I know that If the van is not well prepared, you can find surprises," Alba explained.
"Unless you love the crazy life, if your caravan doesn't have minimum hygiene standards, you can find yourself having to go to the toilet in the middle of a field. Certainly, that wasn't what I expected from my Portugal trip."
She explained they encountered other problems at the Portuguese camping sites where we stopped for the night.
"Another problem with renting a cheap van is that we had major issues with mosquitos and other insects, for example.
"We stayed at a camping site that had a pond with dirty water next to where the caravans were parked.
"At night, the mosquitoes would eat us alive and we couldn't even open a window to get some fresh air."
She continued: "Our van had mosquito nets but they were broken and at night, not only at the Portuguese camping sites but by the seaside, we had hundreds of mosquitos inside the van. It was horrible.
"The rest of the camping sites where we stayed were ok but not great. I have stayed at better ones here in the UK," she admitted.
"One day we decided to spend the night by the top of a cliff. The views were amazing, but at night it was so windy we thought we would fall down the cliff. It was terrifying.
"It was really scary. There was no light, no safe spots to go to, the weather conditions started to be really rough and there were no people to ask for help.
"We decided to drive to the nearest camping but because of the extremely windy conditions, we couldn't even drive.
"We had to stay there for the night, but it was the worst experience of my life.
"I definitely recommend opting for a well-equipped van, even if it is more expensive. I have learnt my lesson, for sure.
"I would definitely go camping again, but with a better van and after having researched the camping sites in advance."
Source: Read Full Article