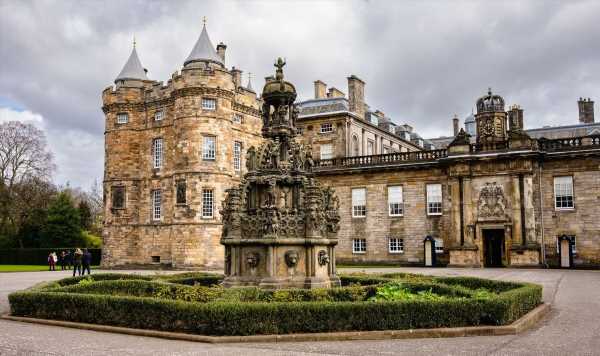 Holyrood Palace is the official residence of the Royal Family in Scotland and the late Queen Elizabeth used to famously spend one week at the palace at the beginning of every summer before she headed to the Scottish Highlands for her annual holiday. The royal residence is steeped in royal history, but some tourists have not been as impressed by the landmark, and have expressed their thoughts in some hilarious reviews.
One short review described Holyrood Palace as a "button ugly building' while another one-star review described the royal residence as a 'big house for someone on state benefits'.
Some past reviews complained about royal presence at the palace, despite it being the official Scottish residence for the Royal Family. One reviewer asked why the royal residents could not simply go out when he or she wanted to visit the palace.
They wrote: "We have been to Edinburgh three times and every time we have tried to tour Holyrood Palace it has been closed due to some visiting dignitary staying there. The place is huge. Can't he or she stay in their rooms during the days…or go out for coffee."
Somebody else said in a one-star review: "Palace was closed for the rest of May owing to a visit by some big wig. A royal visit I can understand but this is just unacceptable. Are they serious or what?"
One colourful review described Holyrood as being "situated at the rectal end of the Royal Mile, next to the Parliament and some surprisingly grotty flats" and also went on to say "Holyrood Palace isn't particularly impressive inside or out."
The same reviewer complained about having to pay a ticket to the historic building. They said: "It's also not cheap, and Joe Public are charged about 10-15 quid a time to come in and marvel at all the wonderfully opulent furnishings". The review added that they were disappointed by the lack of royal sightings, and said: "The palace also sells itself as being the place where the Queen stays when she visits Edinburgh, which is never."
However, it seems the Royal Family cannot win with tourists, as there were also complaints about the lack of royalty at the palace. One person named Maddie wrote: "Queen wasn't even there. A visit to the Queen's palace makes you think you'll see the Queen…no such luck. Terrible visit. Wouldn't go again."
DON'T MISS:
American tourists call Tower of London 'absolute trash'  [REVEAL]
British visitors slam 'small' White House & say it's missing 'pride' [REPORT]
Mount Rushmore is 'an abomination & should be destroyed' visitors say [INSIGHT]
Other reviews described Holyrood Palace as "royally boring" while another short review described it as "Rubbish, just a testament to the lavishness of the royals."
One review from a woman named Eilidh described the cost as "extortionate" and also wrote: "The audio tour is dull and focuses solely on the mundane. The staff seemed bored (I would be too)." Eilidh concluded and said Hollywood "sadly seems like yet another cash cow for the royal trust."
Another woman called Cee said: "What a boring 'attraction'! This was the biggest waste of money on my entire trip around Europe/UK!!!! Entry was expensive, the grounds were closed and there was scaffolding around the outside of the palace."
Some people complained about no pictures being allowed to be taken inside the palace, as one person wrote: "Smelled odd, can't take pictures, staff yelled at us taking pictures. Lots of people still too pictures, just carefully. Some decent art, but time spent better at other places."
Somebody else complained about the palace being closed on a holiday, and wrote: "Arrived from US on Good Friday…. the place is CLOSED. looked on the website before the trip and it did NOT say it would be closed. Ruined the trip. Probably a horrible palace anyway."
However, one review gave a one-star rating after they complained to the manager about arriving late to their tour of the palace Lori from Chicago said she "pleaded with a blonde heavyset woman" to get in as it was her last day in Scotland.
After being denied, Lori said the experience "left a bad taste in my mouth" and had a message for the late Queen Elizabeth. Lori wrote: "The Queen can keep her homes and the prices she puts to tour them and the nasty managers to boot."
Source: Read Full Article