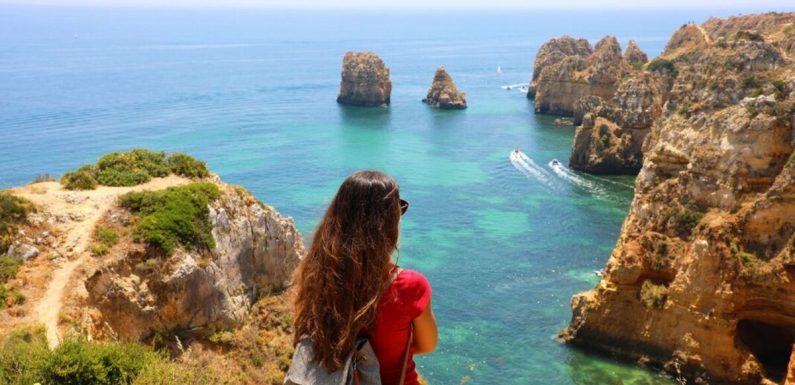 From the beaches of the Algarve to the cultural highlights of Porto, Portugal has many incredible holiday destinations. Using Skyscanner, I searched for the cheapest flights to Portuguese hotspots from the UK for a holiday in April, May or June. I used Skyscanner's whole month search for this experiment.
April – Faro
Faro, the sunny capital of Portugal's Algarve region, was the cheapest destination to fly to in April.
I found return flights for just £24 from London, £37 from Bristol and £38 from Birmingham, Liverpool and Nottingham. Bournemouth and Leeds also came in at under £40.
Close to the Algarve's beaches, Faro is the perfect spot to explore some of the region's natural beauty.
Although temperatures are around 20 degrees in April, tourists will still be able to enjoy the city's busy pedestrianised shopping streets and scenic marina.
May – Faro, Lisbon
Although Faro was the cheapest destination I found to fly to from the UK in May, flights to Lisbon were also a bargain.
I found return flights to the Portuguese capital for £33 from London, £47 from Birmingham and £71 from Edinburgh.
Lisbon is one of the cheaper city break options in Western Europe and tourists can enjoy views from the city's castle or listen to fado in a bar in the Alfama district.
Visitors shouldn't leave without tasting one of the city's famous pasteis de nata, the best of which are said to be baked in nearby Belem.
June – Faro, Lisbon or Porto
Once again, Faro was the cheapest destination to fly to in my search for bargain flights in June.
Lisbon was also a bargain with flights available for less than £40 but Porto was another cheap choice.
I found return flights to Porto for £37 from London, £45 from Liverpool, £47 from Manchester and £48 from Leeds.
The northern Portuguese city is famous for its wineries, tiled buildings and riverside cafe culture.
Faro
If you're looking for a bargain Portuguese getaway, Faro was easily the cheapest destination to fly to.
As the only international airport in the Algarve region, Faro Airport is the gateway to the country's most popular beach resorts.
With a bargain flight to Faro, tourists can travel to Vilamoura, Albufeira, Tavira, Lagos or Praia da Rocha.
If you're looking for nightlife and a busy dining scene, Lagos is generally the best choice for a holiday.
The town is known for its rooftop bars, cocktail lounges, dance clubs and fresh seafood restaurants.
Tavira is a great choice for culture vultures and is said to be one of the best places to learn about Portugal's fado music tradition.
Vilamoura is one of the Algarve's flashier spots and its marina is often packed with superyachts.
All flight pieces correct at the time of writing and found on Skyscanner.
Source: Read Full Article