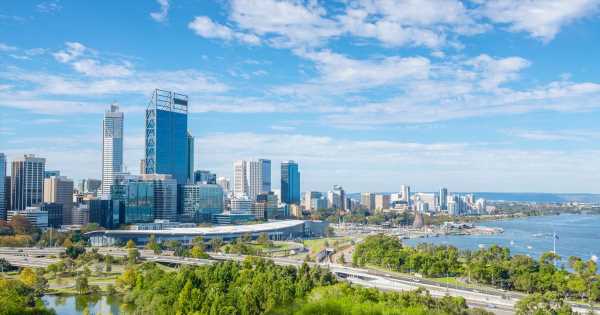 More than 50,000 fed-up Brits have registered an interest to move abroad after a state's delegates launched a bid to steal workers.
Aussie recruiters are hunting for 31,000 Brits to ease an employment crisis in Perth in Western Australia.
Delegates from the Western Australian Government will arrive in the UK this weekend in a bid to lure them down under with the promise of better pay and better weather.
READ MORE: Thousands of Brits urged to live in stunning city where pay is three times more than UK
Sources said more 50,000 British and Irish people have requested information on the jobs and packages available from WA's 'It's Like No Other' website, in the space of a week.
The party, led by Police and Defence Industry Minister Paul Papalia, announced on February 16 they were flying over with the intention of recruiting almost homegrown workers.
Nurses, teachers, police, miners, doctors, plumbers and electricians are just some of the professions being sought to fill vacancies in the Australian state's labour market.
Some, especially geologists and drillers, are being offered three times the average UK salary for the roles, which pay around £27,000 and £29,000 over here.
But we can reveal far more than expected have applied for the roles, lured by the promise of higher wages, lower energy bills, better housing and a sunnier lifestyle.
Average wages in the State are among the highest in Australia, with nurses able to earn 58% more there than in the UK.
'I asked a mum to calm her child down during our flight – but she snapped at me'
Some workers in the care industry could more than double their salary while blue collar trades can also see similar increases in their earning capacity.
Once the Australia-UK Free Trade Agreement signed between the two countries comes into force this year, it will provide a simplified pathway for UK citizens to work in Australia, with mutual recognition of qualifications for skilled workers and much greater benefits for the working holiday maker visa.
The delegation will hold a string of skills events and are planning to attend job fairs in four major cities – London, Edinburgh, Bristol and Dublin – starting today (Sunday).
Want all the biggest Lifestyle news straight to your inbox? Sign up for our free Daily Star Hot Topics newsletter
READ NEXT:
Europe's 'best party city' has £2 beers – and you can get flights from £13
Tourist shares her simple tongue hack to avoid getting 'ugly passport photo'
'I'm plus sized and love to travel the world – I just ignore the haters'
Cyprus travel warning issued by UK Foreign Office for Brits heading on holidays
Is it safe to travel to Turkey? Latest travel advice after further earthquakes hit
Source: Read Full Article