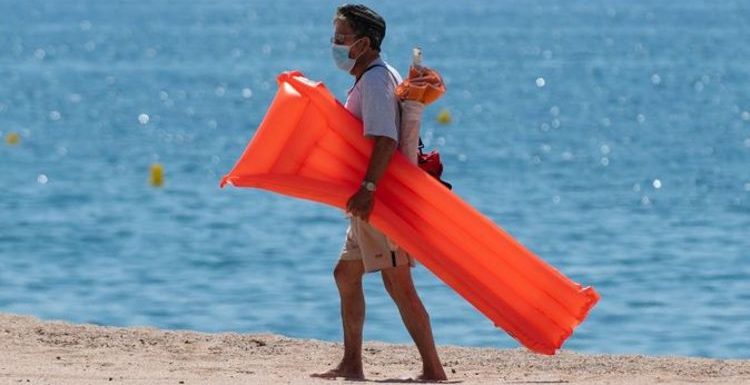 UK travel: Expert advises on booking summer holidays
When you subscribe we will use the information you provide to send you these newsletters.Sometimes they'll include recommendations for other related newsletters or services we offer.Our Privacy Notice explains more about how we use your data, and your rights.You can unsubscribe at any time.
Holidays have become a thing of the past, with the Government having restricted travel since March 2020. Each home nation has also followed a different lockdown method, limiting even local travel. But with vaccine programmes successfully gathering speed, people will hope the Government may soon reconsider its rules.
Can you go on holiday this summer?
Travel rules at present make it illegal for people to book international or local holidays.
And Government ministers have signalled this is unlikely to change.
Transport Minister Grant Shapps has said it is "too soon" to book a summer holiday.
Speaking on the BBC's Radio 4 Today Programme, he said people would have to wait for further information about when the country will "unlock".
The minister said future decisions would depend on the UK's vaccination process and caseload.
He said: "First of all, I should say, people shouldn't be booking holidays right now – not domestically or internationally.
"The Prime Minister will say more about the route to unlocking this country, starting when he speaks about it on February 22."
"But we don't know yet whether that will include information on things like holidays, simply because we don't know where we'll be up to in terms of the decline in cases, deaths, the vaccination.
"And not just the vaccination programme here, but the vaccination programme internationally, because people will be going outside of our borders. So it's too soon."
However, in what has become a running theme for the Government, Downing Street quickly overrode his message.
The Prime Minister's spokesman has said it is a "choice for individuals" to book a domestic holiday.
DON'T MISS
Lorraine Kelly cuts off Dr Hilary as she details plans to take a break – VIDEO
New home abroad hotspots – where are the best places to buy abroad? – ANALYSIS
Holidays: 'Too early' to predict summer travel warns Prof Van-Tam – INSIGHT
But once again they deferred to the incoming announcement later this month.
They said: "I would point to the fact that during the week of the 22nd we will publish a road map that will set out a timeframe and the scope of the easements that we're looking to introduce.
"We've set out that timeframe clearly and that will allow people to have a greater knowledge and understanding of the path going forward."
The latest announcement has caused unrest amongst travel business leaders, who say a lack of bookings will damage the industry.
Mark Bridgeman, president of the Country Land and Business Association (CLA) told the Guardian the "mixed messaging" from the Government would hurt rural tourism.
He said: "Government has been telling us we can look forward to a great British summer, but now says we mustn't book any holidays at all.
"This mixed messaging risks confusing members of the public and damaging rural tourism businesses, which are in dire need of some good news.
"Cancelled Easter holiday bookings – and reduced capacity if lockdown lifts – means many UK tourism businesses are hanging on by a thread."
Source: Read Full Article