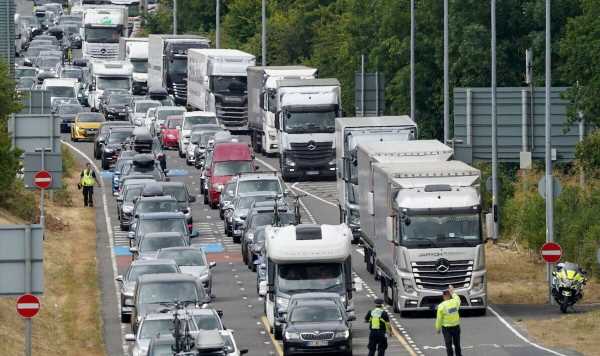 Easyjet CEO says 'nothing new' on the impact of Brexit on travel
We use your sign-up to provide content in ways you've consented to and to improve our understanding of you. This may include adverts from us and 3rd parties based on our understanding. You can unsubscribe at any time. More info
Port of Dover delays over the weekend saw thousands of cars line up to make the crossing to France as a Brexit blame game erupted on both sides of the English Channel. Officials have managed to smooth the situation, but attention has now turned to the Eurotunnel.
Are queues being reported at the Eurotunnel?
As the name suggests, the Eurotunnel is an undersea tunnel which connects the UK and France via Folkestone and Calais.
Users can travel through the 50km (31 mile) stretch with their car, aboard the Eurotunnel Le Shuttle train, making for a short trip to Europe and a viable replacement for those unable to catch a ferry.
But the tunnel is unlikely to entice drivers in its present state, as it appears to have taken on some of the port's queues.
On Sunday, July 24, increased traffic turned the route into a "hotspot of holiday hell", as drivers had to wait in traffic around Folkestone.
Officials activated post-Brexit Operation Brock, a contraflow system that keeps traffic on the M20 so cars on its surrounding roads can continue to move freely.
Motorists reported waiting for three hours or more in queues, with Twitter user David Cheesman saying "no one" was moving and that he had "no chance" of making his scheduled departure.
The contraflow is currently in use, suggesting significant traffic remains in the area.
Eurotunnel updates show that while check-in and border controls are working, there are service delays.
People currently face delays of "approximately 30 minutes", but should continue to check in as usual.
The slight respite at the Eurotunnel echoes the situation at the Port of Dover, where traffic has calmed down slightly.
Vehicles now flow freely with only "small queues", but travellers should leave up to 90 minutes to make it through border control.
While the situation has settled, for now, experts fear it could worsen again in the days to come.
Toby Howe of the Kent Resilience Forum explained to the BBC that queues were easily aggravated.
He said it was a "very vulnerable situation", with the port susceptible to congestion.
Jack Cousens, head of roads policy for the AA, said the situation could repeat itself over the summer.
Mr Cousens said: "We are concerned that we could be in for a repeat of this congestion across the summer.
"Drivers due to use both Dover and Folkestone to head into Europe on Fridays, Saturdays and Sunday mornings between now and the reopening of schools may see a repetition of these delays across the summer."
The more severe queues at Dover began after Brexit, with French border patrols required to carry out additional checks as the UK becomes a "third country".
These include stamping passports, checking import permissions and ensuring travellers can finance their stay.
Source: Read Full Article