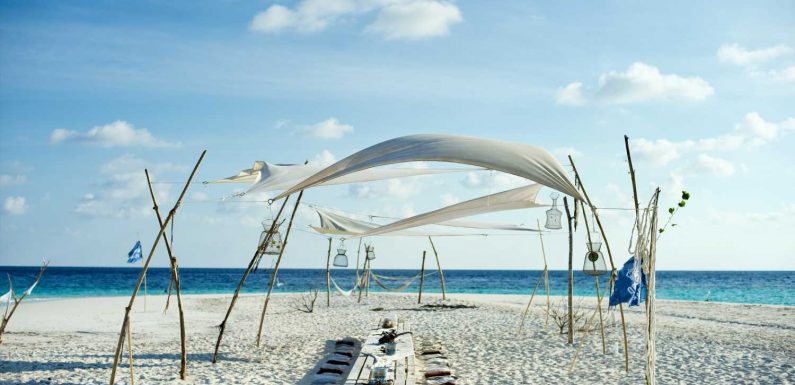 We've locked down, canceled trips, and spent countless milestones—birthdays, graduations, honeymoons—cooped up at home. But with an end in sight, it's time for a do-over. Time to dream again. To book that cruise, map out an epic road trip, or plan a family reunion. To remind ourselves why we travel in the first place—to celebrate ourselves, one another, and the world.
All listings featured on Condé Nast Traveler are independently selected by our editors. If you book something through our links, we may earn an affiliate commission.
The graduation road trip
As two friends from business school cut a rug to Michel Teló on a dance floor in İzmir, I knew: This friendship would be a lifelong affair. Our road trip in Turkey was a spontaneous call. We yearned for mild evenings, stops at carts laden with pomegranates, and drives that would give us space to talk for hours. We found all of that along the jagged Aegean coast. A ferry across the Marmara Sea took us to the gateway of Bandırma; a rented Peugeot did the rest. In Behramkale, onetime abode of Aristotle, we feasted on rich Memecik olives. In the historic mineral spa of Pamukkale, we dipped our toes into surreal travertine pools. In Ephesus, one of the ancient world's grandest settlements, we ambled along the columned Arcadian Way. Washing off the dust from our journey at Çemberlitaş Hamamı, a magnificent bath in Istanbul, we delighted in our newfound closeness, a school bond cemented somewhere on the road. —Yulia Denisyuk
The solo honeymoon
Inspired by his friends' idyllic postnuptial vacay in Kyushu, one traveler learns to say "I do" to himself.
I had the run of the place. I'd arrived at Spa Ryokan Sanga, in the town of Kurokawa Onsen, at just the right time of the afternoon; the last wave of guests had already checked out, and new ones had yet to take their place. I changed into my cotton yukata, or bathrobe, slipped on my sandals, and made my way to a large round wooden hot tub in a forested nook overlooking a rushing river and an abandoned footbridge. As the sun set, the open-air room filled with komorebi—light shimmering through the trees. Pure travel magic.
What heightened the experience was that every bit of it—the town, the hotel, the robe, the tub—was stolen.
Friends of mine who had honeymooned in Japan in 2018 came back raving about Kurokawa Onsen, up in the mountains of Kyushu. The following summer, on a work trip in nearby Fukuoka, I hijacked their trip for myself. The Japanese have a specific word for traveling alone: hitoritabi. The timing dovetailed well with my impending 40th birthday. When you're that age and single, you come to a reckoning that maybe the only special someone in your life is you. The obvious solution is to bake celebration into your everyday existence.
Most of my solo trips had been the travel equivalent of sweatpants—unfailingly casual, akin to a shoulder shrug. So I took a question singles often ponder—Would you date yourself?—and wildly upped the ante: Would you honeymoon by yourself?
That's how I ended up in that tub, taking the most memorable breaths of my life. It was a deeply intimate moment—me and the world, me with the world, me in the world. I'm amazed that the Japanese, in addition to having words for solo travel and forest light, don't have one for the first full-body exhale of a lavish vacation. They should.
The evening continued with a 10-course dinner. "For me?!" I squealed when the kimono-clad server brought me to my private dining room. Afterward, sated, I warmed myself at the firepit, flames licking its copper basin. I slept starfish-style, which I'd like to see honeymooners attempt.
The next morning I found an outdoor waterfall bath at Ikoi Ryokan, along with a little shop where I bought a koi tapestry. But my favorite spot was the warm cave baths of the ryokan Yama no Yado Shinmeikan, whose shimmering pools spilled out in a maze of figure-eight loops. 
I'd already shed my clothes—but there in the cave, I felt the weight of other worries fall away too: of looming middle age, my win-loss mindset, and even the latent pressures of being in Japan, with its endless protocols, the bowing and highly choreographed exchange of business cards. Suddenly there was no one to please but myself, and the trip shifted into a pilgrimage to find a new me, a man of possibility more than prudence. You could hardly fault me, already au naturel, for engaging in a bit of navel-gazing.
Then, all at once, I really let go and began belting out lines from the Little Mermaid tune "Part of Your World." "How many wonders can one cavern hold?" I sang. Just one: this glorious freedom.
I realized when I came out of my reverie that I was no longer alone. There, observing my grand performance, was a group of young, muscly South Korean park rangers on a team-building trip. They, too, were naked.
I blushed. They applauded. We all laughed and went for fried horse-meat patties, a local delicacy, at a nearby diner.
It's not how honeymoons usually go, I know. Or heists. But perhaps honor among thieves could begin with me. I was glad for what I'd consummated on that bachelor's honeymoon: a celebration of myself, party of one. —Richard Morgan
The bachelorette cruise
Lazy pool days, no bar tab, 10 friends, and 1,900 strangers—that was my bachelorette party. Our crew chose a three-day Caribbean sailing with Norwegian Cruise Line largely because of its all-inclusive nature, but also for the convenience of getting together throughout the day. Off the ship we explored Key West (Ernest Hemingway's six-toed cats were a big hit) and snorkeled on Grand Bahama Island. But my favorite memories unfolded on board, in moments that felt surprisingly intimate—like discovering a quiet upper deck for sunbathing or rearranging the furniture at the bars so we could all sit together. The cruise was the ideal grown-up getaway for a group of early-30-somethings that also gave us the chance to indulge our inner kids, singing our hearts out during karaoke and tucking into late-night soft serve and fries. —Stephanie Wu
The destination wedding
For one writer, a save-the-date turned out to be more than just a wedding announcement—it was the catalyst for a never-ending family reunion.
Was this the eighth event? The fifth all-nighter? The seventh cake? The 42nd flower garland? At some point I learned to stop counting and just embrace the joyful chaos.
I was in Hyderabad, India, jet-lagged and sleep deprived, for the final stretch of my cousin's wedding. In India the word wedding often encompasses not just a single ceremony but a series of events spanning several days; in this case, Saad and Farah's festivities had begun two weeks ago and 8,000 miles away in San Francisco. By now, on day-who-knows-what, the parties, the singing, and the laughter were melting into one endless loop of revelry. "I had to ask my boss for a month off just to get married," Saad said with a chuckle. And that didn't even include the honeymoon.
When your family is spread out across the world—mine is in California, Texas, Massachusetts, Saudi Arabia, and India—weddings are more than a celebration of love: They're an excuse for an epic family reunion. Whenever a wedding is announced, we all start coordinating our flights.
JFK was deserted on Christmas Day in 2019 when I boarded a plane to San Francisco, so I soaked up my last moments of tranquility before embarking on a whirlwind three-week trip. But even amid the pomp and finery of a traditional wedding, the jubilant moments in between the rituals were the most memorable. The peals of laughter at the manja party to kick off the festivities, when we all took turns slathering Saad's face with turmeric paste—and then he chased each of us all over the house to return the favor. The 3 a.m. dance practices where I tried my best to get my uncoordinated cousins to channel their inner Bollywood stars. My sister, Noura, warming up in the car for her knockout rendition of Etta James's "At Last" at the sanchak-mehndi, a colorful pre-wedding function filled with music and dancing. Beaming with pride as Saad and his 30 groomsmen nailed the choreographed entrance we'd been polishing in the lobby until just minutes before. The wedding day, when the dhol player led our boisterous baraat, or groom's procession, down the elegant halls of the Fairmont San Jose. A makeshift spa night with nine of us piled onto a bed, painting Kiehl's masks on one another's faces. The Texan groom blasting country music as we drove around Hyderabad in search of midnight ice cream. Arriving early to the regal walima, a reception hosted by my aunt and uncle, at the 18th-century Chowmahalla Palace, to make time for family photos beneath the chandeliers of the Durbar Hall before the guests arrived—then flipping through the local papers together over breakfast the next morning to glimpse those pictures in the society pages.
There were plenty of other milestones to commemorate during the three-week extravaganza, and the bride and groom were happy to yield the spotlight: surprise cakes marked three birthdays and an anniversary, and an evening of qawwali music celebrated the groom's brother Zafar's engagement to Sheema.
When we left Hyderabad last January, we planned to do it all over again in six months. Instead, when Sheema and Zafar's nuptials rolled around in July, I woke up at 4 a.m. to watch the nikah, an Islamic ceremony, live-streamed from India; in December we all reunited on Zoom for a scaled-down series of events celebrating the couple in Dubai. Before last year, my biggest worry was that we'd eventually run out of cousins' weddings we could use as an excuse to get together. Now I know I need to seize every chance I can to see my family, weddings or not. But first, 2021 owes us a do-over for Zafar and Sheema—and I can't wait to book that flight. —Sarah Khan
The babymoon
"Don't worry if it gets in your mouth—it's edible," the esthetician whispered, painting a mask of hot wildflower honey and extra virgin olive oil onto my face. The sensation was divine, enhanced by the chill of a rose quartz wand conducting a lymphatic drainage massage. My husband and I had made the right call squeezing in one last pre-baby trip—and making it wellness-centered—at the year-old Canyon Ranch Woodside retreat, 45 minutes from San Francisco. Even I, an unwavering beach bum, couldn't deny the tranquility of this beguiling place, ensconced in a lacy redwood forest. Armed with a seamless itinerary (a program adviser helps design every guest's journey), we took slow-motion walks in the hushed woods, painted with watercolors, admired pink skies from the wraparound deck, and cozied up for talks about presentness. It was the first time I've ever said of a menu, "I'll have it all!" with no shame, for the food, sourced from local regenerative farms, was portioned perfectly. My prenatal massage was also guiltless. Thirty weeks in, my baby was my barometer for relaxation: The more soothed I felt, the more she kicked. As fingers danced up and down my spine, rooting out knots, she wriggled in appreciation. On this vacation, happy baby meant happy parents. —Kathryn Romeyn
The mother-daughter trip
For one traveler and her equally headstrong mom, a holiday cruise on the Danube offers an ideal compromise.
I had her at The Sound of Music. After weeks of trying to narrow down our travel plans, we finalized our decision based on my mother's love of a movie she'd been able to recite since childhood. A mutual desire to explore the Christmas markets of Europe also helped.
My mom and I have traveled together for almost two decades. Her collection of souvenir magnets has grown so large you can hardly tell the color of her refrigerator. When I left our hometown of Los Angeles to work in New York, we decided to meet up in a new place each year as a celebratory reunion—and something of a peace treaty between two willful humans. When I say "up," she says "down," but we'll always meet in the middle for travel. We share a curiosity and passion for new experiences—and great food—that transcends everything else.
For our most recent reunion, we landed at Munich's airport at three o'clock in the morning. The cold winds knocked the jet lag out of our bodies. After a long bus ride, we arrived at the port in Vilshofen an der Donau to begin our seven-day journey aboard an AmaWaterways Danube River cruise, with stops in Germany, Hungary, Slovakia, and Austria. It was in that last country that my Sound of Music-obsessed mother would finally get to see Basilika St. Michael in Mondsee, where Maria and Baron Georg Von Trapp were married, and Mirabell Gardens, the Salzburg site of Julie Andrews's forever-catchy rendition of "Do-Re-Mi." The musical top notes made it easy to overlook that this was a romance-themed cruise. Watching couples from around the world do the wobble dance and drunk-waltz to Dolly Parton was the Christmas gift we never knew we needed.
On board, my mom and I joined in beer tastings, movie nights, spinning classes on the deck, and as many buffets as our stomachs could handle. We sailed past medieval villages and hillside vineyards and stopped in small German towns I'd never heard of, like Passau, where we glimpsed the ornate St. Stephen's Cathedral. In Vienna we slid our forks into a slice of apple strudel topped with whipped cream at Café Landtmann and split a plate of bratwurst and frankfurters at Leo Würstelstand, one of the city's oldest sausage stands. In Budapest we climbed to the historic Buda Castle to take in the magnificent views, then rewarded ourselves with cinnamon-spiced mulled wine and Hungarian chimney cake, a sugar-dusted cylindrical bread that's crunchy on the outside and fluffy in the middle. Even frigid weather couldn't slow us down; we ended the night at one of Budapest's oldest ruin bars, Szimpla Kert, in the Jewish quarter. The multilevel haunt was filled with salvaged furniture, including bathtubs for bar goers to lounge in.
The Christmas markets, of course, were everything we imagined they would be: an explosion of dazzling lights and sparkling ornaments, the air redolent of roasted chestnuts, the cheer of strangers palpable. We laughed at the fiery jolt inside our chests—the result of drinking one too many warm rum punches, served to us in boot-shaped mugs decorated with snowflakes. Today those boots sit on my mother's windowsill in Los Angeles, across from her fridge covered in magnets—all of them kitschy, colorful reminders of our commitment to celebrating travel, and each other, even if it means meeting halfway. From $2,899 per person —Kristin Braswell
A birthday for any age
To reduce our carbon footprint, my husband and I decided to swap long-haul destination birthday travel with stay-on-the-ground getaways. It was in that spirit that we recently set out for a wellness weekend from our home in Zurich to Samedan's Mineralbad & Spa, located in a 12th-century Alpine village plaza. The soak was edifying, but our three-hour ride on the Rhaetian Railway was the unexpected highlight—and a reflective break from high-speed travel. Built in 1889, it is one of five UNESCO-listed trains worldwide. Its cherry red carriages rattle past bony massifs, hypnotic waterfalls, and cerulean glaciers, their route made possible by 84 tunnels and 383 bridges. The scenery covers a millennium's worth of history, including Roman Celtic ruins and Swabian fortresses. Rumbling over the Landwasser Viaduct was especially dramatic. From my corduroy seat in the Pullman car, I opened the window as we screeched around a dead man's curve, then crossed the snow-covered, 213-foot-high trestle and plunged into a tunnel bored through the rock. Who says you need to fly to marvel at physics? —Adam H. Graham
The sweet 16
I've never been big into my birthday. Chalk it up to social anxiety, but it's an annual event I prefer to pass without fanfare. My family, however, demands a huge bash anytime someone turns 16. When my 16th birthday rolled around, despite my protests, my parents rented a five-bedroom beach house dubbed Breakers Pointe, in Galveston, a breezy Gulf coast town about four hours from our home in Dallas. Galveston blends Texas warmth (literally and figuratively) with a laid-back atmosphere (as long as you avoid the tourist traps). We found the place loaded with bunk beds, board games, and appropriately tacky vacation-home paraphernalia, including anchor decorations and palm tree lamps. Throughout the week, relatives from across generations streamed in and out, some spending just a night, others staying the whole time. My dad's older brother drove in from Houston; my cousin Raghav flew in from San Francisco. At one point there were more than 25 people. We filled our days with strolls on San Luis Beach and themed dinners (Bollywood! Tacos!) followed by dance parties. I enjoyed my first full glass of wine. I've spent every birthday since chasing the memories of that trip, and I have yet to be more charmed by a beach town. —Priya Krishna
The 50th birthday bash
The main thing is you have to be very sneaky in order to organize the mass movement of 22 middle-aged parents from New York and London to Mexico City without blowing the secret for your fêted friend. Her astoundment at the sight of her personal flash mob waiting at JFK's Terminal 4 Gate 11 was alone worth the hours of surreptitious emailing and group texting in the weeks leading up to this moment. You also have to plan your days like an ambassador's attaché so as not to lose time consensus-building over dinner preferences or taste in art, moving as one from a private tour of quetzal-feather headdresses at the National Anthropology Museum to Entremar for tangy red-and-green whole snappers; a conga line through Kahlo and Rivera's jauntily painted La Casa Azul to a stall crawl around Jamaica market for elote and chicharrones. This trip holds space for the memorably unscripted, like the mercifully uneventful earthquake that had us all deliriously picturing our kids learning how their parents had met their demise together. Or when, at the Salón San Luis—a classic, velvet-curtained salsa club—a valiant, pomaded young man led us one by one to the dance floor, where we never lost sight of having crossed the midpoint of our lives, and yet felt so very good in our shoes. —Alex Postman
This article appeared in the March 2021 issue of Condé Nast Traveler. Subscribe to the magazine here.
Source: Read Full Article