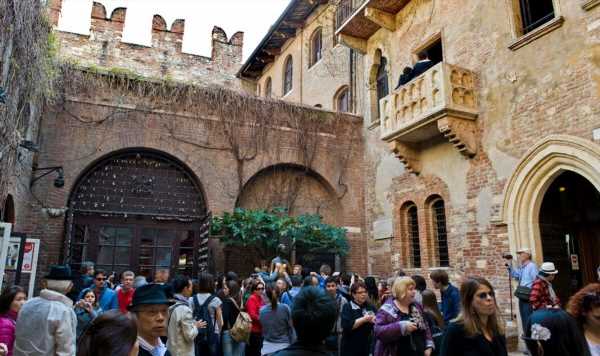 Juliet's Balcony: Iconic Shakespearean attraction in Verona
Shakespeare fans can pay homage to the famous playwright at several key sites around the world. From Anne Hathaway's cottage in Stratford-upon-Avon to The Globe Theatre, there are plenty of tourist hotspots with links to the playwright.
But one Italian Shakespeare-themed attraction hasn't impressed all its visitors. Juliet's Balcony in Verona has left many tourists disappointed.
Casa di Giuletta doesn't actually have any relation to Shakespeare's Romeo and Juliet but that hasn't stopped the crowds from flocking. The house was built in the 13th century but the balcony wasn't added until the 20th century.
Although Shakespeare set Romeo and Juliet in a fictionalised version of Verona, it's very unlikely that the playwright ever travelled to Italy. Despite that, around three million tourists a year visit Casa di Giulietta.
A tourist 'Nc S' wrote on Tripadvisor: "Oh well, as fake as it gets. A Madame Tussaud's wax nightmare is more genuine than this typical Italian rip-off in a Shakespearean twist."
READ MORE Tourists complain about overhyped 'insignificant' attraction
Another tourist 'Jason S' said: "This really is a manufactured tourist trap. Juliet's balcony is not real, it's built for tourists to a Shakespeare storyline! Visually looks okay and maybe nice for a photo but that's it."
'Travel_butterfly_Jen' wrote: "Underwhelming but good to do I suppose if you are in the area. Don't make a special trip. When you enter it is just a little courtyard with lots of shops selling that's geared at tourists."
'Michells S' said: "Don't waste your time! The crowds are crazy and all to touch the breast of the statue. Verona has a lot of history and I highly recommend spending your time exploring the Old Town."
Don't miss…
Woman praised for refusing to swap seats with child on flight[DEBATE]
'Postcard-perfect' seaside town is ideal destination for a coastal walk[STAYCATION]
British tourists will have to pay to travel to the EU next year[LATEST]
We use your sign-up to provide content in ways you've consented to and to improve our understanding of you. This may include adverts from us and 3rd parties based on our understanding. You can unsubscribe at any time. More info
Casa di Giulietta has a statue of Juliet and according to legend, tourists can rub the figure's right breast if they want to be lucky in love.
Inside the house, many tourists stick love notes to the wall. Verona City Council was forced to ban visitors from using chewing gum to stick the notes after the gum started damaging the walls.
While many tourists felt the house wasn't worth the visit, another said: "It was still a fun photo opportunity to get a statue of Juilet in the courtyard and a photo of the balcony."
Juliet's Balcony might be a disappointment but Verona has plenty of other attractions that are worth seeing. Arena di Verona was built before the Colosseum and is still used for concerts today.
The city also has several atmospheric squares that are well worth a visit with Piazza delle Erbe the best-rated on Tripadvisor.
It's not just Juilet's Balcony that's left visitors underwhelmed in Italy. Tourists have complained the world's most beautiful village left them feeling like "sweaty sardines".
Source: Read Full Article