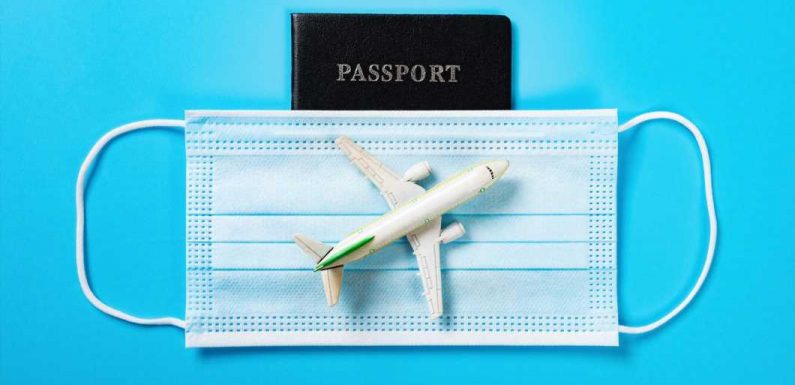 If you're nervous to fly right now, that's definitely understandable. The idea of sitting on a crowded airplane for hours, surrounded by people, even if they're masked, seems pretty unsavory in COVID-19 times. But if you are considering taking a plane trip—or need to—there are plenty of factors to consider to maximize your safety. For one thing, the myth that the air inside airplanes is "recirculated" and unsafe is, in fact, a myth—the air is actually pretty well filtered and safe. For another, safety protocols differ between airlines, and choosing one airline over another can boost your chances of staying safe.
Airfare deals site Scott's Cheap Flights released their annual "State of Cheap Flights" report for 2021, and they unsurprisingly assessed the impacts of the COVID-19 pandemic. In their assessment, they named the two airlines that they consider to be safest right now: Delta and Southwest. Check out the full results of the survey at Scott's Cheap Flights.
How were report results determined?
The results of the reports were determined by Scott's Cheap Flights members. The site emailed the survey to their members and received over 5,800 responses, using those to determine the results. "We asked questions about COVID but also general travel plans for 2020 and 2021," says Katie Hammel, Scott's Cheap Flights' Senior Content Marketing Manager.
How did Delta and Southwest come out on top?
All of the survey respondents were people who actually took flights on those airlines from March to November. They ranked their experience one through five stars on how well they implemented certain COVID safety protocols: enforcing mask policies, capacity limits, blocking middle seats, providing sanitizing wipes, sanitizing between flights, notifying passengers of full flights, and limiting interaction with crew.
A full 92 percent of survey respondents gave both Delta and Southwest four or more stars, putting them at the top of the pack. Delta did six of those seven things: The only thing they fell short on was notifying passengers of full flights. Interestingly, Southwest only did five of the seven, falling short on providing wipes and notifying passengers of full flights—yet Southwest still edged out other airlines that did six. For passengers, the quality of the services Southwest did provide must still have outweighed the experiences on the other airlines. These are the air travel rules you need to know about.
Other strong airlines
JetBlue and Alaska were the other airlines that did six out of seven, like Delta. The only one JetBlue didn't do was provide wipes, and Alaska Airlines fell short on notifying passengers of full flights. And those airlines both did very well in the survey, with 88 percent of respondents giving Alaska four or more stars and 86 percent ranking JetBlue that high. Yet Southwest still edged them out slightly. For passengers, the quality of the services Southwest did provide must still have outweighed the experiences on the other airlines.
The airlines that came out the worst
Spirit Airlines landed at the bottom of the list, with nearly half of respondents (47 percent) giving it three stars or lower. Spirit only did three of the seven things, a less-than-ideal number also shared by Frontier Airlines. Interestingly, those three things were the same for both airlines: Enforcing mask policies, sanitizing between flights, and limiting interaction with the crew were the only things out of the seven that they both did. (In fact, every single airline in the survey did those three things.) Neither of those, though, is the airline that's gotten the most complaints during the pandemic.
Middle of the pack
The other airlines in the survey, United, American, and Air Canada, "were more hit-and-miss when it came to passing out sanitizing wipes, not filling the plane, and keeping middle seats open," said Hammel. Like Southwest, United did five out of seven, but landed below Southwest in terms of overall satisfaction. United did not block middle seats or implement capacity limits. But it was one of only two airlines (JetBlue was the other) to notify passengers of full flights, the category that the most airlines did not fulfill.
The bottom line? No airline's been perfect during this challenging time, with enforcements differing from airline to airline. And customer satisfaction is subjective! What matters is assessing the things that mean the most to you, choosing an airline accordingly, and, of course, following safety protocols to keep yourself and your fellow passengers healthy. For more safety tips, learn what flight attendants want you to know before you fly again.
Source:
Scott's Cheap Flights: "The State of Cheap Flights in 2021"
Best & Worst Refinance Mortgage Companies of 2021


Ad
Microsoft

Seniors Are Getting These Unsold 2020 SUVs For Dirt Cheap


Ad
Microsoft

A slam dunk if you need a balance transfer


Ad
Microsoft
Make the dry winter months bearable
Ah, winter. 'Tis the season for darkness in the afternoons and early morning wake-ups to warm up the car before a slippery commute to work. It's also the season that brings dry skin, static electricity, allergies, asthma, and assorted sinus problems. You likely know all too well just how the dry and cold winter months can wreak havoc on your well-being, but there's something that can at least mitigate the physical challenges: enlisting the help of one of the best humidifiers on the market.
According to the Mayo Clinic, humidifiers can help soothe dry sinuses, bloody noses, and cracked lips, as well as keep flare-ups from skin conditions like eczema at bay, since they add moisture to the air. Plus, hydrated skin equals younger-looking skin, which is a definitely a bonus. The bottom line: It's a smart investment—and one that you don't have to spend a fortune on. The key is knowing which humidifier is right for you, which is no easy feat considering just how many there are out there. That's why we've rounded up 13 great options, for every need and every budget, to get you through the bleak winter months. While you're waiting for your order to be delivered, use this nifty trick to humidify your home.
Note: Prices listed were accurate as of press time; pricing fluctuations may occur.
Choosing the best humidifier for you
Before you buy, there are a few things you need to know—including if you really need one. "Whether or not you need a humidifier depends on your climate, your home's air ventilation, and the conditions you manage. Humidity can affect asthma and allergies," explains Melanie Carver, Chief Mission Officer at the Asthma and Allergy Foundation of America (AAFA). "If your home is too humid (or has too much moisture), dust mites and mold can thrive. But if the air in your home is too dry, it can cause dry skin and aggravate your nasal passages."
These days, many humidifiers allow you to set your desired humidity level to prevent your home from becoming too humid. So, how much moisture is the right amount? "The Centers for Disease Control and Prevention recommends indoor relative humidity to be kept between 35 to 50 percent," Carver notes. "If the humidity levels are higher than that, it encourages mold growth and dust mites to thrive."
When shopping for a humidifier, you'll find tons of options, including machines that function as both a humidifier and air purifier. While we all love a good multitasking product, the best humidifier for you really depends on your specific situation. "Humidifier/air-cleaner combos can be beneficial where there is both low relative humidity and poor air quality, or the presence of allergens that are irritating to household members. If there are no problems with air quality or with allergic/asthma triggers, then the additional cost of the combo product might not be worth it," says Jennifer Whelan, Chief Operating Officer for Allergy Standards Limited (ASL). "Good combos will enable the user to switch on and off the humidifier function, so that they can still use the air-cleaner function even when humidity is not a problem."
One more important note: Don't wait too long to make your decision. Humidifiers and air purifiers are among the 13 shortages we're likely to see this winter because of COVID-19.
Best three-in-one humidifier: Dyson Pure Humidify+Cool
$799.99
Shop Now
If you want the best multitasker around, check out the Dyson Pure Humidify+Cool, which serves as a cool-mist humidifier, fan, and air purifier—and allows you to use the air purifier even when you don't need the humidifier. It also features a technology column in the water tank that uses UV-C light, as well as a highly reflective PTFE tube that reflects the UV-C light; this means water is exposed to multiple rays, killing 99.9 percent of bacteria in it in the first pass. Another selling point? Maintenance is super easy. This machine has a deep-clean cycle that thoroughly cleans all parts of the machine exposed to water. When cleaning is required, the deep-clean cycle button will illuminate, and the LCD display and the lid of the water tank will show the very simple steps to initiate the clean cycle. Did you know that air purifiers may also play a role in protecting your home and family from coronavirus?
Best humidifier for large rooms: Venta LW25 Airwasher
$299.00
Shop Now
The Venta LW25 Airwasher is designed for spaces up to 485 square feet, making it a great option for large spaces. It humidifies dry room air while simultaneously purifying it by removing dust, pollen, pet dander, and other airborne pollutants down to 10 µm in size, so it's also an ideal choice for allergy sufferers. Plus, its auto mode (which regulates the fan speed based upon the desired humidity level), auto shutoff, and filter-free design make this unit an eco-friendly choice. Here are another 35 eco-friendly products available on Amazon.
Easiest to clean: Miro Luma Touch Modular Humidifier
$159.00
Shop Now
If you relish the ability to clean all the things, the Modular Humidifier by Miro is for you. But first, let's talk about what it can do: This unit features a 1.06-gallon tank, so it can humidify up to 600 square feet continuously for eight hours on the highest of its three settings and 24 hours on its lowest. It also has a smart touch control panel and an LED light that can be set to your favorite color or turned off completely. And now for our favorite part: All of the Miro NR08M parts—including the water tank, fan, and ultrasonic mister—are waterproof and washable (though not dishwasher-safe). With the Miro NR08M humidifier, there's no need to sit your humidifier in bleach or vinegar—no more spending 40 minutes cleaning a humidifier. Cleaning this humidifier is as simple as doing the dishes. This model opens in one motion for washing, and its built-in magnets make reassembly a snap. If you're wondering whether or not cleaning your humidifier is really necessary the answer is yes, you really do need to clean your humidifier—and here's how to do it.
Best combination humidifier: Levoit Ultrasonic Humidifier
$89.99
Shop Now
Not sure if you should get a warm-mist or a cool-mist humidifier? They're equally effective in their abilities to humidify the air, according to the Mayo Clinic. It is important to note, however, that hot water or steam from a warm-mist humidifier can burn if touched or spilled, so you should only use cool-mist humidifiers in children's rooms. That being said, if you're shopping for yourself or another adult but aren't sure whether you'd benefit more from warm mist or cool mist, then the Levoit Ultrasonic Humidifier is perfect, since it offers both options. Not only does it boast a six-liter capacity for longer run time, but it also features a built-in humidity sensor, easy-to-read LED display, touch panel, and remote for an added layer of convenience. Don't miss these other Amazon products you'll definitely use every day.
Best for kids: Vicks Starry Night Cool Mist Humidifier
$44.99
Shop Now
Whether your little one is sick or suffering from allergies or eczema, the Vicks Starry Night Cool Mist Humidifier will give them some relief and much-needed rest. This humidifier works on its own or with Vicks VapoPads for extra soothing comfort when they're sick, but our favorite feature is the projector, which allows children to sleep under the stars. That's sure to make going to bed a treat, no matter what's bothering them. FYI, this is the best temperature for a house in winter.
Most stylish: Air Innovations Clean Mist Smart Humidifier
$89.99
Shop Now
Freshen up the air and your decor with this smart humidifier from Air Innovations, which comes in four color options—black, platinum, purple, and red—to either blend in with your home or give it a fun pop of color. And this humidifier, which is ideal for rooms up to 400 square feet, is as functional as it is stylish. It has a rotating mist nozzle and promises up to 96 hours of continuous moisture on its lowest setting, a 24-hour timer, and auto-shutoff. The entire unit and base are made of antimicrobial plastic to help prevent the growth of bacteria inside the tank, and it has a permanent ceramic filter, so you don't have to worry about purchasing replacements. Find out the other places bacteria and germs can hide in your home.
Most energy efficient: Vornado Energy Smart Evaporative Humidifier
$89.99
Shop Now
If you plan on running a humidifier all day, every day, then you're going to want something energy efficient. The Vornado Energy Smart Evaporative Humidifier is driven by an Energy Smart DC motor that uses 90 percent less energy. What, exactly, is an evaporative humidifier? Unlike a typical misting humidifier, evaporative humidification uses a wick to naturally humidify all the air in the room without leaving it damp. It's also worth noting that Vornado stands behind its products with a five-year satisfaction guarantee and a ten-year motor warranty, which is above and beyond the standard one- to three-year warranties offered by many other brands. Did you know that these 30 Amazon products have lifetime warranties?
Highest rated on Amazon: Pure Enrichment MistAire Ultrasonic Cool Mist Humidifier
$39.99
Shop Now
With more than 40,000 reviews and 70 percent of customers giving it a five-star rating, this just may be the best humidifier on Amazon. People love its filter-free, quiet, and compact design along with its optional night-light. One fan raves: "Love the small humidifier I purchased—I use it in a bedroom and it makes a tremendous difference! So quiet you don't know it's on, and it provides just the right amount of moisture to keep me breathing easy all through cold-weather months." Another reviewer notes that this model is best for a small room or office. If you're planning to use your humidifier in a larger room, go with the Pure Enrichment XL. Here are more brilliant buys on Amazon with practically perfect reviews.
Best for nurseries: TaoTronics Cool Mist Whale Humidifier
$28.16
Shop Now
This adorable tabletop humidifier, which functions as an essential oil diffuser and soothing night-light as well, is the perfect choice for nurseries—and not just because of its sweet whale design. It is also made of BPA-free material, boasts patented noise-reduction technology, and humidifies the air at just 26dB, so there's no beeping, fan whirring, or water dripping to keep your baby awake. When your little one does wake up, just press and hold the night-light button to create a warm, gentle glow and adjust to your desired level of brightness. Another perk: With a filter-free design, wide opening, and its own cleaning brush, tired parents won't have much to worry about in the way of cleaning and maintenance.
Best for travel: Boneco Travel Ultrasonic Humidifier
$49.99
Shop Now
If you're a seasoned traveler, then you know how dry hotel rooms can be. Boneco's tiny travel humidifier comes with its own storage bag and will fit snugly into your carry-on. All you'll need is a water bottle and the bottle adapter (which is included with the humidifier) and you're good to go. One reviewer writes: "I love this thing! It has saved me this winter as I have been traveling. Usually, I suffer this time of year with congestion, dry skin, and severely chapped lips because I travel to cold-weather areas. I left this home one week and had exactly those issues, but the following week, I remembered to pack this and had no such issues."
The only drawback, according to some reviewers, is the unit's LED light. Several people claim that the light is too bright, so if you think you may have trouble falling asleep with a light on, opt for another model—or try this simple trick that can help you fall asleep in 60 seconds or less.
Best for small spaces: CVS Health Cool Mist Humidifier
$31.99
Shop Now
Although this CVS Health humidifier doesn't come with any bells and whistles, Consumer Reports named it as one of its CR Best Buys of 2020 for its performance and price. Designed for small rooms, it has variable output settings, a soft-glow night-light, and automatic shutoff, and it will run for up to 20 hours per filling. The transparent tank and filter-free design make it easy to clean, and it's whisper-quiet, so it's perfect for nighttime use. If you're looking for something simple, this is your unit. On the flip side, these are the 15 worst products Consumer Reports has ever tested.
Best whole-home humidifier: Essick Air AirCare Evaporative Humidifier
$124.99
Shop Now
Is having a humidifier that works on your entire home better than having one just in your bedroom? That depends. "If someone is using a humidifier in a bedroom, they will get more benefit from a standard portable humidifier because it only needs to humidify a relatively small space," says Whelan, adding that as long as there is adequate ventilation, it would be better in that scenario to keep the door closed so the benefit is not lost to other spaces in the home. A whole-home humidifier would need to perform at a much higher level to make a difference to relative humidity, and there would be a greater running cost associated with that.
But if you're looking to add moisture to more than just a single room or you have an open floor plan, check out this Essick model. It has a 3.6-gallon capacity and is designed to cover up to 3,600 square feet. Plus, it has a digital humidistat to customize humidity levels and shuts off when that desired humidity level is reached (or when the unit is empty). Weighing in at 14 pounds, it's a rather large unit, but it is equipped with wheels for easy maneuvering around the home.
Best budget humidifier: Vicks Filter-Free Ultrasonic Cool Mist Humidifier
$39.86
Shop Now
This cool-mist humidifier won't need replacement filters, and its 1.2-gallon tank can provide up to 33 hours of soothing mist. It has a wide tank opening for easy filling and cleaning, auto-shutoff when the water reaches a minimum level, and adjustable mist control for customized output. And since we're heading into cold and flu season, this humidifier is also compatible with Vicks VapoPads for extra comfort. Designed for rooms up to 400 square feet, this inexpensive yet effective humidifier is great for the office or almost any room in your home. Next, learn more of the best winter survival tips from the coldest parts of the country.
Want more deals and product picks sent directly to your inbox? Sign up for the Stuff We Love newsletter!
Sources:
Mayo Clinic: "Humidifiers: Air moisture eases skin, breathing symptoms"
Melanie Carver, Chief Mission Officer at the Asthma and Allergy Foundation of America
Jennifer Whelan, Chief Operating Officer for Allergy Standards Limited
Mayo Clinic: "Warm-mist versus cool-mist humidifier: Which is better for a cold?"
The post These Are the Two Safest Airlines You Can Take Right Now appeared first on Reader's Digest.
Source: Read Full Article