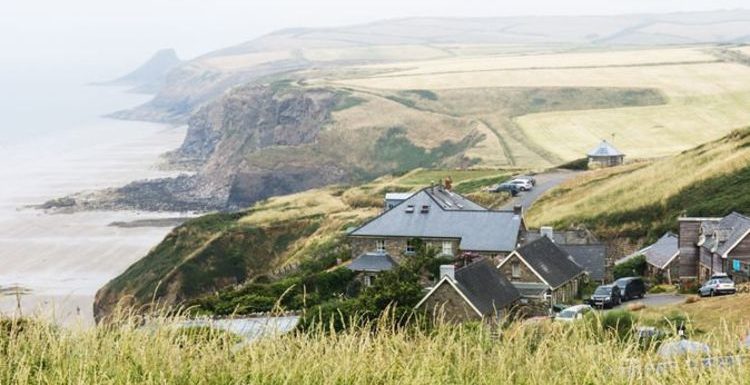 Mark Drakeford says Wales staycations 'can no longer take place'
We use your sign-up to provide content in ways you've consented to and to improve our understanding of you. This may include adverts from us and 3rd parties based on our understanding. You can unsubscribe at any time. More info
Staycations were on the rise this summer, leading to long queues at beauty spots all over the UK. One hotel in Wales introduced a membership fee to curb tourists swarming its bar, and the owners don't regret it.
The Druidstone Hotel in Haverfordwest, Pembrokeshire now has a £200 membership fee.
The new fee was introduced after the Welsh hotel couldn't cope with tourists turning up from nearby pop-up campsites and Airbnbs.
Pictures of the hotel's bar were widely shared on social media, leading to an influx of tourists.
Owner Angus Bell said: "It just got too much."
READ MORE: Flight attendant unveils why Harry & Meghan ordered different food
He continued: "My guests were having to wait 45 minutes at the bar to get a drink and a lot of the local people would avoid us in the summer because we were too busy."
The membership fee was introduced to "curb numbers" and Mr Bell is not regretting the introduction.
He said: "We could have gone down the route of having a second bar, but we don't want to be a pub and I didn't like walking into my garden to find 60 people there that I didn't know."
The fee is "really about the bar", he said, with non-members still able to book rooms or a table at the restaurant.
He said: "I've made my life better – even though someone might be a bit upset that they can't pop in for a cup of tea."
However, people have complained about the new fee, which means they may not be able to visit the hotel bar anymore.
On Tripadvisor, the owners have been labelled "snobs".
Carl P. wrote: "Grossly overinflated sense of their own importance, too expensive and staff training badly needed. Plenty of friendly establishments nearby with a warm welcome and staff who don't have their head in the wrecked tum."
Melissa C agreed and said: "This place is an elitist club, I didn't realise places like this still existed. Unless you are one of their members, paying an annual fee to be in the clique, you will be treated like a second class citizen.
"It is such a shame that ordinary people are still being shut out of beautiful natural areas in 2021. This outdated elitist crap should have been done away with years ago.
"One customer told us he only pays the fee for this mediocre service so that he doesn't have to interact with the local riff-raff. I recommend removing the pole from your backside and spending some time with the 'riff raff', you might learn a thing or two about real life, common decency and respect."
Joel said: "Stopped by for a quiet afternoon drink, ordered two drinks at the table via the app, staff behind the bar ignored the order then after 20mins asked if we were members and refused to give us our drinks as we were not staying at the hotel or had paid the £200 a year fee.
"There was no one else sat at any table, seems outrageous and a miserable way to run a business. Don't even bother going, waste of time and money.
"Get a picnic and eat for free on the cliff next to it, view is the same and you'll actually get to eat/drink without being treated like a lesser being."
However, Tracey and Adrian thought the membership fee was a good idea.
They wrote: "To be honest, a good move to charge non-guests a membership fee – if I go to my local golf club for a slap-up meal (I don't play golf) why should I have a meal in beautiful surroundings at the same price as someone who has paid thousands each year to be a member?"
Source: Read Full Article