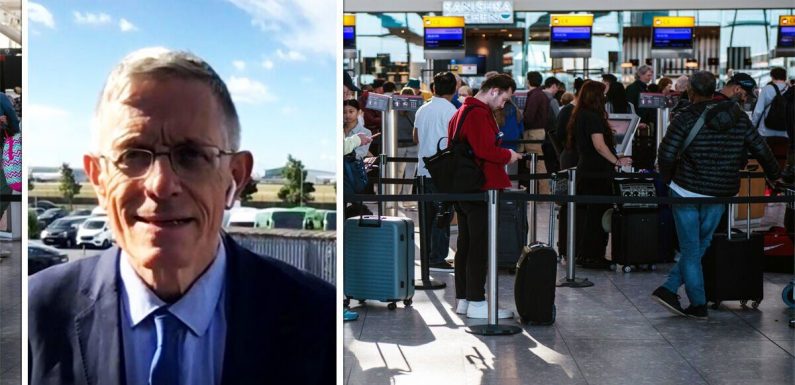 Simon Calder says 'long queues' to check-in at Heathrow Airport
We use your sign-up to provide content in ways you've consented to and to improve our understanding of you. This may include adverts from us and 3rd parties based on our understanding. You can unsubscribe at any time. More info
British holidaymakers have faced long queues and chaos at airports across the UK this year. Many are now worried about strike action as British Airways Heathrow workers are scheduled to take action this summer.
Simon told BBC News many people were wondering: "Is it the end of summer as we know it?"
However, the travel expert added from Heathrow: "Most things are working pretty well this morning. I've been round all the main terminals, here's very long queues to check in.
"There's even some queues before you get to the real queue, there's that many people.
"But flights are mostly operating normally and what we've got over at Terminal 5, the main British Airways terminal, we have the usual over 120 cancellations.
"Now these were all made some weeks ago so nobody's going to turn up and find they're not flying."
Despite BA offering notice for the flight cancellations, some travellers would still feel the impact.
Simon said: "If you're flying from Aberdeen to Heathrow, there's normally six flights a day.
"But if you miss the 11:20am today, there's nothing until tomorrow. All the afternoon and evening flights have been cancelled."
He added: "Gatwick's not too bad".
However he said some people are "waking up in hotels in the Crawley area having not managed to get where they needed to be last night".
easyJet, TUI, Wizz Air and British Airways have all cancelled flights in the upcoming months.
Many airlines are struggling with staff shortages following the pandemic and have had issues with recruitment.
Some British Airways staff at Heathrow have voted to take strike action this summer over a pay dispute.
The workers concerned had their pay docked by 10 percent during the pandemic and would now like that money reinstated.
BA has offered workers a one off 10 percent bonus but the workers would like the amount back permanently.
It is not yet known when the strike action will take place but it is likely to take place during the peak summer holiday period.
The action may not go ahead if the unions concerned can reach an agreement with BA before.
Britons are facing a summer of travel chaos as train strikes are also likely to continue if an agreement isn't reached.
British tourists with a cancelled flight are entitled to an alternative flight on their intended day of travel if one is available.
If a flight is cancelled at short notice, passengers could also be entitled to cash compensation.
Source: Read Full Article