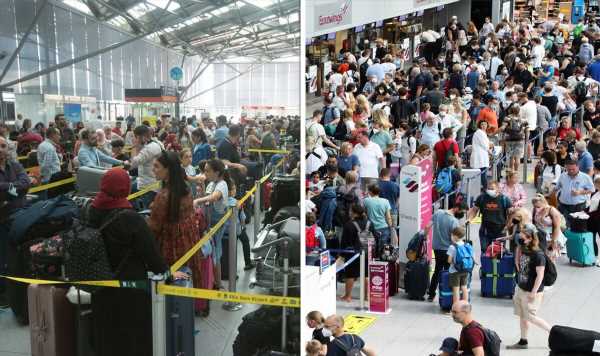 Simon Calder says 'long queues' to check-in at Heathrow Airport
We use your sign-up to provide content in ways you've consented to and to improve our understanding of you. This may include adverts from us and 3rd parties based on our understanding. You can unsubscribe at any time. More info
easyJet passenger Sharon Hotchkiss ignited debate when she shared her travel issues on Twitter. She said she was stranded at Gatwick after the airline cancelled her flight.
While some people tried to offer Sharon advice with her issues, others said they hoped she wasn't a Brexit voter.
@HelenRushby1 said: "The airline wouldn't have been able to treat you like this had we still been in the EU.
"You would have had compensation and a hotel paid for by the airline."
Jim Hodges tweeted: "Hope you didn't vote for Brexit! As an EU member, these are actions you could take but not now."
However, other Twitter users rejected the idea that Brexit had anything to do with the current chaos.
Angie tweeted: "Absolute rubbish. This is down to airlines' inadequate foresight – nothing to do with Brexit!"
@Ebure1971 said: "This is not correct. There's a provision for this in UK law. By the way, some of these airlines did this even when we were in the EU.
"I had occasion to fight for compensation which I eventually got months after the fact."
Mark Fosh added: "Naff all to do with Brexit! No staff because the airlines all made redundancies etc during the pandemic."
But is Brexit responsible for the recent travel chaos?
Passengers are still protected under UK law after Brexit if their flight is cancelled and they are left stranded or out of pocket.
They are covered under UK law if their flight departs from a UK airport, arrives at a UK airport on a UK or EU plane or arrives at an EU airport on a UK airline.
Under UK law, the airline must give passengers a refund or book them on an alternative flight, even if that's with a rival airline.
If a flight is cancelled within 14 days of the date it was meant to leave and it can be proven to be the airline's fault, passengers are entitled to cash compensation under UK law.
Many of the current issues in the UK travel industry are down to staff shortages across airports and airlines.
Some staff were let go during the pandemic and airlines have struggled to recruit enough staff to fill vacancies.
While the Government has said Brexit has not exacerbated staffing issues, some travel experts believe that hiring more EU workers would solve the problem.
Travel expert Paul Charles tweeted: "Despite what Government ministers say, the Brexit policy on not allowing EU citizens to work in UK aviation is seriously hampering hiring."
He said analysis by the PC agency showed that around 33 percent of workers in UK airports were EU citizens before the pandemic.
However, Transport Secretary Grant Shapps told the BBC: "We want a high-wage high-skill economy. That means the aviation sector like all other sectors must train people domestically.
"Airports across Europe have also had the same queues, so if it was just a Brexit issue, then that wouldn't be the case."
Source: Read Full Article