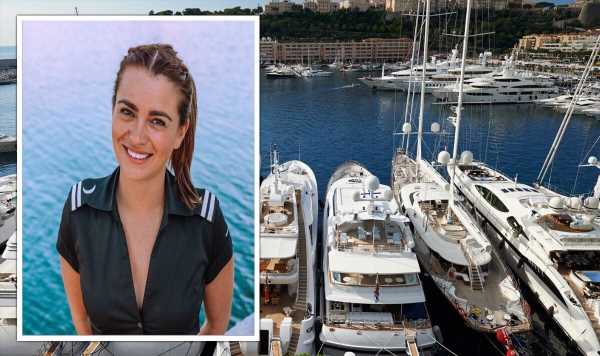 World's 5 Most Beautiful Superyachts
We use your sign-up to provide content in ways you've consented to and to improve our understanding of you. This may include adverts from us and 3rd parties based on our understanding. You can unsubscribe at any time. More info
Madison has worked at sea for over six years and is a superyacht chief stew. Now she uses her experience to teach aspiring stews how to land their first job at sea.
Madison told Express.co.uk that new crew members can complete the majority of their training in five days or less.
She said: "The scariest part for most people is the fire fighting element as you have to fight a fire in full fire fighting kit, and it's very dark and hot.
"Plus the water safety where you jump off a 10m diving platform in an immersion suit (which is something that keeps you warm if you need to abandon the ship because of an emergency).
"But if I can do it, anyone can!"
There's never a dull day on a superyacht and Madison shared one of her funniest moments with Express.co.uk.
She said: "One of the funniest things I have woken up to was when our guests had a large NYE party onboard in St Tropez.
"I went to bed shortly after the primary charter guest retired for the evening.
"When I woke up the next day for my shift, I realised the evening stewardess was still up.
"She was serving some guests who had been invited onboard the night before, who were still partying, topless in the jacuzzi at 8am.
"They were totally harmless and we are all professionals onboard, but it was hard to keep a straight face.
"I got them some food and politely sent them on their way before the primary charter guest woke up for breakfast and realised they were still onboard drinking his 1942 supply dry!"
While superyacht crew get the chance to travel the world, there are a few less glamorous duties onboard deck.
Madison said: "The worst duty for me is hoovering. I don't know what it is, but I really dislike it.
"The worst job should probably be something like cleaning toilets, scrubbing underneath shower plates, or washing 100s of dishes a day – but hoovering is the thing that stands out for me as you are usually having to carry it around, up and down stairs, in tight spaces, stopping/starting as crew walk past.
"It's a no from me."
As chief stew, Madison's responsible for managing a team of stewards and has to be on call for guests at all times.
She said: "The worst part of being a Chief Stew is probably not being able to 'switch off' or have a bad day.
"You either have the guests or your team relying on you, and it's really tough when you just want to be invisible for a moment.
"There really is no escaping your work when you live at your workplace."
However, for Madison, the friendships she's made have been the highlight of her experience working on superyachts.
She told Express.co.uk: "I am most grateful for the lifelong friendships I gained with people from all around the world.
"These people get me, they are always up for an adventure and they've been with me through some of the best and hardest times of my life.
"It is just unfortunate that everyone is always spread around the world which makes it hard to reunite, but it makes the times when you do really special!"
Want to work onboard a superyacht? Madison has created a course using her experience onboard that teaches people with zero yachting experience how to land their first job on a superyacht.
Source: Read Full Article