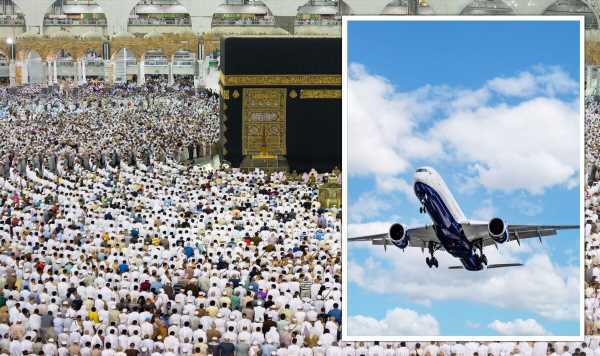 Hajj: Thousands of Muslims perform the tawaf
We use your sign-up to provide content in ways you've consented to and to improve our understanding of you. This may include adverts from us and 3rd parties based on our understanding. You can unsubscribe at any time. More info
The group were travelling for Hajj, the annual pilgrimage to Islam's holiest sites around Mecca, the Prophet Muhammed's birthplace. The pilgrimage to Saudi Arabia is compulsory at least once in a lifetime for Muslims who are physically and financially able.
Hajj will take place in early July but one Yorkshire woman told Asian Eye her and a group of six had paid £65,000 before being unable to take their flight.
She said the group were told to leave from Manchester Airport but were wrongly told there was a technical fault with their plane while they were enroute.
When they arrived, she claimed they were told the plane was full and they had to wait almost six hours at the airport.
Even if the group are now able to travel on another plane, the traveller has said their PCRs test results will be out of date leaving them out of pocket.
The incident is just one reported since Saudi Arabia altered the booking system for British Hajj pilgrims.
In an average year, over 25,000 British Muslims make the pilgrimage. Since 2006, pilgrims have had to book the trip through a licensed travel company and there are many that offer this service to Britons.
However this year the Saudi Arabian Government announced that all pilgrims from Europe, USA and Australia would have to apply through a new lottery system.
Pilgrims must now book through an online platform called Motawif and will be randomly selected in a lottery where they can then book accommodation and other services.
The woman's group said they had made their booking through Motawif while another passenger tweeted that "over 100 people" were booked and unable to board their flight.
Some pilgrims who have made it to Saudi Arabia have complained of booking errors on social media.
One person said men had been allocated hotel rooms with two random women causing confusion.
On Twitter, one pilgrim wrote: "Motawif, I have been booked into a small room with two others.
"The room is made for kids. We hardly can move and [it's] boiling with three of us inside, with the heat outside it's even worse.
"Also I've been split from the UK group."
Dr Yusuf Shabbir tweeted: "Several shocking messages coming through of Hajis not being given the rooms they booked."
Dr Sean McLoughlin, from the University of Leeds, told the BBC: "While the previous system was perhaps exploited by fraudsters, the best agents sought to make the complexities of Hajj easier for their pilgrims.
"Motawif's failed miserably as it's come far too late, it's not been piloted or trialled and it hasn't proved as flexible or competitively priced as first claimed.
"The other problem is that Motawif is not communicating clearly and is contradicting itself, they don't seem to have the capacity to deliver and their technical system has let them down badly."
Motawif tweeted yesterday: "We can't wait to welcome the rest of our guests here and be with you every step of the way on your spiritual journey."
Motawif has been contacted for comment.
Source: Read Full Article