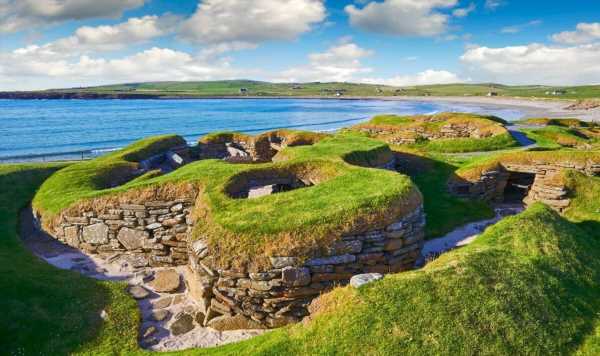 The UNESCO World Heritage List recognises the world's most incredible landmarks. Destinations have to have cultural, historical or scientific significance to qualify. 
Although the UK didn't get any new destinations on this year's list, there are 33 UNESCO sites in the UK. One of the most breathtaking is in Scotland. 
Skara Brae is a 5,000-year-old Neolithic settlement, which was perfectly preserved in a sand dune. The site wasn't rediscovered until 1850. 
Located on the Orkney islands off Scotland's northeastern coast, Skara Brae offers an incredible snapshot into British history. 
The prehistoric site is open for visitors every day but hours are shorter during the winter months.
Skara Brae was discovered by accident when a huge storm battered the island of Orkney. The storm ripped earth and ground from a mound which uncovered Skara Brae.
An amateur archaeologist, William Watt, excavated four houses before the site was abandoned again until the 1920s.
It's thought that Skara Brae was occupied for around 600 years. Each of the houses has a similar layout with beds at the side of the room. 
There's a central hearth and a dresser opposite the entrance. 
Although Skara Brae now sits right on the Orkney coastline, it used to be much further away from the sea. Coastal erosion has led to its current position on the beach. 
It's thought that there would have been lochs close to the original settlement while the people probably ate seabirds and their eggs.
Skara Brae welcomed over 111,000 visitors in 2018 and is one of Scotland's top 10 sites. 
'Valerie R' wrote on Tripadvisor: "This was a bucket list item and very much worth it. The scenery is stunning." 
'empathology' wrote: "Even if you're into ancient civilisations, this place is rich with history. A beautifully preserved Neolithic village with friendly helpful staff able to answer any question you might throw at them."
Although it was believed people left Skara Brae in a rush, it's now thought the abandonment process was much more gradual. It's thought to have taken place over 30 years. 
It's possible that disease drove the people away or the younger generation may have departed leaving the settlement in decline.
We use your sign-up to provide content in ways you've consented to and to improve our understanding of you. This may include adverts from us and 3rd parties based on our understanding. You can unsubscribe at any time. More info
Source: Read Full Article