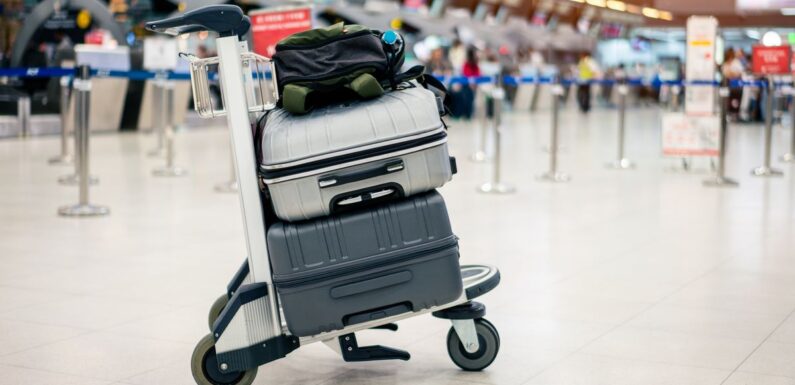 A holidaymaker is raging after she claims her airline "lost" her luggage for two months with items worth £1,000 inside.
Sarah Waite, 25, headed from Los Angeles to Athens with a layover in Paris in-between – but when she landed in Greece she claims her luggage had not been loaded into the hold. Luckily she had installed an AirTag tracker in the bag when going on holiday so she could locate the suitcase if it went missing.
Sarah alleges she was told that it would arrive later on but it sadly never did. Her smart tracking device in her bag suggested it was stuck in France and not made the Athens leg of her trip.
READ MORE: Passengers livid after waiting hours for bags only to find they were never on the plane
READ MORE: Check out our travel section for more holidays, travel news, hacks, flight secrets and more…
The nurse claims she wasn't the only passenger to have her luggage left behind, and that passengers queued up to report the issue while filling in a claim online at 5am – three hours after landing.
She said: "Luckily I had an AirTag inside my luggage so I could see that Air France was not lying and it really was still in the Paris airport" however she "kept in contact with Air France about my claim and they were not communicative at all, leaving me on hold for long periods, not connecting me with someone who spoke English".
Five days after landing in Greece, Sarah got a notification on her phone by her AirTag tracking device suggesting that her bag had left Paris and was now in Athens. The device showed her that the suitcase was now at the airport in Athens where she could go to pick it up.
Infuriatingly, that's not what happened as Sarah did not receive her luggage back that day and has been waiting for it for two months since. Sarah travelled to the airport to collect it, but was not able to locate where her bag was with staff members.
She explained: "I went to the help desk and then finally to the lost and found with lots of effort and back-and-forth argumentation about my claim number. It was not there and there was nothing I could do, even though my AirTag said it was there.
"The people helping me were very rude, yelling at me when I expressed frustration, telling me there is nothing they can do even though they work at the airport and can take me to the AirTag location. They even threatened to call the police on me because I started video recording the situation."
In a clip that Sarah shared of the interaction an argument can be seen breaking out between the two sides after she approached them about her bag. Apparently, Sarah was eventually taken to the lost and found area by staff, she claims – which is where she did indeed find her missing bag.
Sarah noted she was reunited with her suitcase – but alleges it was damaged and some items were even missing from the bag. The nurse explained: "I got my bag, but again with extreme frustration. I went to the help desk and got permission to access the lost and found.
Want the Daily Star's top travel stories and best deals straight to your inbox? Sign up to our free weekly newsletter here
"I went to the lost and found and then the other lost and found but my bag was not there. I finally broke down and cried in front of the entire staff and that is when someone said, 'Oh we called you, okay stay here'. It took extreme emotional expression to get the people to understand who I was and that I was contacted, even though I was telling everyone who helped me out that my name is Sarah Waite and I was called because my bags were found.
"A young man took me to the customs area where my AirTag was tagged and I got my bag. My luggage was completely ripped open, shoes were gone, makeup gone, bags were missing and the original lock on the zippers is not on it.
"I am devastated still, but at least my medication, which is in a liquid form, if you have Graves' disease then you know, is viable." On TikTok, the young nurse said that she had been given £485 in compensation for the damage to her suitcase.
Air France has been contacted for comment.
Source: Read Full Article