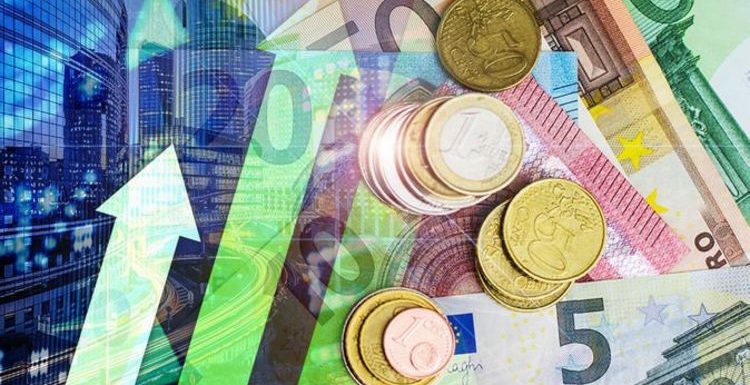 Travel money: Post Office introduce multi-currency pre-paid card
The pound to euro exchange rate has "traded well," experts have said this morning. The pairing broke above the 1.13 mark overnight and remains there today. Sterling's current success is thanks to positive sentiment concerning the "UK's vaccine rollout."
This comes as markets are "increasingly pessimistic" about the poor state of the coronavirus crisis "across the Channel."
Little new data is out today that is likely to impact the movement of GBP.
The pound is currently trading at 1.1304 against the euro, according to Bloomberg at the time of writing.
Michael Brown, currency expert at international payments and foreign exchange firm Caxton FX, spoke to Express.co.uk regarding the latest exchange rate figures this morning.
We will use your email address only for sending you newsletters. Please see our Privacy Notice for details of your data protection rights.
"Sterling has traded well over the last 24 hours, briefly breaking above the 1.13 mark overnight," said Brown.
"Markets grew increasingly optimistic about the UK's vaccine rollout, and increasingly pessimistic about the parlous state of the pandemic across the Channel.
"ECB [European Central Bank] jawboning, in the form of a new study into the EUR exchange rate, also does little to help the common currency.
"Looking ahead, no notable releases are due from either side of the pair today."
"This ensures we will once more likely trade in line with shifts in risk appetite, something that should benefit the pound."
So what does all this mean for your holidays and travel money?
Post Office Travel is currently offering a rate of €1.084 over £400, €1.0997 for over £500, or €1.1054 for over £1,000.
However, the likelihood of anyone actually going abroad is pretty slim as the UK remains stuck in another lockdown.
What's more, Dr Hilary Jones appeared on ITV's Lorraine yesterday and warned against jet-setting any time soon.
Instead, he urged British holidaymakers to consider a staycation instead.
Dr Hilary explained that travelling by plane could result in the spread of Covid.
"We have to be realistic," he said. "Travel is the main vector for this spreading around the world in the first place. It still is a potential vector.
"And even with testing, you're not going to rule out all cases sitting on that plane with 200 other people in a closed environment so it's it's risky to travel on a plane."
"But I think it's also the fact that other countries will be restricting us going there. It's not, you know, 'we'd like to go there, can we go?' it'll be, they won't want us either until we get our rate down in this country.
"I think realistically, it's staycations for the time being, it's nice walks in the park."
So what should holidaymakers left with unused holiday money do at this time if they can't get away?
Shon Alam, founder of travel money buy and sell service Bidwedge, explained that if you think you will be able to use the currency again in the near future then it's worth hanging on to it.
However, if there's no trip abroad on the horizon, it's best to exchange.
"We all do it – get home from a trip and chuck our change in the drawer ready to use for next time, but by the time next time comes around, we always forget about it," he said. "So don't waste it – change it!
"If you are a regular traveller – for example if you travel monthly or for business – then I would keep currency that you are likely to use again if there are particular locations you travel to regularly. However, any longer than that, and I would turn it back into my home currency."
Source: Read Full Article