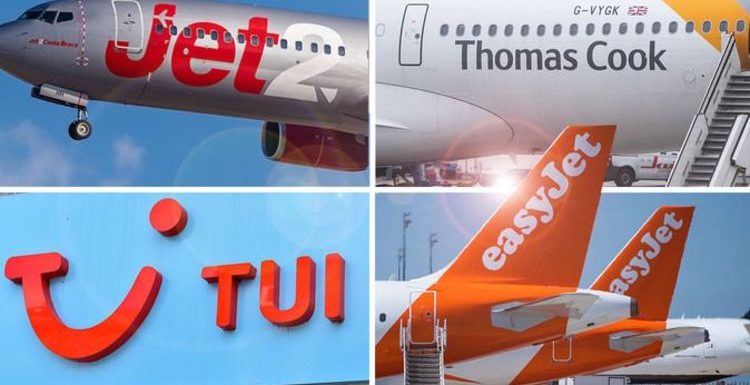 Holidays: Simon Calder advises to use 'human' travel agents
Package holiday firms including easyJet holidays, Jet2 Holidays, Thomas Cook and TUI have been forced to amend and axe plans amid ongoing travel restrictions. Though the hotel quarantine terms have not yet been officially released, it is anticipated arrivals into the UK from a list of "high risk" countries could be forced to self-isolate within designated hotels at their own expense.
While it is not clear whether this will further impact package holidays, already many operators have placed their deals on hold for now.
What are the latest updates for some popular package holiday providers?
easyJet holidays
Following the latest lockdown in the UK, easyJet holidays took the decision to cancel all holidays up to and including March 24.
The holiday firm is in the process of contacting all impacted customers to discuss their options.
Customers can also change their holiday online to a new date and destination.
Alternatively, for those who are not read to rebook, they can opt to receive easyJet holidays credit to be used towards a future holiday.
Would-be holidaymakers are also entitled to claim a full refund back to the original payment used to make the booking.
easyJet holidays says these can be processed "in an average of 12 days".
Customers booked on holidays beyond March 25 are covered under easyJet holidays "Protection Promise".
We will use your email address only for sending you newsletters. Please see our Privacy Notice for details of your data protection rights.
They will be eligible to change or defer their holiday online up to 28 days before travel without incurring any charge fees.
Matt Callaghan, easyJet holidays customer director, said: "We know this news will be disappointing. But we want to give our customers as much flexibility and choice as possible so they can decide what is best for them.
"We're really proud that, where we've needed to cancel holidays, we've been able to process refunds in an average of 12 days. We'll continue to do the right thing for customers.
"And for any customers wanting to change their holiday or make a new booking, we've got holidays on sale all the way through to March 2022.
"We know there is light at the end of the tunnel with the vaccine. We can't wait to take people on well-deserved holidays just as soon as it's possible for us to do so."
DON'T MISS
Inside influencer's 'essential' Dubai trip that has left Britons angry [INSIGHT]
Spain holidays: Spain could ban tourists 'until August' [COMMENT]
Cabin crew secrets: Flight attendant shares vile truth about planes [INSIDER]
Jet2 holidays
Jet2 holidays has made the decision to cancel all holidays up until mid-March due to the ongoing lockdown in the UK.
It has not yet released any additional information on whether further holidays will be impacted by the quarantine hotel rule.
The Leeds-based firm has cancelled all package holidays, as well as all flights, up to and including March 25, 2021.
Holidays to Iceland are suspended up to and including April 26, 2021.
A Jet2 spokesperson said: "We will be automatically cancelling affected bookings with a full refund.
"Since the onset of the pandemic, we have always respected that customers should receive their money back if we have not provided their flight or holiday.
"For customers due to travel from March 26 onwards, we will provide further updates closer to the time as appropriate."
Thomas Cook
Thomas Cook, which now operates as an online travel agent, is still selling holidays.
However, due to ongoing travel restrictions, it has made the decision to axe certain itineraries.
At the beginning of January, following the announcement of a third UK national lockdown, the airline said it is cancelling holidays "if there is a national lockdown or tier 4 restriction for your departure airport".
It continued: "Following the announcement of the latest lockdown, we are calling our customers to offer refunds or move their holidays to a later date.".
The airline added: "Your holiday will be refunded within 14 days. In the case of RyanAir flights the refund will come directly from RyanAir."
However, the package holiday provider remains hopeful for the summer months.
Chief executive Alan French said: "We've seen over the festive period that customers are looking ahead to the summer and beginning to book in earnest for those important summer weeks in the sun.
"I am sure that after many more weeks spent at home – and with the progress of the vaccine rollout – we will see an even bigger demand for people to escape to the beach this summer."
The travel provider is selling holidays to "quarantine-free" destinations, however, warns it "can't guarantee that your chosen destination will be quarantine free by the time you're due to depart."
TUI
TUI has made the decision to cancel all holidays throughout January and into February.
Customers due to fly from an English airport before February 28 will be contacted in "departure date order" to discuss their options.
These include rebooking to a later date or receiving a full refund.
The travel provider has previously cancelled holidays from Scotland and Wales until January 31.
A statement on the TUI website reads: "Due to the impact of COVID-19 and travel restrictions in place all TUI holidays up to and including 28th February 2021 have been cancelled.
"Customers will be contacted in departure date order to discuss their options, which will include amending to another holiday with an incentive or cancelling and receiving a full refund.
"We will constantly review our holiday programme in line with updated travel advice.
"Please note: Customers with bookings using flights with another airline will be contacted directly by one of our team to discuss your options."
Source: Read Full Article