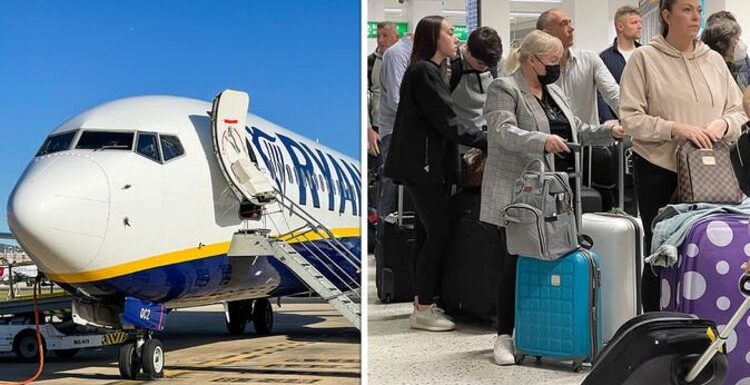 Manchester Airport: Eamonn Holmes on problems with travel
We use your sign-up to provide content in ways you've consented to and to improve our understanding of you. This may include adverts from us and 3rd parties based on our understanding. You can unsubscribe at any time. More info
Travel expert Naveen Dittakavi explained how to plan for the Easter break flight disruption and revealed the least flexible airline cancellation policies.
The founder and CEO of Next Vacay, Naveen Dittakavi, explained: "As concerns grow over high rates of Covid infections and staff shortages, disruptions are continuing for UK travellers."
Passengers have seen hundreds of British Airways and easyJet flights cancelled this week as well as airports delays in Manchester, Heathrow, and Birmingham due to staff shortages.
However, Naveen said "passengers shouldn't worry, as the huge cost of disruptions tends to incentivize airline companies to find a solution quickly, as they don't want to be blamed for the thousands of flight cancellations as the travel industry attempts to get back on its feet."
The expert advised Britons to "keep an eye on your flight status if you are flying this week as you don't want to get stuck at the airport with no flight".
If the airline cancels your upcoming flight, "try to re-book a flight as early in the morning as you can as further delays and cancellations often rise and affect later flights".
He continued: "That said, if you're already at the airport once the flight is cancelled, the best thing you can do is stay calm.
"There are plenty of options that can make a big difference in approaching a cancelled flight – from preparing alternative options when waiting to speak to staff, to calling up your carrier.
"Call the airline help-line rather than waiting to speak directly with airport staff as they're often more flexible and may provide you with an e-credit or voucher, or flexibility to change your travel dates quickly.
"When speaking to staff, come prepared with your own research about new arrangements as this will help move things quicker along – be prepared to explain what you want."
If the airline has a new flight the next day, Naveen advised Britons to ask for a hotel or compensation: "There's no harm in asking for a hotel voucher or compensation for an overnight stay.
"Airlines aren't obliged to do this, however, there is no harm in asking – but remember to be nice and appreciative."
If travellers want to avoid travelling during the disruptions this week and are worried about being stranded, the expert shared the most and least flexible cancellation policies across major UK airlines.
Most flexible airlines for cancellations
British Airways
Their book with confidence policy means passengers can change the dates, destination, or even cancel if they need to, with no additional fees.
Virgin Atlantic
Virgin Atlantic also offers a flexible booking policy, so travellers can make changes without any admin charges.
Least flexible airlines for cancellations
TUI
Naveen explained: "Tui charges an 'Amendment Fee' for each detail of the booking that they allow you to change. If you want to cancel your booking this week due to the storms, you would still pay 100 percent of your total booking price."
EasyJet
If passengers cancel more than 24 hours after booking, easyJet will not refund any of the fares and will suggest changing the flight instead. Britons can change their flight to another easyJet flight if they pay the Flight Change Fee plus the fare difference for their new flight.
Jet 2
"You can cancel your flight but all Jet2.com scheduled flights are non-refundable. Even though bookings are non-refundable and non-transferable, you can still change the dates of your flights," the expert explained.
Each date change has a £35 administration fee plus the difference in price between the original fare and the current fare price. If the overall fare has decreased since the original booking, no refund will be paid.
Ryanair
Ryanair has scrapped its zero change fees policy for new bookings and does not offer refunds if a flight is operational and has been delayed up to five hours.
"If you make changes online to your flight, the fee will be €/£45 per passenger, per one-way flight. If you contact Ryanair's reservation centre to make a change or ask for the change at our ticket desk at the airport, the fee will be €/£60 per passenger, per one-way flight," the expert said.
Source: Read Full Article