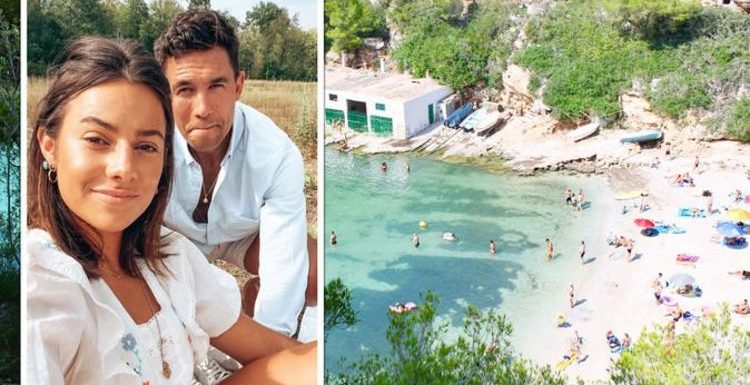 We use your sign-up to provide content in ways you've consented to and to improve our understanding of you. This may include adverts from us and 3rd parties based on our understanding. You can unsubscribe at any time. More info
Mallorca is known as "King of the Balearics" and is a firm favourite with British travellers year in, year out. Travel influencers Emily and Nic visited four beaches, which they described as "the most perfectly hidden beaches."
The couple, from the UK, began dating during the pandemic and have been enjoying their shared passion for travel ever since.
On a trip to Mallorca, Spain, in the summer they listed four "hidden" beaches.
The paid escaped to the region for a week in August and shared the experience on their Youtube channel, Emz & Nick.
Where did the couple recommend for you next Mallorca holiday?
https://www.youtube.com/embed/aQqobYUvT88
Camp de Mar
The couple visited Camp de Mar, a family beach in southwest Mallorca, close to Andratx.
The area has had some famous residents, including Claudia Schiffer.
Visitors can enjoy the 180m wide beach, featuring a small wooden footbridge taking them out to a rock islet called La Illeta, where a cabana serves food and drink.
Cala Molins
This beach is one of three in the small resort in north-eastern Mallorca, Cala San Vicente.
The small beach is only 50m wide, but there is a restaurant and changing and toilet facilities.
The small inlet is surrounded by gorgeous rock formations, hills and trees, and is a quiet sheltered spot.
DON'T MISS
Brexit travel fee: Brits to be hit with new charge to enter the EU [RULE]
Spain holidays ruined due to passport rules change [WARNING]
Full list of the 'best' countries to retire in 2022 [EXPATS]
Cala Deia
This small cove beach in the Tramuntana Mountains sits in northwest Mallorca.
The couple ate at a restaurant here looking out at a secluded bay. Here they praised the "incredible 'pinch me' view and food at the restaurant, Ca's Patro March.
Nick said of the view: "It's actually insane. You see this place on Instagram and you don't actually appreciate how beautiful it is. It's incredible."
The beach, known for its beauty, is popular with locals. However, bear in mind this is not a sand beach.
Cala Pi
"The water is so clear, it's actually stunning," Emz said of the sea at Cala Pi.
The beach sits between two rocky natural cliffsides with trees. It is relatively unspoiled and is a quiet beach only 50m wide.
Luxury yachts have been known to drop anchor here and a Bronze Age settlement lies nearby.
The most popular region of Spain for holidays were ranked recently, with the Canaries coming top.
The islands saw over 1 million tourists in November, last year, followed by second most popular location Andalucia, at just under half a million.
Britons were the largest market in both regions, with over 300,000 in the Canaries and 93,000 in Andalucia.
In total, 597,548 Britons travelled to Spain for a holiday in November.
Source: Read Full Article