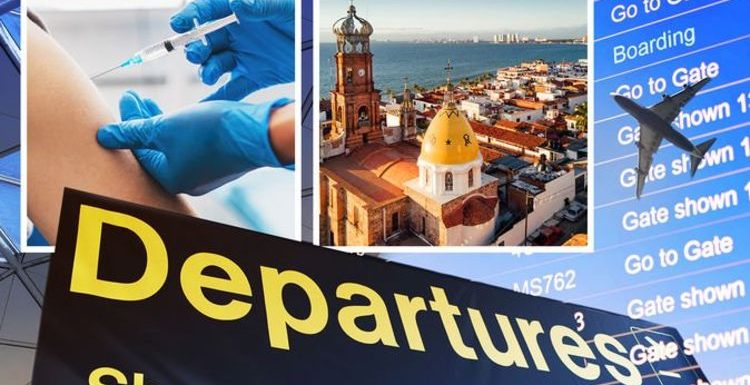 Johnson confirms new travel rules in England from January 7
We use your sign-up to provide content in ways you've consented to and to improve our understanding of you. This may include adverts from us and 3rd parties based on our understanding. You can unsubscribe at any time. More info
Covid vaccine passports have become a standard entry requirement for a number of countries across the world. For fully vaccinated travellers, new restrictions are a non-issue but for the unvaccinated population, it can offer slim pickings when it comes to crossing borders. This is the full list of destinations you can still visit without a vaccination passport.
The pandemic has had a significant impact on international travel with a number of entry requirements now in place for travellers.
As cases continue to rise, rules are constantly changing – though many have relaxed entry requirements in recent weeks.
While vaccination measures vary between countries, there is a general consensus that visitors should show proof of testing, vaccination or recovery from Covid in most places.
Despite global vaccination efforts, a large portion of the population remains unvaccinated – but where can you travel without a Covid passport?
READ MORE: Guests share nightmare cruise story – 'all hell broke loose'
Greece
Perhaps one of the most sought after spots for UK tourists, mainland Greece is relatively easy to access for the unvaccinated population.
According to current Government guidelines, Brits must complete a passenger locator form before arrival in Greece, regardless of their method of travel.
While a Covid vaccine passport is not a current entry requirement to the country, visitors will need to show either of the following:
Proof of a negative COVID-19 PCR test taken within 72 hours of arrival
Proof of a negative COVID-19 rapid antigen test from an authorised laboratory within 24 hours of arrival
Gov.UK states that: "In addition, arrivals into Greece may be required to undergo a rapid COVID-19 test on arrival.
"If you test positive on arrival in Greece, you (and those you are travelling with) will have to self-isolate in quarantine hotels provided by the Greek state."
Unvaccinated travellers could be caught out if they test positive as they will need to isolate for longer than those who are fully vaccinated.
Croatia
This warm crescent-shaped country is another popular holiday destination for thousands of Brits each year.
While travel remains restricted for many sun-seeking tourists, Croatia remains open to both vaccinated and unvaccinated visitors.
Those seeking a trip to this small spot in the Balkan Peninsula do not require a Covid passport but they do have to produce a negative test result within the days prior to travelling.
Under the current travel restrictions in Croatia, travellers must show proof of any of the following:
A negative lateral flow test taken within 48 hours of arrival
A negative PCR test taken within 72 hours of arrival
A doctor's certificate confirming recovery of a Covid infection between 11 and 180 days prior to travel
Proof of vaccination (not older than 365 days)
DON'T MISS:
PCR test changes: New Covid test rules you need to know [LATEST]
Booking a holiday? The Covid test rules you need to know [REVEAL]
The cruise never ends: The option to live in a cruise ship permanently [INSIGHT]
Cyprus
With the UK currently in Cyprus' red category, this popular Mediterranean island is more difficult to visit for unvaccinated travellers.
Since January 4, 2022, unvaccinated Brits heading to Cyprus have been required to provide a negative PCR test result taken within 48 hours of arrival.
Another PCR test is also required upon entering the airport, followed by a brief self-isolation period.
Visitors should self-isolate until they receive their test result which usually takes three hours.
Passengers will then receive five tests which should be done daily.
If travellers produce a positive test result, a PCR follow up is required and Cypriot authorities should be notified.
The self isolation period remains at 14 days for Covid-positive tourists in Cyprus.
Turkey
All arrivals to Turkey must complete the online 'Form for Entry to Turkey' within 72 hours of travelling.
Gov.uk states that unvaccinated visitors arriving to Turkey from the UK must show proof of a negative PCR or lateral flow test.
The full entry requirements for Turkey are as follows:
A full course of COVID-19 vaccinations (completed 14 days prior to arrival)
Proof of recent recovery from Covid
A negative PCR test (completed less than 72 hours before arrival)
A Paris antigen test (completed within 48 hours of arrival)
Other destinations accepting unvaccinated visitors include:
Mexico – health declaration form required, scan QR code upon arrival
Portugal – negative PCR test or rapid antigen test within 48-72 hours of arrival, NHS lateral flow not accepted
United Arab Emirates – negative PCR test required
Slovenia – digital passenger locator form and negative PCR test or proof of recovery required
Madeira – negative PCR or rapid antigen test result required plus health screening at the airport
Azores – negative PCR or rapid antigen test result required plus health screening at the airport
Source: Read Full Article