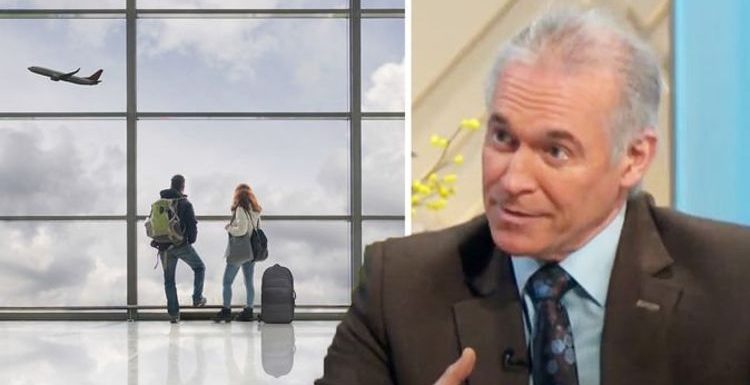 Dr Hilary says travelling on planes is 'risky'
Dr Hilary appeared on ITV's Lorraine this morning and issued a caution to Britons. Many people may be keen to book a holiday abroad in 2021. However, the medical expert warned against jet-setting any time soon in his latest travel advice.
Instead, he urged British holidaymakers to consider a staycation instead.
Dr Hilary explained that travelling by plane could result in the spread of Covid.
"We have to be realistic," he said. "Travel is the main vector for this spreading around the world in the first place. It still is a potential vector.
"And even with testing, you're not going to rule out all cases sitting on that plane with 200 other people in a closed environment so it's it's risky to travel on a plane."
We will use your email address only for sending you newsletters. Please see our Privacy Notice for details of your data protection rights.
Dr Hilary continued: "But I think it's also the fact that other countries will be restricting us going there.
"It's not, you know, 'we'd like to go there, can we go?' it'll be, they won't want us either until we get our rate down in this country.
"I think realistically, it's staycations for the time being, it's nice walks in the park.
"We have some nice parks lovely beaches, lovely hills and we should explore them more here."
Indeed, just this morning Tripadvisor revealed that the Yorkshire Dales was the best national park in the whole of Europe.
What's more, it was named the 11th best national park in the world.
Meanwhile, the Peak District National Park came fourth in Europe and 24th in the world.
The New Forest National Park in Hampshire placed in fifth place among Europe's best.
Dr Hilary's words echo those of travel expert Simon Calder.
Last week Calder encouraged Britons to "stay closer to home."
Speaking on BBC One's Rip Off Britain, he said: "I've just been watching what is happening and certainly going any further than Europe is very problematic and of course an awful lot of people got stuck the wrong side of somebody's lockdown back in March.
"So, staying closer to home is the motto and of course, it is better for the planet, and arguably better for you without all of those long-haul flights.
"And anyway, lots of places like Asia, and Australasia, with the greatest of respects, they don't want to see you and they don't want to see me just yet."
Though many airlines and travel providers have enhanced their terms and conditions to include a "book with confidence" policy, Calder maintained package holidays remain the safest option.
"It is very straight forward from my point of view," he said. "Yes, there are lots of covid promises out there but the best thing to do is just book a package holiday.
"You will either get the holiday you booked or your money back, simple as that."
Source: Read Full Article