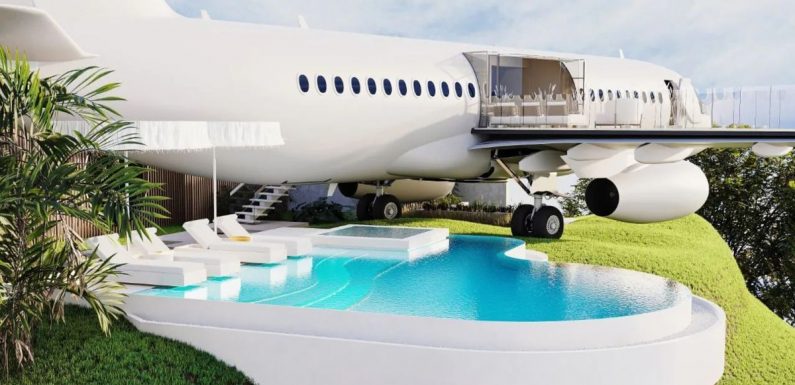 Bookmark
When planning a holiday most of us expect to jet off on a plane and arrive at a beautiful hotel.
While most of us simply tolerate the time in the air, aviation obsessives may find it the most exciting part of the trip.
If you're an aircraft fan then you might want to extend your flight experience – by staying in a hotel built into a decommissioned plane.
READ MORE: London's 'most expensive' hotel with views of Buckingham Palace for £27k-a-night
It may sound unusual, but there are a number of plane hotels out there in the world from sunny Costa Rica to chilly Sweden.
Plus, the experiences offered by each vary wildly.
Maybe your dream has always been to press all the buttons in the cockpit – and now you can by staying in the flight deck room at the Jumbo Stay Hotel.
Alternatively, should you wish to gaze out at the jungle through the windows of an old Fuselage that's do-able too.
Or, maybe you'd like to walk across the wing of a passenger jet to stare over the edge of a cliff? Now you can…
Check out these aviation-based hotels for your next dream holiday…
Jumbo Stay Hotel, Sweden
The Jumbo Stay Hotel is located in Sweden, right on the airport ARN and gives travellers the chance to sleep in a Boeing 747 Jumbo Jet.
With rooms located throughout the plane, and even in the cockpit, you can feel like a real life pilot (well sort of as you can't actually take off).
The hotel includes a terrace and garden as well as a deli and coffee shops on the grounds.
Rooms start from a very reasonable £101 on Hotels.com.
Private Jet Villa Hotel, Bali
This brand new hotel opens in March 2023 in Bali and boy has it blown us away!
While the Jumbo Stay is a bargain holiday for aviation fans this plane-turned-villa oozes pure luxury.
Positioned on a clifftop you'll experience stunning views from the glass walled terrace on the wing.
Plus, there's an infinity pool, lounge area and firepit as well as a dining area, lounge and two bedrooms.
It does come with a hefty price tag though starting at £6,000 per night available on Hotels.com.
727 Fuselage Home, Costa Rica
The 727 Fuselage Home is part of Hotel Costa Verde and sits stationary in the Manuel Antonio National Park in Costa Rica.
The plane is positioned 15 metres above the ground, giving stunning views of the ocean below and the surrounding jungle.
The aircraft has been completely remodelled inside, complete with Costa Rican teak panelling and hand carved furnishings across the suite which has two rooms, a kitchen, terrace, bathrooms and dining room.
You can stay at the Fuselage 747 from an average of £645 per night at vrbo.com.
Concorde De Luxe Resort, Turkey
Getting an honourable mention – as it's not actually an old aircraft – the Concorde De Luxe Resort, in Turkey, is shaped liked a plane.
Inspired by the famous Concorde jet plane the hotel offers incredible luxury with an aviation-like finish.
Based in sunny Turkey it has all the amenities of an all-inclusive hotel from pools to beach access, buffets, bars and restaurants.
Plus, there's entertainment too!
Book on Hotels.com from £145 per night.
READ NEXT:
Inside Turkey's 'cave city' with hidden hotels, 'fairy chimneys' and hot air balloons

National park that inspired Avatar has 'floating' mountains and towering cliffs

Inside the 'most alien looking place' on Earth with bizarre trees and animals

Amazing Love Island style Airbnbs you can hire with mates from £21pp per night
Source: Read Full Article