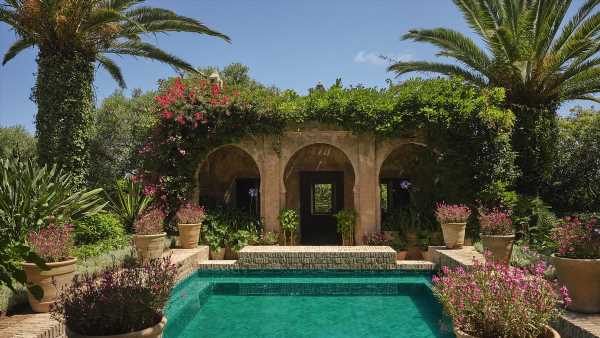 Morocco by design: Jasper Conran has turned Yves Saint Laurent's villa in Tangier into an exquisite hotel – the latest chic outpost in a city that's back to its flourishing best
Glenys Roberts checks into Villa Mabrouka on Morocco's north-west coast
'There is no better place to spoil yourself than here,' she says of the Tangier hotel
READ MORE: MailOnline's mystery shop compares BA, Ryanair and easyJet
There can be few pleasures to rival waking up in the great late designer Yves Saint Laurent's bedroom in Tangier, Morocco, and breathing in the scent of sea and late summer.
I am staying at Jasper Conran's fabulous new hotel Villa Mabrouka. It means good fortune in Arabic – and the fortune is all mine.
The bedroom looks out on to a two-acre garden and a spot where the Atlantic meets the Med. A fleet of small fishing boats chugs past the ghostly outline of Spain. On a clear day you can see Trafalgar.
While I enjoy smoked salmon and fresh peaches in the privacy of my colonial-style terrace, below me other guests are having breakfast under green-and-white parasols. I can't hear them and I can hardly see them for the tumbling passion flowers and wisteria.
With its billowing muslin curtains I could be in Italy, the Caribbean or even the south of France – back when Somerset Maugham called it 'a sunny place for shady people'. And that, Jasper tells me later, is exactly the atmosphere he wanted to create.
Grand style: Glenys Roberts checks into Villa Mabrouka in Tangier, Morocco. The property, the former home of fashion legend Yves Saint Laurent, is now a 'fabulous' hotel
The legendary 'white city' of Tangier, pictured above, has been named for its sparkling facades set against the eternally blue sky, Glenys reveals
It's a description that could equally apply to Tangier itself, with its reputation for bohemian living. Poets, painters, rock stars and millionaires such as Woolworths heiress Barbara Hutton have lived it up in the legendary 'white city', named for its sparkling facades set against the eternally blue sky.
But Tangier, on Morocco's north-west coast, almost opposite Gibraltar, has changed. It now feels like a European town – multilingual and multicultural with restaurants, nightclubs and safe shopping in the souk.
Gone is the begging and the haggling. Modern hotels line the corniche – a Waldorf Astoria is in the works and now there's Villa Mabrouka, where the French-Algerian designer, YSL, spent his last days with his business partner and lover Pierre Berge.
The last time I was in the villa was shortly after the designer's death 15 years ago. While everyone else quaffed champagne, Berge sat alone under a palm tree, lost in memories no doubt of how his talented protégé had conquered the world with his beautiful materials and cross-dressing styles.
The two had bought the 1940s modernist villa in 1997 from an Arab princess, who, in turn, had bought it from an American cigarette smuggler. YSL and Berge lived first in Marrakech, but Tangier, with its cooler climate, was where they planned to retire.
The pair engaged Paris's most fashionable interior designer, Jacques Grange, to remodel it, architect Stuart Church to build a legendary green grotto swimming pool and American landscape artist Madison Cox to lay out the gardens. But after Berge's death six years ago the iconic villa lay empty while everyone feared for its future.
So it was with heart in mouth that I walked up through the busy whitewashed streets until I came across the discreet hotel door. Jasper was waiting for me, dressed in patriotic white and blue with red socks.
As the son of Habitat entrepreneur Terence Conran and bestselling author Shirley, Jasper was truly visited by the good fairy at his birth. He inherited the family talent, plus a lavish dose of charm and fragile good looks. He designs ballets and operas and recently created the beautiful cream outfit worn by Sarah Chatto, Princess Margaret's daughter, at the King's Coronation.
Villa Mabrouka has 12 suites named after Moroccan cities. Above is the Marrakech suite
The property was bought by British designer Jasper Conran for a reported £4million. Pictured here is the bathroom of the Marrakech suite
Exquisite: Above is the hotel's hallway 
Jasper reportedly paid £4 million for Villa Mabrouka – the money going to YSL Foundation, helping to rebuild Morocco's shattered mountain villages.
First he takes me to the rooftop terrace, with its striped furniture overlooking the setting sun. Then a tour of the whole property, with its 12 suites named after Moroccan cities. Building six new villas in the garden has meant digging up all of Madison's landscaping to lay new plumbing and electricity cables. Jasper replaced all the plants and added more.
On we go, past the famous swimming pool, some dramatic natural waterfalls, three gazebos for private dining and a new, year-round heated plunge pool, then back to my exquisite room to dress for dinner.
There is no better place to spoil yourself than here, but you would be made to feel equally at home in one of Tangier's many charming – and far cheaper – guesthouses.
I have driven all over Morocco, from Dakhla in the far south to rose-red Marrakech and ancient Fez. I have skied in Ifrane and baked in the desert – but I always keep coming back to Tangier, which is just three hours by plane from London.
Over the centuries it has been subject to so many influences that it's impossible to tire of it. Berber, Arab, Roman, African, Spanish, French, Portuguese and, yes, English.
'There is no better place to spoil yourself than here,' says Glenys of Villa Mabrouka, which features an outdoor terrace with panoramic sea views, pictured here
Above, Yves Saint Laurent with model Claudia Schiffer at a fashion show in 1996
The kindness of the local people, their cheerfulness and resourcefulness, their respect for the old and the young, is the main attraction that draws me. I have watched it grow from a scruffy, dusty place with unmade streets to a real working town with a bookshop and a bar on each corner, new cinemas where films open before they do in London, and state-of-the-art hospitals.
As for the hordes of cats, they are revered – not least because the Prophet Mohammed loved them so much he once cut his cloak in half rather than move one asleep on it.
All these things passed through my mind as I fell asleep in my Villa Mabrouka bedroom, lulled by the cashmere covers, linen sheets – and no TV to disturb the peace. There is not a single set in the hotel, but an unexpectedly good internet connection.
The next morning dawned bright and blue, and as I prepared to leave, I gave the hotel one last glance. For a YSL fan like me it is wonderful to know the maestro's memory is in good hands.
And as I said a fond farewell to Jasper, I noted the Berge palm tree had survived the new planting. By some trick of the light I thought I glimpsed the old man himself sitting contentedly beneath it and, beside him, an equally happy YSL.
TRAVEL FACTS
Villa Mabrouka has B&B double rooms ranging from £390 to £1,200 per night (villamabrouka.com). Direct flights to Tangier from Stansted and Gatwick with Ryanair and Airarabia. For more information see visitmorocco.com.
Source: Read Full Article