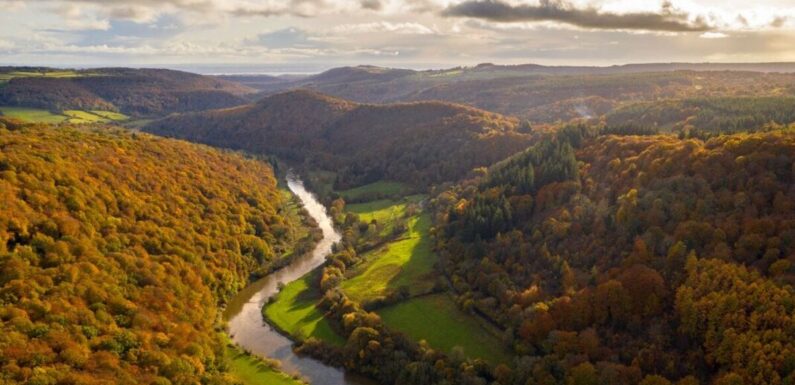 Ready to wrap up warm and head out on an autumn walk? A breathtaking region is home to one of the country's best.
The expert travel team at  Holidaycottages.co.uk have named the UK's best walks to see autumn colour this year.
The team recommended a 7.5 mile circuit taking in Tintern Abbey and the Devil's Pulpit in the Wye Valley.
A spokesperson said: "The incredible ruins of the 12th century Cistercian abbey are breathtaking whichever season they are visited in.
"However, in autumn while it is scattered with auburn leaves, it makes a truly superb sight to see.
READ MORE Ryanair issues flight warning as British tourists could face delays
"At 7.5 miles, this is a moderately difficult walk for experienced hikers or for beginners who want to push themselves a bit further."
Tintern Abbey was founded in 1131 by Cistercian monks but fell into disrepair after the dissolution of the monasteries during the English Reformation.
The Devil's Pulpit is a rocky limestone outcrop and viewing point jutting out from the cliffs above the River Wye.
Don't miss…
Underrated Spanish city tops list of popular holiday destinations – full list[INSPIRATION]
Etiquette expert explains rules on swapping plane seats[EXPERT]
UK's coolest neighbourhood named – full list[STAYCATION]
We use your sign-up to provide content in ways you've consented to and to improve our understanding of you. This may include adverts from us and 3rd parties based on our understanding. You can unsubscribe at any time. More info
A tourist who visited Tintern Abbey said: "Visited the Abbey and gardens during the week. Great building, with a fascinating history."
'David V' said: "A lovely abbey. Helpful, friendly and knowledgeable staff. A gem out of the way with its lovely walled garden."
'Victoria S' said: "Simply breathtaking! We loved the beauty and appreciated that they are preserving this magnificent place."
Prefer a seaside staycation? Check out one of the prettiest British seaside towns to visit in autumn.
Looking for autumn colours? Visit one of the UK's most spectacular National Trust properties this season.
Hoping to travel outside the UK? Skyscanner has just unveiled this year's trending holiday destinations.
Source: Read Full Article