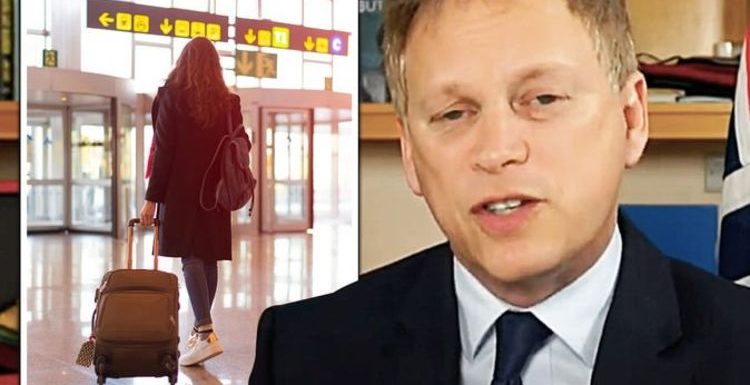 Travel testing: Shapps reveals 'concerns' over South African variant
Travellers arriving into England and Scotland will now have to present a negative coronavirus test taken within 72 hours of arrival into the UK. However, he warned this will not change the need for travellers to self-isolate upon arrival if they are entering fro a country deemed as "high risk".
Speaking on Sky News he explained: "If you are coming here from anywhere, whether you are a Briton or whether you're a foreign national then you will need to take a covid test up to 72 hours before you come here."
He described the move as an "extra check" to ramp up the "security" of the country's borders following the discovery of new variants around the world.
The transport secretary cited the "South African mutation" in particular for the "much more urgent" need for testing, showing concerns it could impact the roll-out of the new coronavirus vaccine.
"There are concerns with the south African variant in particular about how effective the vaccine would be against it so we simply can not take chances," he stated.
We will use your email address only for sending you newsletters. Please see our Privacy Notice for details of your data protection rights.
"But, in terms of response to coronavirus the only really sure-fire way is to make sure people quarantine or self-isolate and of course we have had that in place for months and months since last June.
"So today, because of that variant, it has become much more urgent."
The Government will require tests to meet "specific" requirements.
"It is a bit technical but we are not asking for the PCR test which you often hear about," Mr Shapps explained.
DON'T MISS
Greece holidays: Latest FCDO update as quarantine extended [UPDATE]
US travel: FCDO issues warning as 'disorder' hits Washington DC [WARNING]
Cruise: Carnival & Princess cruises latest to cancel sailings [COMMENT]
"What we are asking for instead is a sensitivity and what is called specificity – so up to a certain standard in other words.
"Those can be PCR tests or lateral flow tests, or LAMP tests, the point is there are enough of those around now to make this a workable approach to having one extra check.
"An extra layer of security. But as I say not the be-all and end-all."
The current 10-day quarantine for arrivals will remain in place, along with the ongoing "test to release" scheme which allows travellers to be released from self-isolation if they can produce a negative coronavirus test on day five.
The transport secretary described self-isolating as the "gold standard" for stopping the spread of coronavirus.
"No test can beat what that does. So this gives you the best of both worlds," he continued.
"You take a test upfront. You hope you are going to catch some people who are asymptomatic, they don't know they have got it, but it turns out they take a test and therefore they can't fly and don't fly.
"But it is really the quarantine and self-isolation, that is the bit that deals with the spread."
Currently, both Northern Ireland and Wales have not yet agreed to the current testing regime.
However, travellers from either nation arriving into England or Scotland will be subject to testing.
Mr Shapps added: "I don't want to speak for Wales or Northern Ireland, they have their own administrations, but I am pretty sure they will end up being a part of this
."I spoke to them yesterday and they are certainly indicating they want to be a part of this so I suspect it will be a UK wide requirement from some point next week."
Source: Read Full Article