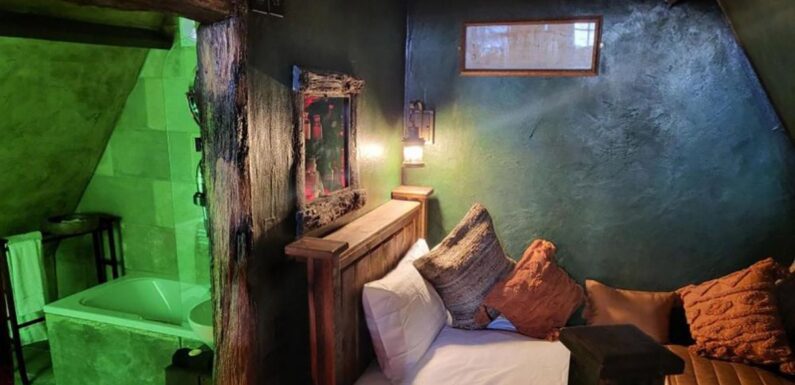 Autumn is finally here and plenty of Brits are excited to dive into a life of pumpkin candles, warm jumpers, cider and movie nights in. But, it's also about to be October – which means it's spooky season to one of the most exciting times of the year.
Fans of all things ghoulish and ghostly are pulling out their costumes and ordering fake cobwebs online ahead of Halloween, but some of us are still looking to pack one last holiday or city break away into 2023.
If you're all about the unusual and want to celebrate October in a dramatic way then we may have found the perfect hotel for you – and it's set in a city that's teeming with otherwordly activities and perhaps even ghosts.
READ MORE: 'I'm an Emirates flight attendant – there are meals you should avoid before flying'
Check out our travel section for more holidays, travel news, hacks, flight secrets and more…
The Hocus Pocus Tiny Hotel sits right in the historic centre of York meaning it's close to the hauntingly beautiful ancient buildings like The Shambles and the York Minster. It's also the perfect spot for accessing everything the city has to offer and is within walking distance of bars, pubs and restaurants.
But, it's what is within this little hotel that has us excited to book a room. There are a number of rooms all which have a decor filled with vintage-looking furniture, carved wooden headboards, gilt chandeliers and witchy candles.
You'll feel like you've stepped into a medieval witches' home as you wander around your room and the common areas. Personally, we feel it really does make you think of the cabin in the Halloween film Hocus Pocus, but it would also work well for Harry Potter fans or those who love history.
In fact, the hotel is within a medieval house that was remodelled in the 17th century – yes it was already old in the 1600's – and still retains its character. However, the insides have been made over to resemble a coven's royal home with rooms named Principium Magicae, Itinerandum, Libraryum and Apothecary.
Each has its own uniquely magical vibe with the apothecary being a family room for up to five with potions displayed locked in cupboards and all the walls. The website states that it is "inspired by old Chemists and Alchemists shops, you'll be surrounded by potions, bottles and antique test tubes." The lights even glow a spooky green.
The libraryum is as you would expect all about books! It sleeps up to four people and is said to be an "infinite illusion" inspired by old libaries where you'll "you'll feel overwhelmed of books due to the mirroring effect created by the ceiling made of antique mirror."
However, be warned as it's rumoured that the hobbit librarian Tareg – who lived there 450 years ago – still visits from time to time. The room is also not recommended for those with claustrophobia.
The Itinerandum is a family room for up to four people and perfect for those who love Harry Potter. It's designed as a Victorian sleeping wagon and a train station remenicent of Kings Cross. The bed within the station is a double and there's also a pair of train cabin bunks. This room even has a ceiling of glass where you can see the night sky if you keep it unobscured.
For couples, there's the Sorceryum – a double room designed in the Tudor style and made to represent the mother witch's room (that's the head of a coven). There's a King sized bed and witchy decor and elements around every corner.
Finally, the grandest room of the lot is the Principium Magicae – an enchanting, luxury spot perfect for a King or a Queen. It's inspired by a medieval castle and looks out on the church and streets of York.
It can only accommodate two guests – as is fitting for royalty – and you'll feel like you're at the top of a tower. The room feels a bit more traditional and follows a boutique hotel concept.
All of the rooms at the Hocus Pocus tiny hotel come with free Wi-Fi, daily housekeeping, 24 hour security and a safe. Plus you ca. even get discounts on some pubs and restaurants by showing your reservation! Rooms start from £158 a night on booking.com.
The hotel also offers packages including a guided meditation with instance and binaural beats. It will help you to relax and feel content… for £145. The £29 full moon package offers flowers and chocolates in your room on arrival while the £35 anniversary package includes Prosecco.
For £49 the signature package means you'll walk in to flowers, prosecco and cake or for £55 a bespoke spell package lets you find a handwritten spell in your room – that you can cast. Cool!
It's the perfect magical stay to launch a weekend of exploring York's incredible attractions. First up, for those after a fright there's always York Dungeon. The actors will aim to freak you out with realistic shows and models – with a torture chamber, vikings looking for vengeance and even a plague house on the books.
You can explore the thin line between science, religion and magic in medieval society at Barley Hall which has exhibitions on magic in people's daily lives through history. Or walk along York's medieval walls to imagine you're wandering where they originally stood when erected in 71AD.
Of course, you'll also have to head to the Shambles – the ancient street of wobbly-looking houses which now host fun shops like the Ghost Merchants where you can buy your own ghost or the Harry Potter shop – The Shop That Must Not Be Named – for merch galore. Plus, find ancient coins, medals and treasures at Paul Dawson.
A great place to pick up a pint is the Trembling House of Madness which has hundreds of boozy drinks on offer and a medieval bar covered in stuffed animal head. Alternatively, on the shambles is The Potion's Cauldron – an apothecary selling wizard-inspired drinks.
Source: Read Full Article