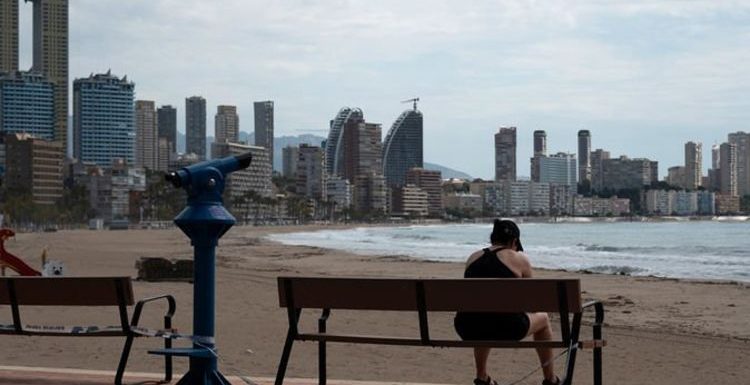 Johnson confirms new travel rules in England from January 7
We use your sign-up to provide content in ways you've consented to and to improve our understanding of you. This may include adverts from us and 3rd parties based on our understanding. You can unsubscribe at any time. More info
Benidorm is an extremely popular holiday destination with British tourists flocking to the resort at all times of year. However, the Omicron variant has led many to cancel.
The HOSBEC hotel association in the region said: "The 'Omicron tsunami' has fulfilled all the forecasts.
"It has left tourism at a minimum since the end of the state of the alarm."
It added: "It is the second worst winter in the history of tourism after 2021, when everything was closed due to the pandemic."
During the winter season in 2021, the country was in a lockdown and British tourists were not able to travel to Spain.
The association said that some hotels had closed due to the lack of tourists travelling to Benidorm.
The president of HOSBEC, Toni Mayor, said that 50 hotels were currently open in Benidorm, representing 18,000 beds.
He added that that was "much higher than many other Spanish destinations".
HOSBEC said that international tourists, including Britons, were helping to keep Benidorm open.
They said a high percentage of foreigners "defy coronavirus and don't deviate from their travel plans".
Over half of tourists in Benidorm are international with British tourists making up 35 percent of the total.
Britons were by far the biggest group of international tourists ahead of Belgian and Dutch visitors.
Benidorm's tourism sector has said it is waiting for an improvement in Covid data which could bring an end to restrictions.
Toni Mayor said: "Normality could arrive at the end of February, with expectations of facing spring and summer without restrictions and with a normalised epidemiological situation."
British tourists must be vaccinated to travel to Spain if they are over the age of 12 in new rules.
Once in Benidorm, tourists will need to wear facemasks both inside and outdoors at all times.
Some venues will require tourists and residents to show a Covid passport to gain entry.
Tourists will need to be vaccinated, have proof of a recent recovery or have a negative test result to quality for a passport.
In shocking news for Benidorm regulars, the legendary bar Sinatra's has announced it is closing.
Sinatra's owners confirmed that they would be moving the bar to another location in the Costa Blanca resort.
The popular bar is the epicentre of the annual Benidorm Fancy Dress festival which attracts thousands of partying Britons.
Source: Read Full Article