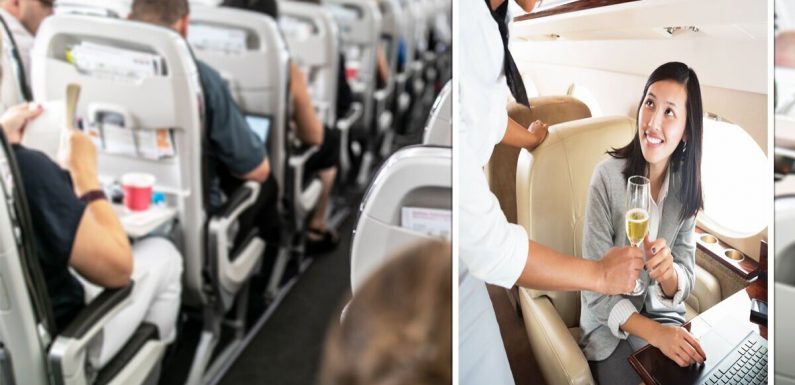 Simon Calder offers travel baggage advice
We use your sign-up to provide content in ways you've consented to and to improve our understanding of you. This may include adverts from us and 3rd parties based on our understanding. You can unsubscribe at any time. More info
While some British tourists are used to the high life, the majority of passengers fly in economy class. But how could Britons get an upgrade for free?
Jacob Wedderburn-Day, CEO at travel company Stasher, shared his top tips to get a free seat in first class.
Most British passengers would automatically avoid the middle seat at check-in as it's notoriously the most uncomfortable.
However, Jacob said it can be the smartest move if passengers want to get an upgrade from the cabin crew.
He said: "If you don't like the uncertainty of waiting until a few hours before your flight to check in, then make sure to select the middle seat.
"Airlines are more likely to upgrade passengers who are sitting in the middle seat as this is generally considered the least desirable place to sit.
"So, if you don't mind being wedged between two other people, it might pay off to book those seats."
According to Jacob, cabin crew are most likely to pick people sitting in the middle seat for an elusive free upgrade.
As it's the most uncomfortable seat, passengers would likely jump at the chance to move to first class.
However this tip isn't without risks as if passengers aren't offered a free upgrade, they will be stuck in the middle seat.
Jacob added: "Try to fly with the same airline as often as possible. If you fly with an airline that you have status with or are part of their members' club, this will make it more likely that you'll be upgraded.
"If you have airline rewards points or a travel credit card, you may be able to use them to upgrade to first class.
"Each airline has a different system, so it's worth checking with your carrier to see what's required.
"Loyalty clubs also offer the opportunity to use points for upgrades. For example, American Airlines AAdvantage members can use their points to upgrade to first class on any flight, regardless of carrier."
Airline points can always be used for an upgrade although passengers may have to save for a while.
Airlines are also more likely to pick members for upgrades if there is a spare seat in business or first class.
Britons who frequently fly with the same airline could try taking advantage of this upgrade tip.
Jacob added: "As the saying goes, if you don't ask you don't get. It may seem obvious but simply asking is the best first step in getting an upgrade.
"Often airlines overbook economy seats to make sure every flight is full and making money.
"They gamble on not everyone showing up, but sometimes they are left with too many travellers for the available seats.
"When you check in, tell the attendant that you're interested in an upgrade. You can always ask again at the gate if they say there's no chance. The worst they can say is no."
Source: Read Full Article