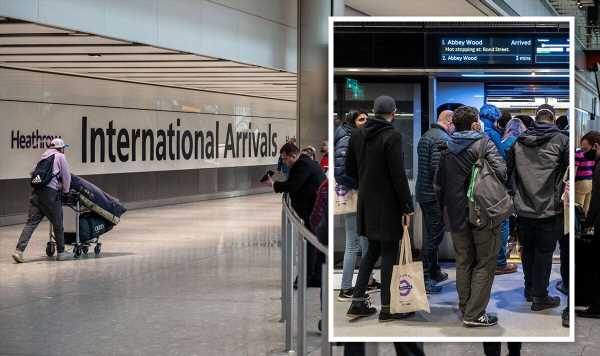 Elizabeth line: Transport for London give tour around design
We use your sign-up to provide content in ways you've consented to and to improve our understanding of you. This may include adverts from us and 3rd parties based on our understanding. You can unsubscribe at any time. More info
The brand new Elizabeth Line is set to speed tube commuters from Heathrow Airport into the heart of the UK capital. Though the line does not currently beat times on the Heathrow Express, an on-the-day tube fare will be a cut of the price compared to the high-speed airport rail connection.
On May 24, London's newest tube line opened to commuters after four years and £18.8 billion of work.
Currently, the line is not running end-to-end, meaning those coming from Heathrow Airport will have to change at Paddington station to access other portions of the line.
In its initial stages, the Elizabeth Line is running in three separate sections: Reading or Heathrow to Paddington, Paddington to Abbey Wood in southeast London, and Liverpool Street to Shenfield in Essex.
Currently, Elizabeth Line trains will take approximately 29 minutes to reach London Paddington from Heathrow Airport.
Passengers hoping to travel onwards will need to change at Paddington for connecting Elizabeth lines to Farringdon, Liverpool Street or Canary Wharf, for example.
From Heathrow Airport to Farringdon, including a connection, it will take approximately 44 minutes.
From Heathrow Airport to Liverpool Street, including a connection, it will take approximately 46 minutes.
From Heathrow Airport to Canary Wharf, including a connection, it will take approximately 53 minutes.
DON'T MISS
Flight attendant shares hotel room tip – 'replace your room key' [COMMENT]
England's best beach is in Cornwall [REPORT]
Flight attendant 'you will never get upgraded' on a flight [INSIGHT]
Once the full service opens, and a connection is no longer necessary, the journey times will drop to 30, 32 and 39 minutes, respectively.
At the same time, Heathrow to Paddington services will reduce to just 25 minutes.
Though the Heathrow Express will still be a quicker option to get between the airport and Paddington, with high-speed services taking just 15 minutes, the cost is comparatively cheaper.
You can save money on the Heathrow Express by booking in advance, with some tickets available for just £5.50.
However, if you are planning on purchasing an on-the-day ticket for the Express train, a contactless single journey is £25.
Fares on the Elizabeth line will be a much cheaper £10.80 for off-peak journeys or £11.50 for peak times.
Source: Read Full Article