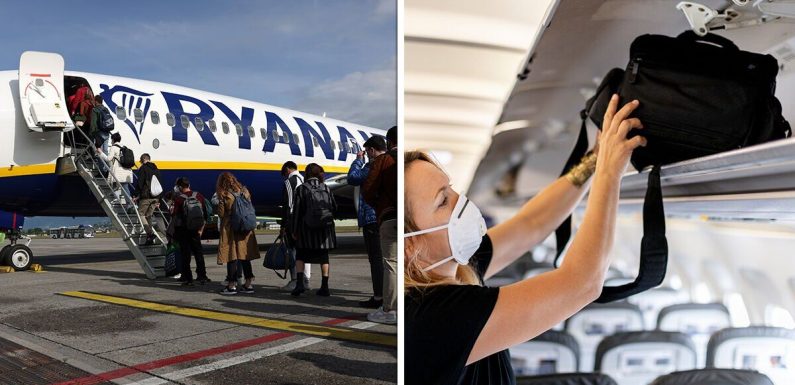 Flight attendant explains how to properly pack a bag
We use your sign-up to provide content in ways you've consented to and to improve our understanding of you. This may include adverts from us and 3rd parties based on our understanding. You can unsubscribe at any time. More info
A TikTokker has gone viral for posting a video of herself sharing a tip on how to make the most of luggage space on a Ryanair flight. Kristen Black, who goes by the username @kristenashleyblack on TikTok, shared the tip to help others fit more clothes in their Ryanair carry-on bag.
Passengers flying with Ryanair are only allowed one carry-on bag with them on a flight.
To take more clothes with them on holiday, they must pay extra to put a bag in the hold.
This can sometimes cost passengers more than the flight itself, and so it's worth trying to pack light to try and fit everything in one bag.
Kristen has shared how passengers can make more room in their bag.
Handily, Kristen's tip also ensures a more comfortable flight for passengers.
In the video, Kristen is seen rolling a knitted jumper to make a "DIY neck pillow".
She then puts the jumper-come-pillow around her neck and ties the sleeves together.
This allows her to put more stuff in her rucksack as jumpers usually take up quite a lot of space.
DON'T MISS:
Britons warned of 'hidden costs' of travel in Spain including tourist tax [SPAIN]
The destinations in Spain with most British residents [EXPATS]
Flight attendant on private jet asked to lie about girlfriend [TRAVEL SECRETS]
The captions accompanying Kristen's video read: "How to pack for your Ryanair flight when you have zero luggage allowance."
She then went on to share another hack, with the text in her video reading: "Use your hat for the souvenirs you bought during ya trip."(sic)
Kristen put a souvenir gift on her head and placed her hat on top of it.
Lastly, she put items in the pockets of her coat, with the video's text reading: "Stuff those pockets."
Kristen's video reached a whopping 959,000 likes and more than 7,000 comments.
Some commenters were impressed with Kristen's hack, while others didn't agree it was a good idea.
TikTok user Bárbara said: "I once wore pajama pants as a scarf and to this day my friends go look at that photo to laugh when they're having a bad day."
Zhara Nilsson wrote: "This is brilliant."
Jackson commented: "Pretty similar to what I did on my easyJet flight. Was wearing three pairs of trousers, four t-shirts, hoodie, jacket with pockets for days."
Sinead added: "You cracked the code girl."
User xg00sebomps wrote: "So helpful and one of my favs right now thanks guuuurl."(sic)
Travelgirl_lasvegas said: "This is….genius."
However, user ii.szymon said: "Just get priority with a suitcase, it's not even expensive."
User bay said: "I'd rather pay the extra fees than look like you."
Cracktoosie added: "But if I did this I'd get tackled to the floor."
Source: Read Full Article