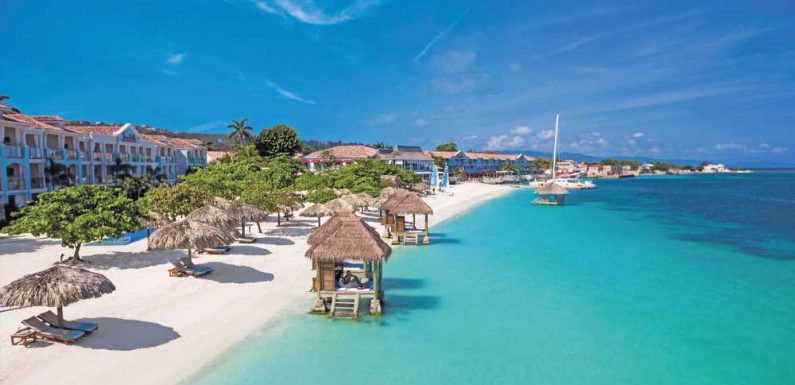 "We really didn't know what we were buying, except that it had a fantastic beach." 
The year was 1981, and the quote appears in the 2006 book, "All That's Good: The Story of Butch Stewart, the Man Behind the Sandals Resorts."
The quote refers to the purchase of the Bay Roc Hotel and its "fantastic beach" near the airport in Montego Bay. Butch Stewart renovated, rebuilt and reopened the property in 1981 as Sandals Montego Bay, the first of the Sandals brand and the first all-inclusive resort for couples in Jamaica.
And with that, Sandals Resorts International was born.
Stewart, Sandals' founder, was told at the time that a couples-only resort would last just two months.
That resort remains the flagship jewel of a Sandals portfolio that comprises 19 resorts across seven islands (15 Sandals resorts on six islands, three Beaches resorts on two islands and Fowl Cay in the Bahamas). More are in the works.
"Our 40th anniversary this year is landmark stuff," said Adam Stewart, Butch Stewart's son, who was named executive chairman of Sandals Resorts International after his father's death on Jan. 4. "My dad had a vision of what he believed in. He put Sandals on the world stage. He took his idea and grew it, and it has evolved into hundreds of thousands of jobs in the all-inclusive sector.
"Dad taught us well to find the best real estate, build to the highest standards and customers will come."
To mark the milestone anniversary, Sandals is launching a multilayered campaign for consumers, advisors and the travel industry.
Sandals celebrates 40 years
Butch Stewart hospitality school is coming 
To honor Sandals' late founder Butch Stewart and his lifelong belief in the power of education and the potential of Caribbean people, Sandals announced the construction of the Gordon "Butch" Stewart International School of Hospitality and Tourism at the Western Campus of the University of the West Indies in Montego Bay in conjunction with Florida International University's Chaplin School of Hospitality and Management in Miami.
The research-led facility will develop the next generation of Caribbean tourism and hospitality leadership and will offer its students educational opportunities beyond the classroom. "My father believed in learning by experience, 'on-the-job training' as he often put it," said Adam Stewart, executive chairman of Sandals Resorts International.
"As a consummate entrepreneur and a lifelong dreamer, he knew success was born beyond the boardroom and was found instead in the moments of exploration and discovery. It's this drive that will inspire the world-class curriculum, putting students in real-world experiences as part of their development."
The new school will offer undergraduate and graduate degrees and will complement the Sandals Corporate University, which provides Caribbean-based Sandals team members with opportunities to improve and develop occupational skills and earn degrees.
"When we invest in Caribbean people, we invest in the future of the region," Stewart said.
Promotion to benefit Caribbean communities
Sandals is also introducing a "40-for-40" promotion to benefit local communities.
Sandals Resorts International, together with the Sandals Foundation, the nonprofit launched in 2009, is identifying 40 projects that showcase the link between tourism and its power to transform Caribbean communities and improve lives.
Stewart said that link between tourism and the wellbeing of communities where Sandals operates was "undeniable."
Other projects crowd the calendar during the anniversary year.
"We're turning on the juice. We have our Lady Sandals yacht touring now in cities along the U.S. coasts with receptions for our travel advisors. We'll be doing on-resort celebrations for our guests," Stewart said.
"The 40th anniversary is a celebration of a story of trust and love for this region, the communities, our guests, our staff, our people," he said, citing as an example Sandals' Vacation Assurance program, which guarantees a free replacement vacation, including air, for guests impacted by Covid-19-related travel interruptions.
One project spanning not just the anniversary year but the next three years will involve all the properties in the Sandals and Beaches portfolio.
"We're transforming our existing resorts, bringing each to the top level one at a time, and our new Sandals Curacao, opening next April, and Beaches St. Vincent in Q1 2023 will be over the top with designs, restaurants, activities never before seen. Our guests will be blown away," Stewart said.
More than 500 nationals from St. Vincent have been sent to other Sandals and Beaches resorts to train and prepare for the opening. "They will return qualified and ready to assume positions that will include managerial posts," Stewart said.
Work continues on the multimillion-dollar refurbishment of Sandals Royal Bahamian, set to open in January, and the three new resorts in Jamaica, targeted for 2023.
"After 40 years, Sandals is a force to be reckoned with, and we will continue to out-innovate ourselves, with my dad's DNA on everything we touch."
Source: Read Full Article