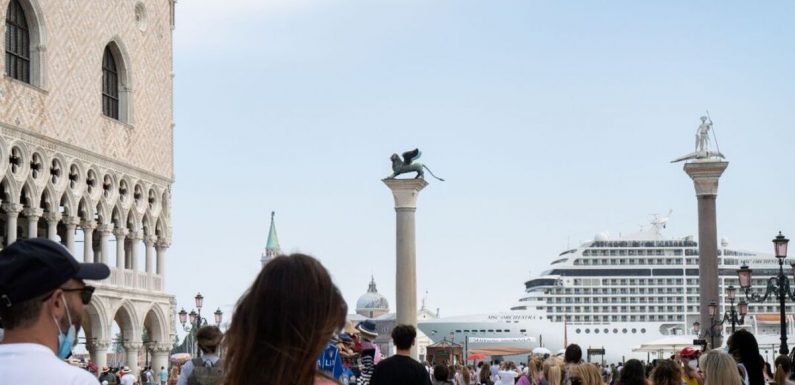 We use your sign-up to provide content in ways you've consented to and to improve our understanding of you. This may include adverts from us and 3rd parties based on our understanding. You can unsubscribe at any time. More info
Many tourists dream of seeing Venice's canals but some cruise passengers have been disappointed with their trip to the historic city. Some guests have found their cruise doesn't actually stop in Venice despite the city being listed as a destination.
A passenger, who did not name the cruise company, posted on Reddit that they had booked a seven-night cruise which departed from Venice.
They said: "Except it's not out of Venice, it's out of Ravenna which is actually several hours away from Venice.
"Going all the way to Italy and not seeing Venice would be just wrong but the whole getting to and from Ravenna thing seems like it could be a big pain in the butt."
Since Venice banned cruise ships from entering the city lagoon, many cruise ships have docked in Ravenna instead and transferred passengers by bus or train to the city.
Another guest said: "Ravenna cruise port was a shambolic hut of chaos. We were embarking 1,000 people between two ships simultaneously.
"The lines were long for screening and security with only two stations. Once we made it through to registration, it improved somewhat, but was still a far cry from what you would have previously experienced while embarking in Venice at a proper terminal."
The passenger said they had decided not to cruise from Venice again until changes were made to the system.
A passenger added: "We did that in June. It's a total marketing ploy and should be illegal to say it departs from Venice."
After Venice's ban, many of the mega-ships have no choice but to use ports such as Ravenna if they want to include the city on their itinerary.
However, some passengers were more positive about the change with one saying: "It's pretty easy to get around and a train or bus can take you to Ravenna."
A person added: "Venice has very limited ship parking and very limited ability to move larger groups of people around.
"If your ship is not stopping overnight in Venice, there are many helpful travel agents in town who can arrange two or three nights in town with transport in and out."
Another passenger added their own complaint, saying they were shocked by their cruise departing from Rome.
They said: "Same with Rome. When you cruise out of Rome as the cruise line tells you, the port is in Civitavecchia, over an hour away from Rome."
However, as Rome is not a coastal city passengers shouldn't be surprised to find their cruise won't depart from there.
If a cruise includes an inland city on its itinerary, passengers will always be dropped at the nearest port and offered transport to the city.
Mega cruise ships may face more difficulties in future as port cities face anti-cruise protests from residents.
Bar Harbor, a popular cruise port in Maine, USA, has just voted to limit the number of cruise passengers allowed to disembark each day.
The small town often received more passengers than residents during the peak cruise holiday season.
Tourists who want to visit popular cities may have to travel on smaller, more exclusive ships if they want the most convenient option.
Source: Read Full Article