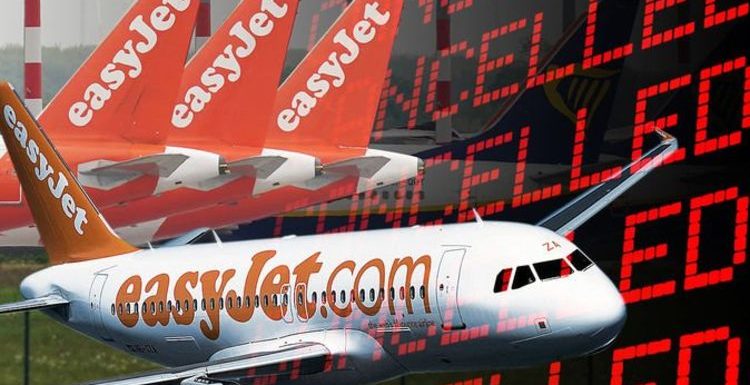 EasyJet confirms first annual loss in 25-year history
Holidaymakers who have booked a break until the end of March with easyJet are being contacted by the company now to be told their trip is cancelled. The airline is offering full refunds to those that want them.
Holidays up to and including March 24 are cancelled.
There are travel restrictions to many of easyJet's destinations, making holidays more complicated, even without a lockdown which demands no non-essential travel.
The travel industry is battling changing guidance and last minute rules, as well as customers fearful to book in case their holiday is ruined last minute.
Those who have a booking with easyJet that is now being cancelled can choose to change their holiday online, or opt to receive credit to their online account that would be valid for the next 12 months.
We will use your email address only for sending you newsletters. Please see our Privacy Notice for details of your data protection rights.
They can also opt for a full refund, which easyJet said should be processed within 12 days.
Matt Callaghan, EasyJet holidays customer director, said: "We know this news will be disappointing.
"But we want to give our customers as much flexibility and choice as possible so they can decide what is best for them.
"We're really proud that, where we've needed to cancel holidays, we've been able to process refunds in an average of 12 days."
"We'll continue to do the right thing for customers. And for any customers wanting to change their holiday or make a new booking, we've got holidays on sale all the way through to March 2022."
He added: "We know there is light at the end of the tunnel with the vaccine.
"We can't wait to take people on well-deserved holidays just as soon as it's possible for us to do so."
The company had already cancelled a host of package holidays at the start of the year.
Following the Prime Minister's announcement on January 4th that there would be a full national lockdown, the airline said it was "reviewing all holiday bookings".
Countries across Europe have banned arrivals from the UK following a new strain of COVID-19 developing here.
Spain – and important destination for easyJet – extended a flight ban until February, announcing the news earlier this week.
In a tweet, Spain's health minister said: "The Government extends restrictions on flights and maritime transport from the United Kingdom until 6:00 pm on February 2nd. Except for Spanish or Andorran nationals or residents in Spain / Andorra."
The ban first came into force on December 22, and though it was due to expire on January 5, was later extended.
In a statement, the Spanish government said the decision to extend the ban came because of "some uncertainties over the reach of the new strain".
It added: "The epidemiological situation in the United Kingdom has progressively worsened."
Since then cases of the new strain have been detected in Spain, with local media reporting health ministry figures of around 70 confirmed cases.
Source: Read Full Article