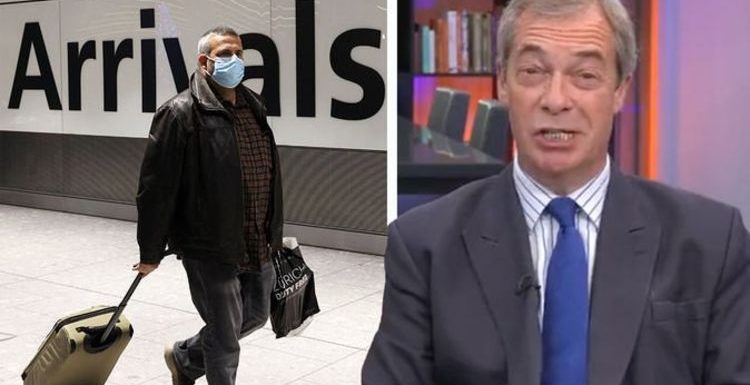 Farage says it's the 'beginning of the end' for Boris Johnson
We use your sign-up to provide content in ways you've consented to and to improve our understanding of you. This may include adverts from us and 3rd parties based on our understanding. You can unsubscribe at any time. More info
For anyone returning to the UK from a red-list country, there are strict rules in place when it comes to quarantining. For example, you have to stay in a specific hotel chosen by the Government for this sole purpose, but those that do face hefty hotel bills. GB News' Nigel Farage was left angered as he explained how a pensioner was being forced to pay £150 a night more than the average booking cost to quarantine in a hotel outside Heathrow Airport.
Farage said: "Some people are questioning the necessity of red-list travel restrictions when Omicron variant cases are already spreading across the UK.
"How can the government justify over £2,000 for quarantine hotels?
"Now, we're told this will come to an end, we don't know why.
"I was struck this weekend of a friend of a friend, a man called Norman, a former soldier, a former police sergeant."
He continued to explain: "[Norman] he's 80, lives on his own.
"He went to South Africa to see his daughter, who he hadn't seen for two years, like so many other people during this pandemic, he's out there, in the middle of all of this, Omicron hits, he comes back and he's put into a Holiday Inn near Heathrow Airport, which you can go online now, but the way and book a room for £78 a night.
"He is a pensioner aged 80 on a fairly modest pension, is being charged £228 a night – it's like being in a prison, the food is dreadful, he can't even get a newspaper because there's no one there to help him.
"I have to say, once again – there's the way Norman's being treated – but there's something bigger going on here, isn't there?" Farage wondered.
"There's the wall of PPE contacts, who's making the difference between £78 a night and £228 a night?
"And why is the whole Test and Trace regime now cost the taxpayer £40billion?
The presenter concluded: "I really hope one day, after all of this, there is a proper investigation into what has happened to billions of pounds of our money and let's see who the profiteers who have been, and let's see those that have worked inside Government or Whitehall, that will perhaps, shall we say, helped friends of theirs win lucrative contracts – I hope there is a reckoning after all of this."
Gov.uk explains the current rules for anyone returning from a red-list country into England.
It reads: "When you arrive in England, you must quarantine in a managed hotel and take two COVID-19 tests.
"You must do this even if you are fully vaccinated."
The quarantine must last for a full 10 days – the day you arrive in England being day zero.
A coronavirus test must be taken on or before day two and on or after day eight of quarantining, and these are included in the hotel package.
If anyone is caught breaking quarantine rules, there may be a penalty of up to £10,000.
The quarantine package is listed as costing £2,285 for one adult in one room for 10 days, 11 nights.
The price includes transport to and from the quarantine hotel, accommodation, food and drink for the whole stay and any COVID-19 tests that need to be taken.
Source: Read Full Article