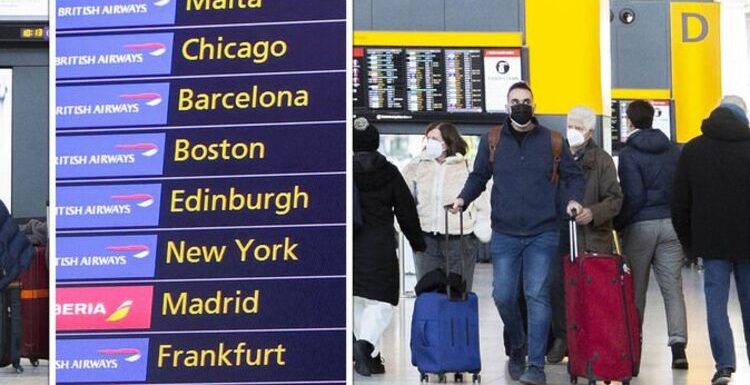 Martin Lewis urges holidaying Brits to check EHIC before travel
We use your sign-up to provide content in ways you've consented to and to improve our understanding of you. This may include adverts from us and 3rd parties based on our understanding. You can unsubscribe at any time. More info
Secretary of State for Transport Grant Shapps has announced all remaining Covid travel measures will be scrapped for those travelling the UK. The news has been hailed by members of the travel industry, with Steve Heapy, CEO of Jet2.com and Jet2holidays, saying it has come "at the perfect time".
Posting to Twitter, the transport secretary said: "All remaining Covid travel measures, including the Passenger Locator Form and tests for all arrivals, will be stood down for travel to the UK from 4am on 18 March.
"These changes are possible due to our vaccine rollout and mean greater freedom in time for Easter."
In the UK, a total of 140,430,802 COVID-19 vaccines have been given.
This includes 52,708,425 first doses, 49,209,241 second doses and 38,513,136 booster doses.
The removal of all rules will come into force on Friday, March 18, 2022, for all passengers regardless of their vaccination status.
At 4am, both vaccinated and unvaccinated arrivals into the UK will be exempt from taking a coronavirus test before entering the country.
The current passenger locator form, which was "simplified" in February, will also be removed in time for the beginning of the Easter holidays in April.
Previously, Mr Shapps described the form as "ridiculously complicated".
DON'T MISS
Lastminute.com launches spring holiday deals and book hotels from £42 [DEAL]
Cruise worker on paradise island shares 'the best' tip [INSIDER]
Flight attendant explains what happens with 'violent' passengers [COMMENT]
Jet2's CEO said: "Two years after the onset of the COVID-19 pandemic, today's announcement marks international travel finally returning to normal.
"The removal of needless forms and ineffective testing regimes means that customers can at long last enjoy hassle-free travel, just like they did before the pandemic.
"With Easter just around the corner and Summer fast approaching, this announcement comes at the perfect time.
"Since restrictions started to be eased at the beginning of the year, we have experienced strong, sustained demand and the complete removal of forms and requirements will boost that demand even further."
Source: Read Full Article