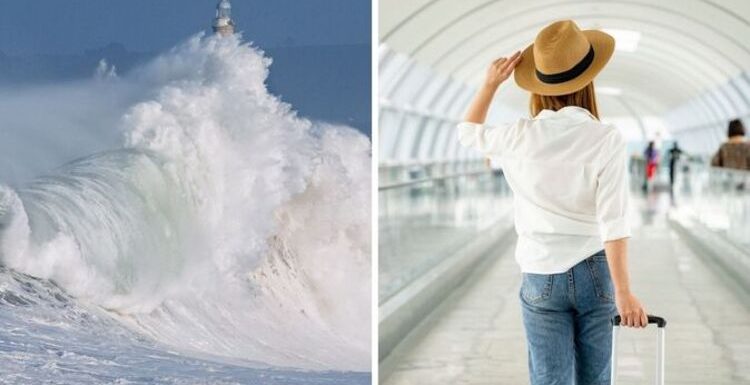 First class travel: How do people get upgraded?
We use your sign-up to provide content in ways you've consented to and to improve our understanding of you. This may include adverts from us and 3rd parties based on our understanding. You can unsubscribe at any time. More info
Popular tourist destination the Canary Islands is facing weather warnings for adverse sea conditions, actived by the The State Meteorological Agency (AEMET). The warning affects Fuerteventura, Lanzarote, La Palma, El Hierro, northern Tenerife and Gran Canaria.
The strong gusts of wind recorded in recent hours have forced the diversion of three flights and the cancellation of two others.
There are also delays in operations at different airports in the Canary Islands.
The most affected airport is currently Tenerfie North, with two flights from Fuerteventura and Madrid earlier diverted to Tenerife South.
In Tenerife, the wind has been reported as strong, up to 34km/h from the northeast with stronger gusts.
A plane bound for La Palma had to return to Gran Canaria airport, which caused the cancellation of the flight on the reverse route.
A flight from La Palma to Tenerife North has also been cancelled.
AEMET warned of persistent rain and winds of up to 90km in the Canary Islands today.
Waves of up to five metres and occasional downpours are also to be expected.
This is down to Storm Celia, which is forecasted to affect the Canary Islands.
Depending on the day, Celia will affect different areas of the Peninsula, the Balearic Islands and the Canary Islands with heavy rainfall, sometimes with mud, strong winds and rough seas.
The Canary Islands is predicted to be most affected today and tomorrow, with bad sea conditions in the Mediterranean.
AEMET recommends monitoring the forecasts and warnings that are updated.
Malaga is on a red alert for flood risk today, with a potential forecast of 120 litres of rainfall per square metre in one hours.
AEMET warns that the largest accumulations are expected in the western third of the region.
AEMET warns that with the red alert the meteorological risk is extreme with unusual phenomena of exceptional intensity and with a very high level of risk.
An orange alert, raised for Catalonia, signifies an important meterological risk with a certain degree of risk for the population.
An orange warning has been given to Lanzarote and extended until Wednesday.
Until 5pm on Tuesday the warning for swell will be orange, and from that time until 11am on Wednesday the warning will be yellow.
The waves are expected to be five to six metres on Tuesday during the day, dropping to four or five metres when the yellow alert is issued.
The Canary Islands is a popular tourist spot, with Britons returning year upon year to lap up the sunshine.
In southern Tenerife, temperatures rarely drop to below the low 20s.
Source: Read Full Article