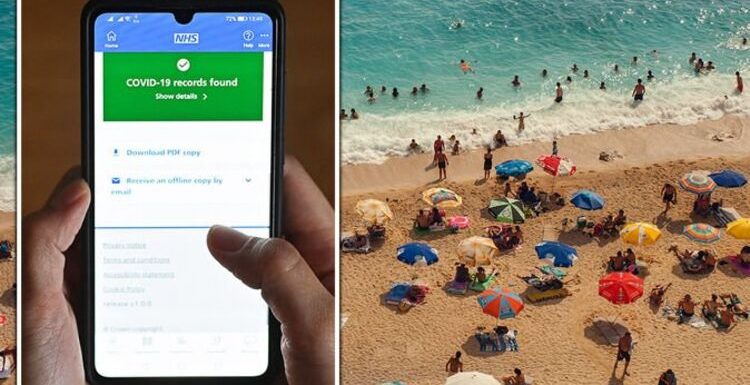 First class travel: How do people get upgraded?
We use your sign-up to provide content in ways you've consented to and to improve our understanding of you. This may include adverts from us and 3rd parties based on our understanding. You can unsubscribe at any time. More info
Before coronavirus struck, Turkey attracted an average of 2.29 million British tourists in 2019 alone. Now that many of its Covid entry rules have been removed, it seems holiday hungry Britons are eager to return.
According to travel money provider FairFX, cash sales of the Turkish lira doubled between January and February, and are continuing to rise in March.
Head of travel money, Jack Mitchell said: "We've seen a rise in cash sales of the Turkish lira, with sales doubling between January and February and continuing to rise so far in March, suggesting it's a hot spot for Brits heading on Easter holidays.
"The removal of the final Covid travel restrictions in the UK will be the confidence boost vaccinated travellers need to plan much-anticipated trips.
"And with countries across Europe and the rest of the world continuing to relax their restrictions, travellers have a wealth of choice for holiday destinations that we've not seen since early 2020."
Though the UK has gotten rid of travel restrictions for fully vaccinated travellers, Turkey has its own specific entry requirements in place.
What are the rules for vaccinated Britons visiting Turkey?
All passengers entering Turkey, aged six years and above, are required to fill out an online form no more than 72 hours before travel.
This rule does not apply, however, to those who are simply transiting through the country.
According to the Foreign, Commonwealth and Development Office (FCDO): "All arrivals into Turkey will be subject to a medical evaluation for symptoms of coronavirus, including temperature checks. Arrivals may be subject to random PCR testing on arrival."
DON'T MISS
Covid travel rules change – Every measure that's been lifted [EXPLAINER]
Cruise worker on paradise island shares 'the best' tip [INSIDER]
'Disastrous' Wales tourist tax slammed [COMMENT]
Fully vaccinated passengers will not need to pay for or arrange their own Covid test for travel, or face quarantine.
However, they must be able to prove they have received both doses of a two-dose vaccine or one dose of a single-dose vaccine.
The FCDO states: "At least 14 days must have passed since your second dose of the vaccine and the vaccine must be approved by the Turkish Ministry of Health or World Health Organization."
Turkey will accept the UK's proof of COVID-19 recovery and vaccination record and proof of COVID-19 vaccination issued in the Crown Dependencies.
What are the rules for unvaccinated Britons visiting Turkey?
Unvaccinated arrivals will need to show proof of a negative PCR test taken in the 72 hours before travel or a rapid antigen test taken in the 48 hours before travel.
The FCDO states: "You should not use the NHS testing service to get a test in order to facilitate your travel to another country. You should arrange to take a private test."
Alternatively, unvaccinated people can show proof of having recovered from COVID-19 in the previous six months.
You can use the NHS COVID Pass to demonstrate proof of COVID-19 recovery when entering Turkey.
Much like vaccinated arrivals, all unvaccinated Britons must complete an online form no more than 72 hours before travel.
Unvaccinated arrivals will be subject to a medical evaluation for symptoms of coronavirus, including temperature checks.
What Covid measures are in place in Turkey?
Some coronavirus measures remain in place, and the FCDO warns that restrictions can change "at short notice".
The Government travel authority states: "No travel is risk-free during the COVID pandemic. Countries may further restrict travel or bring in new rules at short notice, for example, due to a new COVID-19 variant. Check with your travel company or airline for any transport changes which may delay your journey home."
Britons are advised to make sure they can access money if their stay is unexpectedly extended, have adequate insurance in place and can make arrangements to remain in the county for longer than planned if necessary.
The FCDO states: "The wearing of masks is mandatory at all times outside the home throughout Turkey.
"This includes, but is not limited to, all public places, including streets, side streets, parks, gardens, picnic areas, markets, seaside and public transportation including Metro, buses, taxis and ferries.
"Masks are also mandatory in all shops, restaurants, hairdressers and barbershops."
Source: Read Full Article