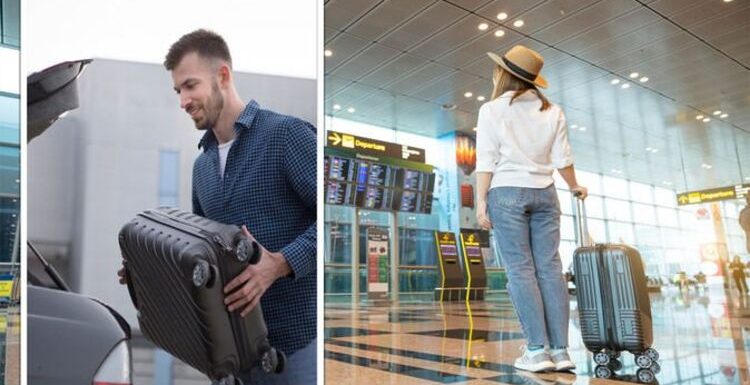 Heathrow: Chaos with travellers bags as BA cancels flights
We use your sign-up to provide content in ways you've consented to and to improve our understanding of you. This may include adverts from us and 3rd parties based on our understanding. You can unsubscribe at any time. More info
As holidaymakers regain confidence in travel after the pandemic, bookings have surged. Some experts have said that prices are also expected to rise.
Flight prices are expected to rise by 25 percent by the end of June as the price of oil soars.
But British holidaymakers are also getting caught out by an extra cost charged by some airports.
NetVoucherCodes shared some advice for how British tourists could avoid the extra charges.
It said: "Airports have caused some stir in recent years since launching drop-off charges and a whopping 19 out of 30 UK airports making you pay to drop someone off.
"However, there are free drop-off points that are just a short walk or bus ride away from the terminal.
"Arriving early and planning ahead means you can avoid these extra charges. See your airport's website for specific details on free drop-off options."
Paying to be dropped off at the airport is an extra cost that customers could avoid by planning ahead.
Heathrow currently charges vehicles a five pound charge to drop off passengers at one of its terminals.
The airport said passengers could be dropped off in one of the Long Stay carparks for free.
Tourists who go for this option will then need to catch one of the airport's free buses to the terminal.
Gatwick also charges passengers five pounds to be dropped off at either the North or South Terminal.
It said that passengers could be picked up from the short stay car parks where it charges five pounds for 10 minutes parking.
Luton charges passengers five pounds to be dropped off at the airport but after 10 minutes the charge will increase by one pound per minute.
Manchester airport also charges a five pound drop off fee which increases after 10 minutes has passed.
Drop off charges at British airports could quickly start to add to the cost of a bargain family holiday.
British tourists are already facing rising prices for flights and accommodation which have been exacerbated by the cost of living crisis.
However, fully vaccinated British tourists will be able to save money on travel tests after they were scrapped earlier this month.
Vaccinated Britons will still need to fill out a passenger locator form after arriving in the UK from holiday.
However, these are predicted to be scrapped before the Easter holidays in a welcome move for tourists.
Travel expert, Simon Calder, has called the complicated forms a "vortex of despair" while others in the industry have requested they be scrapped.
Source: Read Full Article