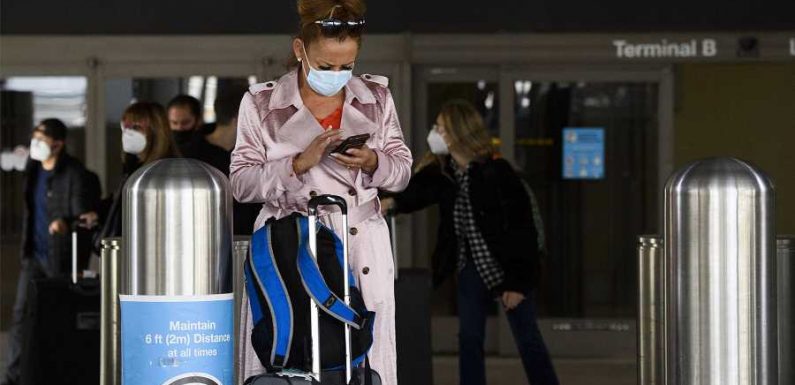 Americans will now be required to wear masks on all forms of public transportation, as the Centers for Disease Control and Prevention has impemented a federal mask mandate President Joe Biden ordered last month.
The new rule, which will go into effect on Tuesday, will require anyone on planes, ships, ferries, trains, subways, buses, taxis, and in ride-shares to mask up. The order also applies to people in airports, seaports, train stations, bus stations, and subway stations.
"America's transportation systems are essential," CDC Director Dr. Rochelle P. Walensky said in a statement over the weekend. "Given how interconnected most transportation systems are across our nation and the world, when infected persons travel on public conveyances without wearing a mask and with others who are not wearing masks, the risk of interstate and international transmission can grow quickly."
While the agency recommends against non-essential travel, Walensky said mask wearing can be a barrier against spreading disease when travel can't be avoided.
"Masks are most likely to reduce the spread of COVID-19 when they are widely and consistently used by all people in public settings," she added.
The order will apply to passengers as well as employees, according to the CDC.
To comply with the rule, masks should be made out of multiple layers and should not have slits, or exhalation valves. Face shields, goggles, scarves, ski masks, balaclavas, and bandannas are not considered acceptable.
The mandate carries out Biden's executive order, which he signed on Jan. 21, requiring anyone in airports or on interstate public transportation to cover their face.
While many airlines and train companies, like Amtrak, had already implemented their own mask rules, previously enforcement was limited to the individual companies.
Last month and prior to the president's executive order, the Federal Aviation Administration had pledged to crack down on unruly passengers on planes, including on those who refuse to wear a mask.
Alison Fox is a contributing writer for Travel Leisure. When she's not in New York City, she likes to spend her time at the beach or exploring new destinations and hopes to visit every country in the world. Follow her adventures on Instagram.
Source: Read Full Article