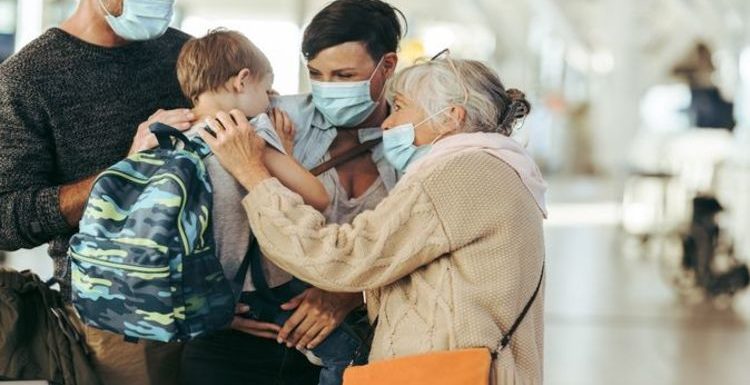 Boris Johnson discusses booster jabs for international travel
We use your sign-up to provide content in ways you've consented to and to improve our understanding of you. This may include adverts from us and 3rd parties based on our understanding. You can unsubscribe at any time. More info
Expats had feared that entry requirements would change before Christmas to require a booster jab. Many expats want to travel home to the UK to spend Christmas with family.
The Prime Minister said the Government intends to add booster jabs to the NHS Covid Pass in the coming months.
He said: "I think we will be making plans to add the booster dose to the NHS Covid travel pass.
"But again, I think what the general lesson is from anybody who wants to travel, you can see that getting fully vaccinated with a booster is going to be something that will, on the whole, make your life easier in all kinds of ways, including on foreign travel.
"So I would just say, if you're thinking about that, then this is yet another reason to get it done."
The announcement led some expats to fear that a booster jab would be a requirement to avoid quarantine to enter the UK.
However, according to Olive Press, an industry source said: "It's too soon to include the booster as a requirement for entry to the UK.
"We don't have enough people triple vaccinated. It would be a massive step back. But extending the pass to use overseas is sensible.
"The booster shot is recorded anyway. All it means is creating a certificate out of it."
Under current travel rules, double-vaccinated travellers do not need to quarantine on arrival in the UK.
They must take an approved lateral flow test on or before day two after arrival in the UK.
The test must be booked before arrival with a Government approved provider which can be found on the Government website.
There are currently no countries on the UK's travel red list but the Government has said it remains an option.
Kim Evans, an expat who lives in Fuengirola, said: "My wife and I were relieved to hear there will be no problems travelling back to the UK for Christmas.
"We have not seen the family for almost two years! We haven't had our third booster jabs yet, although there is still time.
"Even so, I'm not sure the NHS app would recognise our credentials."
The NHS Covid pass is recognised in the EU as proof of double vaccination although some countries will soon require a booster jab for some travellers.
Tourists over the age of 65 will need to have a booster jab to qualify for the French Pass Sanitaire in mid December.
The health pass is used to grant entry to bars,restaurants, tourist attractions and other indoor venues.
If people over the age of 65 have not had the booster jab, they will need to take regular Covid tests to qualify for the French health pass.
It is thought that other countries could also soon require a booster jab at border control.
Source: Read Full Article