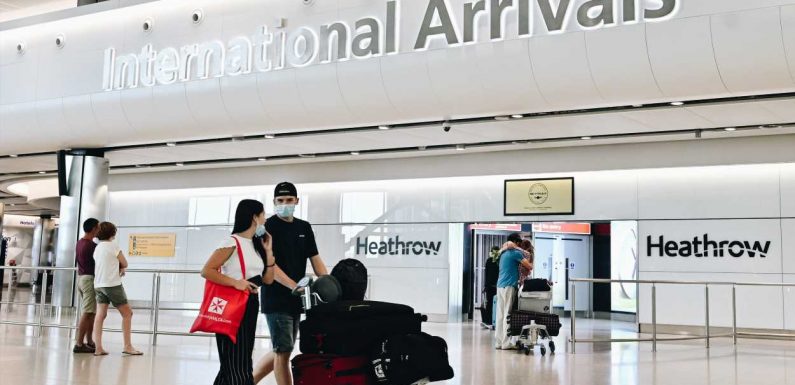 The COVID-19 vaccine continues to roll out slowly but surely, with President Joe Biden estimating that all adults in the U.S. will have access to a dose by the end of May.
But as we continue the long march toward herd immunity, or the tipping point when enough people are inoculated to halt community spread of the virus, there is a growing question about whether proof of vaccination will soon be required to get back to daily activities like eating in restaurants, flying on planes, or traveling abroad.
The travel industry—and airlines especially—are lobbying for a standardization of health forms like vaccine status and COVID-19 test results.
"It is crucial to establish uniform guidance," more than two dozen airline trade organizations, labor unions, and the U.S. Chamber of Commerce wrote in a letter to the White House on Monday, according to the AP. The groups stated that "the U.S. must be a leader in this development."
Many airlines have already attempted to standardize test results among their own passengers, turning to technology by partnering with apps like Common Pass, VeriFly, or Travel Pass from the International Air Transportation Association. These types of apps can also be adapted to show vaccine status as well, and several airlines such as Qantas and Virgin Atlantic have voiced support for requiring all passengers to be vaccinated in order to board their planes.
Earlier this month, President Biden asked federal agencies to explore options for so-called vaccine passports. But it's not yet clear if or when the documents will become a requirement for travel.
"I think it's likely that countries are going to ask for some proof of vaccination prior to admitting travelers," says Jennifer Nuzzo, senior scholar at the Johns Hopkins Center for Health Security. "Whether it will happen in sort of an official or coordinated way remains to be seen."
Here's what vaccine passports might look like in the U.S. and what travelers need to know.
How will it all work?
While there is no official plan yet for the immunity passports in the U.S., other countries with either active vaccine passports or imminent plans to enact them might serve as a model. Israel, for instance, became the first country to implement the concept in late February with its "Green Badge" system. Fully vaccinated Israeli residents have access to activities like sporting events, concerts, swimming pools, and restaurants, as long as they present their vaccination certificate with a QR code.
Denmark and Sweden have also announced plans to have vaccine passports in place by the summer, while the European Union has proposed a "Digital Green Pass" that would allow inoculated residents to travel more freely between its member countries. The E.U.'s plan would also take into account testing and statements of recovery to avoid discriminating against citizens without vaccine access.
Similarly, travel industry voices would also like the U.S. to rely on a combination of vaccinations, tests, and statements of recovery in its potential plan. In their letter to the White House, the airline groups requested as much, noting that vaccination should not be a requirement for domestic or international travel, the AP reports. Furthermore, the groups also asked for the U.S. Centers for Disease Control and Prevention to take "a leading role" in developing the tech, "believing that would increase certainty that information in the credentials is legitimate."
The legitimacy of the documents is an important hurdle to clear. "There's a pragmatic concern about vaccine passports, which is that if you're particularly dealing with a situation where there are severe shortages as there are now, you have to worry about the potential for fraud and whether we will see forged certificates," Nuzzo says.
Some of the apps, like Common Pass, are synchronized directly to lab results and can help combat forgery, but the risk of counterfeiting vaccination certificates remains.
Is this a new concept?
Not entirely. Vaccinations for yellow fever are required to travel to or from several countries in South America and Africa. Right now, yellow fever is the only disease for which there are vaccination requirements to enter certain countries, according to Nuzzo.
Similar to many proposed COVID-19 vaccine passports, proof of yellow fever vaccine is show by a standardized card, called an International Certificate of Vaccination. But Nuzzo notes that COVID-19 immunity passports would have some important differences. "We're dealing with a much different situation in which the whole globe is affected and the whole globe wants and needs vaccine, but not everyone is going to get it," she says.
Regardless, if you're fully vaccinated, the best thing to do is to keep your vaccination card safe, in case you need it for future travels.
What about ethical concerns?
The limited access to vaccine doses around the globe is a major ethical concern for many medical experts.
"When you make a requirement like this, it essentially penalizes countries that do not have access," Nuzzo says. "Unfortunately we have seen the disparities in access to vaccines fall quite heavily along income lines, so high-income countries are much more likely to already have purchased the vaccine and be further along in vaccinating their population than lower income countries."
For that reason the World Health Organization has not recommended using certificates of vaccination to reopen travel "because quite simply vaccination is just not available enough around the world and is not available certainly on an equitable basis," Michael Ryan, executive director of WHO, said during a press conference on Monday.
Even if individual U.S. cities or states require proof of vaccine for travel or other activities, that could also lead to widespread discrimination. "There are a number of states in which there are huge disparities in who is able to access vaccines, mostly along racial lines," Nuzzo says.  So requiring the documents at a state level "would be problematic."
While many see vaccine passports as a stop-gap solution that would offer some semblance of normalcy, a growing number of experts say such documents could prove to be somewhat counterintuitive. "If we continue to leave pockets of the world [unvaccinated], that's not going to help us restore normalcy in terms of trade or travel," Nuzzo says. "Like it or not, we live in a globalized world."
We're reporting on how COVID-19 impacts travel on a daily basis. Find our latest coronavirus coverage here, or visit our complete guide to COVID-19 and travel. 
Video: Age Eligibility Expanding In The Race To Vaccinate (CBS Miami)
'Runway Of Dreams': Fashion Show Helps People With Disabilities Feel More Confident

CBS Miami


Julian Edelman Invites Meyers Leonard To Shabbat Dinner After Anti-Semitic Slur

CBS Miami


Judge: Man Arrested During FBI Raid, Paul Miller To Stay In Jail

CBS Miami


Where's Your Fob? South Florida Cities Warn Residents To 'Secure Vehicles'

CBS Miami


COVID Stats Snapshot 3-10-21

CBS Miami


Rep. Frederica Wilson Praises Passage Of President Biden's American Rescue Plan

CBS Miami


Florida GOP Senators Back Vote-By-Mail Overhaul

CBS Miami


Teen Charged In Murder Of South Florida Real Estate Agent Stefano Barbosa

CBS Miami


Arrest Made In Deadly Double Shooting In NW Miami

CBS Miami


Northeast Miami Warehouse Fire Under Investigation

CBS Miami


Miami Dade College North Campus COVID Vaccination Site Enforcing State Eligibility Guidelines

CBS Miami


People Outside State Guidelines Vaccinated At Miami Dade College Site

CBS Miami


Venezuelans Celebrate In Doral Over Biden Administration's Offer Of Temporary Protected Status

CBS Miami


MDC North Vaccination Site Closes Nearly 2 Hours Early

CBS Miami


Meyers Leonard To Be Away From Miami Heat Indefinitely After Using Anti-Semitic Slur

CBS Miami


South Florida Homebuyers Finding Themselves In Bidding Wars

CBS Miami


'Runway Of Dreams': Fashion Show Helps People With Disabilities Feel More Confident
CBS4's Lisa Petrillo spoke with founder Mindy Scheier as well as some of the models.


CBS Miami



Julian Edelman Invites Meyers Leonard To Shabbat Dinner After Anti-Semitic Slur
CBS4's Jim Berry reports on the response from the Greater Miami Jewish Federation.


CBS Miami



Judge: Man Arrested During FBI Raid, Paul Miller To Stay In Jail
A federal judge said Wednesday that Paul Miller, the man who was arrested last week following an FBI raid, will have to stay in jail pending trial.


CBS Miami


Source: Read Full Article